Return to Headlines
Students Help Raise $12,000 For Girls on the Run At Sneaker Soiree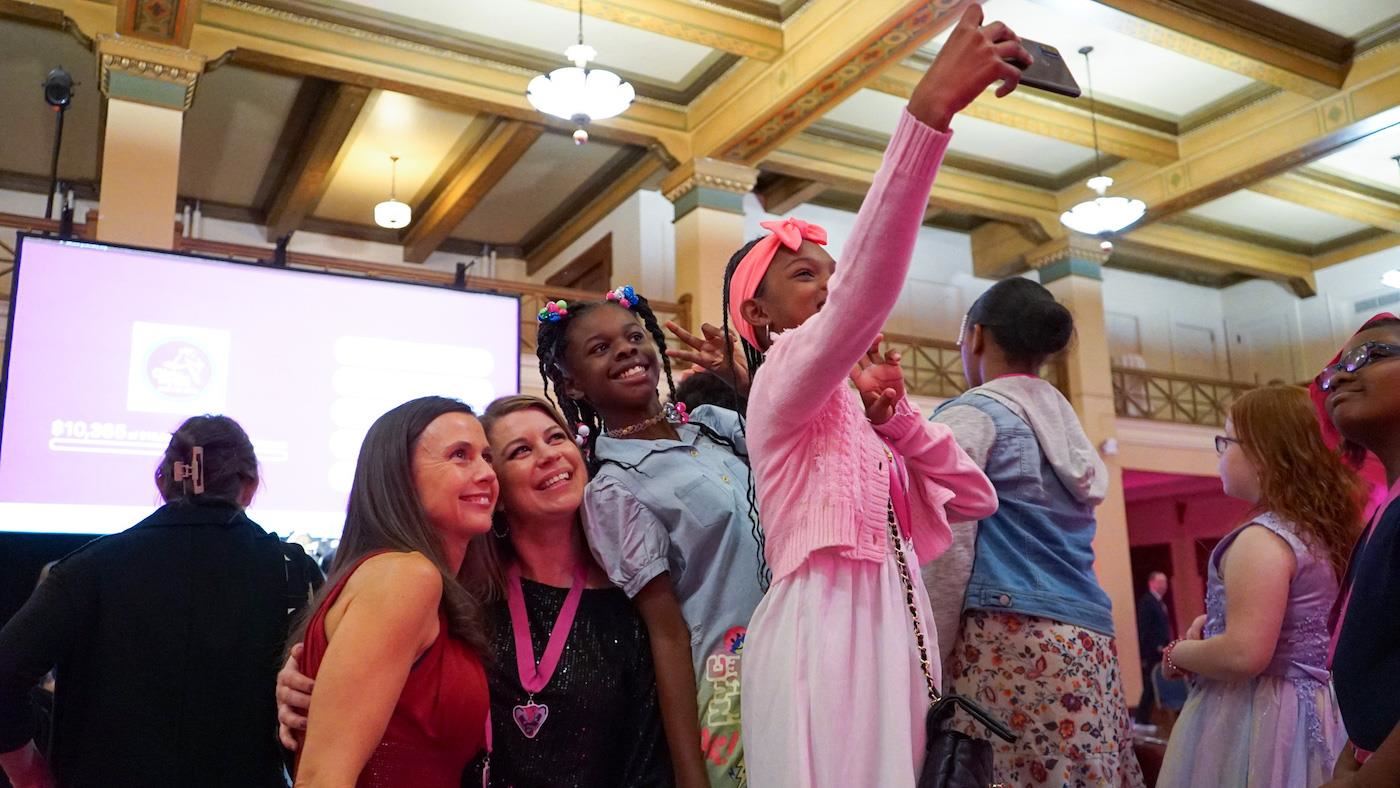 March 8, 2023 -- Thirty-three girls at Fairmoor Elementary School are celebrating a significant increase in their Girls on the Run group. They are now helping to raise thousands of dollars for the organization.
Girls on the Run is a nonprofit that helps young girls learn ways of caring for themselves, working with others, and exercising. Intervention Specialist Sonya Doughty-Adams reformed the group during the 2022- 2023 school year, following a several year hiatus before the pandemic. She said her daughters inspired her to bring the group back to the school.
"My daughters participated in Girls on the Run maybe 10 years ago," Doughty-Adams said. "It empowered them to be themselves and not worry about what everybody else thinks about them. It made them more confident in the things that they did, even though they were not the most fit young ladies. It empowered them to become fit and take care of themselves, and to be nice to others and make sure they had empathy for other people."
Doughty-Adams said she wanted young ladies at Fairmoor to have the same confidence her daughters developed. At first, five students from the school volunteered to join the group. But, Doughty-Adams said that quickly changed with adding one person, school principal Katina Perry.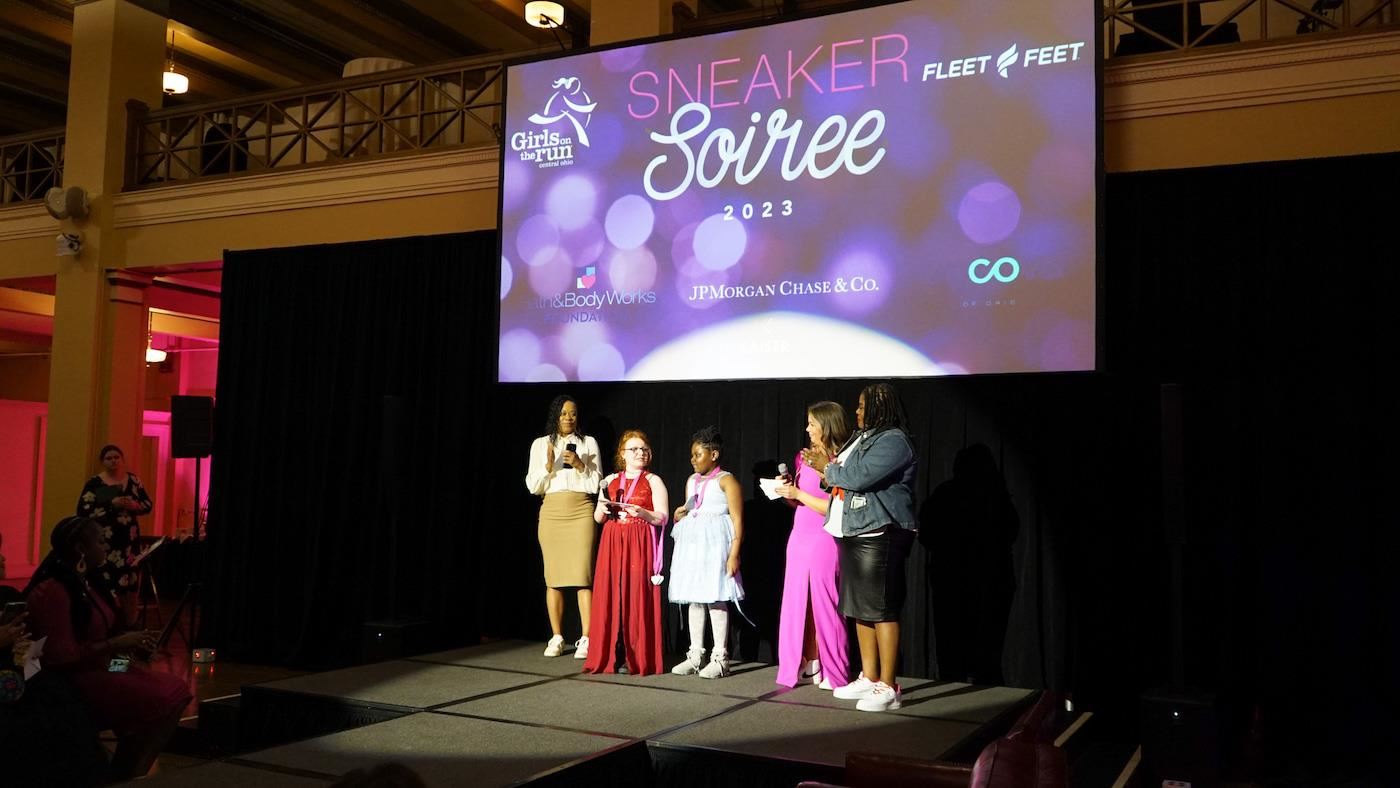 "When the girls found out she was running, they were so happy. Not only did it inspire the girls to start joining, we got a couple extra teachers on board as well. She was the driving force," Doughty-Adams said.
The group was awarded a grant, allowing Girls on the Run to cover the costs of shoes, pants, and other items.. Doughty-Adams said that funding and increased participation made them a great fit to help raise donations at the annual Sneaker Soiree.
All 33 students stormed the stage at the Columbus Athenaeum on Friday, February 24, to encourage others supporting Girls on the Run to donate to girls like them.
"For them to start at a one dollar donation and watch that go to 12 thousand dollars in about 10 minutes, it was awesome for people to just give up their heart for these girls," she said.
Community members showed the students proof of donations while the girls placed medals around donors' necks.
Fourth-grader Princess Lane said the event was exciting. She was among the first five students to join the group in the fall and has now watched it grow to 33 participants. She explained how the Fairmoor Girls on the Run group works.
"We practice a few days a week. So we go to the gym and we put words down and we talk about the meaning of it. So we learn and then we go outside and run," Lane said.
Lane said the girls learn how to take care of their physical and mental health while learning how to work with others. Doughty-Adams explained this has allowed the girls to learn how to problem-solve together.
"We have an older student who became like the big sister and they would have little issues and that older student would help them out. There would be times I wouldn't know what happened until that older student came to me telling me about what happened. So they started problem solving on their own," Doughty-Adams said.
Following their lessons inside the school, the girls head outside to train for a 5K held at the end of the school year. Lane participated in the 5K held in November 2022 and said it made her proud of what she accomplished.
"I felt excited and strong. That's the first medal I've ever gotten, so I was proud. Ms. Perry said we're going to try to make it faster though because last time it took us an hour or so to run," Lane said.
Lane hopes her running times will improve because she is working toward joining the track team once she's older. But now, she's sticking with the group because of the friends she's made and the lessons she's learned.
"I think it's good for more girls to come and participate in other things," Lane said.
Doughty-Adams expressed the same excitement for young girls having something to do, which provides a healthy outlet.
"It's needed. They need to do something after school, they need something to be proud of and they need to be proud of themselves."
The Girls on the Run 5K will be held Sunday, May 21, 2023. Families can sign up to join the event or support girls around central Ohio through donations. Families can find more information about the event here.
---