Return to Headlines
Principals Month: Valleyview Elementary School's Cierra Brown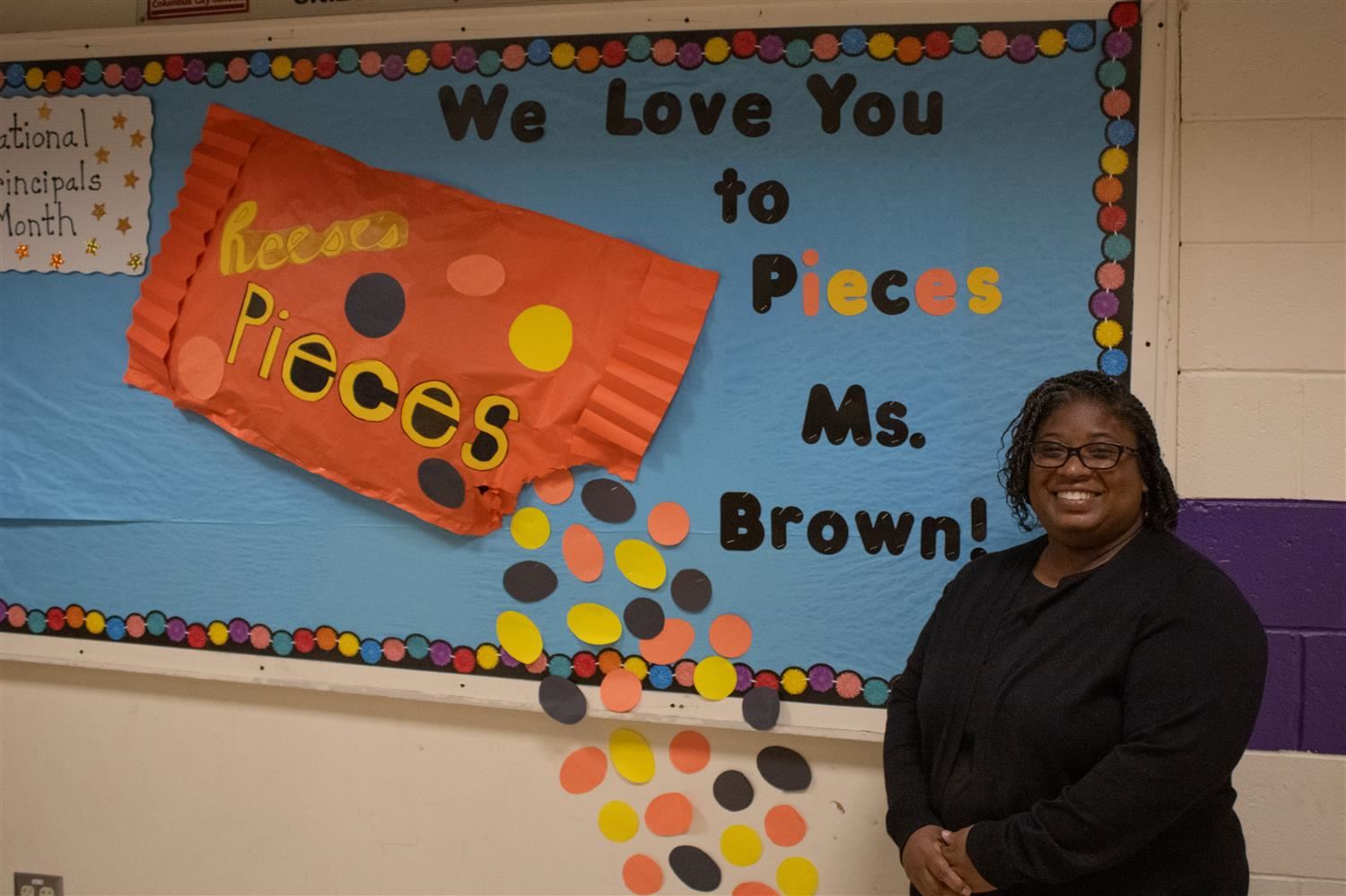 October 17, 2023 – Principal Cierra Brown knows the importance of good school educators. When she was a Columbus City Schools (CCS) student, Brown had a brief period where she wanted to pursue a career as a chemist. One of her teachers ensured she had transportation to a local company where she could get some experience with the trade before going into the field full-time.
With the hands-on learning her teacher helped to facilitate, Brown soon learned that chemistry was not in her future. As Brown began her career as a lifelong educator, her education mentors continued to help her find the right path, but this time, as a school principal.
"Being a principal was never really a dream of mine," Brown confessed. "I am grateful that other people see things in me that I don't see in myself."
Brown's principal journey began with the CCS Leadership Intern (LI) program. The program is geared towards school-based staff who are interested in becoming building leaders. Interns are placed around the District to complete a residency with experienced principals. During the residency, interns have the chance to immerse themselves in the day-to-day to see if the position is a good fit.
Brown worked as a teacher, alongside then principal of Fairmoor Elementary School, Maria Stockard. When the application for the LI program opened, Stockard encouraged her to apply.
"Applicants for the LI program are people who have core leadership skills that would benefit their schools," Stockard explained. "Cierra had just that. She didn't just talk, she put her words into action."
Brown was initially unsure about transitioning into a building leadership role. However, after reflecting on her career, she realized what Stockard and other colleagues knew about her from the beginning.
"Looking back on it, I can see moments where I was a leader in my building," Brown said. "That transferred to me being here today as the principal of Valleyview Elementary School."
As a leadership intern, Brown always immersed herself in different aspects of the principal role. She worked with mentor Emma Corbin, former principal of Ecole Kenwood French Immersion Elementary School. Each day was different, and Corbin said Brown was eager to learn.
"She always wanted to learn more and was looking for answers," Corbin said. "She was immediately respected by our staff because she was on the ground with them working to improve our teaching and learning."
When Brown's term with the leadership program ended, she began her principal career at Valleyview with the tools she needed to succeed. She has worked hard to create a strong school community where students and faculty feel supported and welcome.
"I feel like Valleyview is home," Brown said. "Coming back to school after the summer felt like a homecoming. The kids and staff were genuinely excited to come back. I was excited to come back. It felt like we were all back home and together."
Stockard is excited to see Brown thriving as a building leader. She said that when she first recommended that Brown apply for the leadership intern program, she knew it was good timing, even if Brown didn't.
"Cierra kept saying she was waiting for the right time, and I told her, 'Now is the right time,'" Stockard said. "She really believes in the work she is doing. She's all in."