Return to Headlines
Superintendent's Weekly Message - December 10, 2021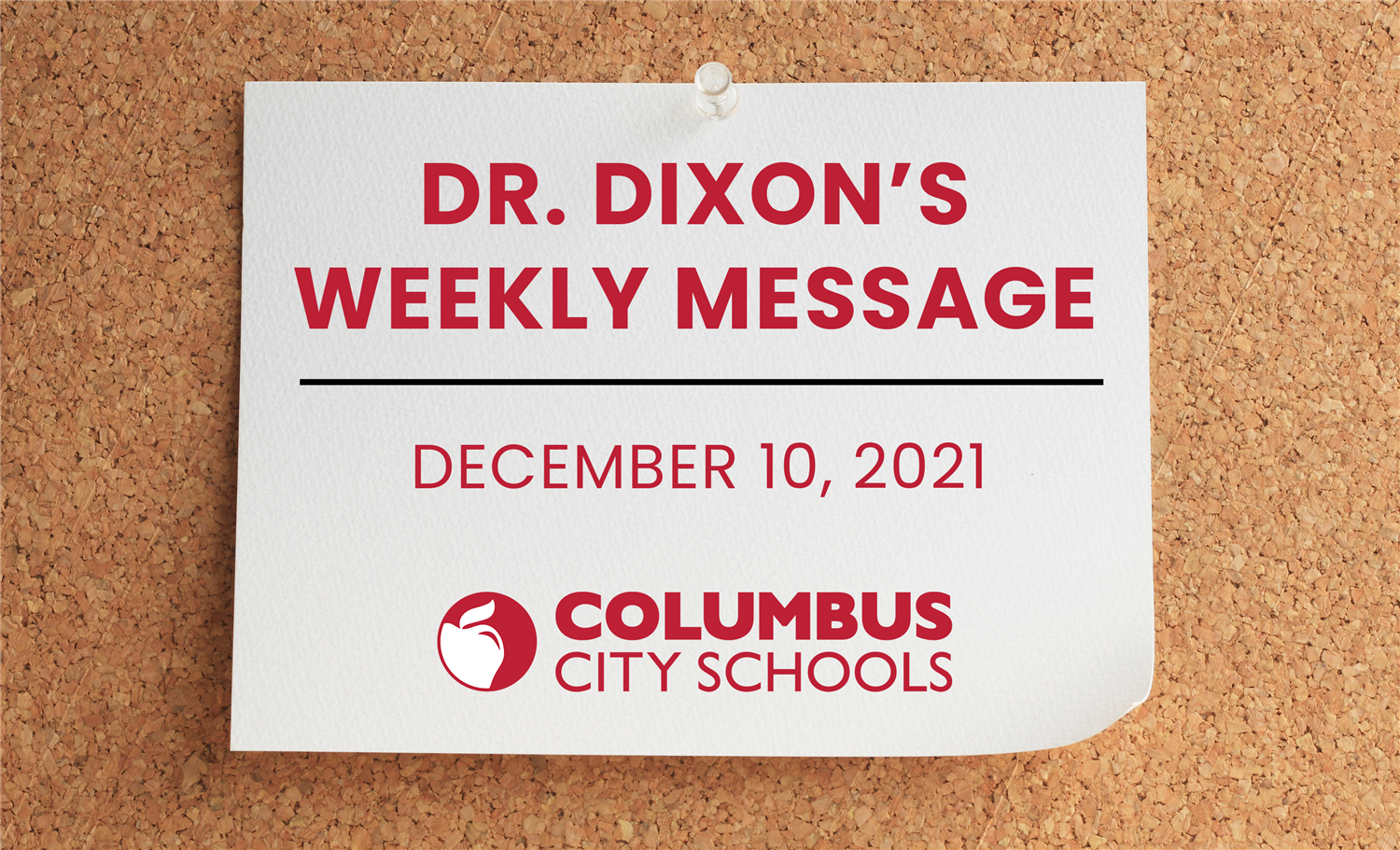 Dear CCS Community,
This week, we addressed a number of social media posts suggesting violence at several CCS school locations. Parents, students, and staff who saw the messages voiced their concerns. Each instance was taken seriously and investigated, alongside Columbus Police in most cases. Fortunately, nothing credible was substantiated.
Even though these proved to be empty and unsubstantiated threats, we can all agree that no one should be afraid to come to school to learn or to work or to support a child's education.
We've long recognized in this district that we are "safer together." We are safer when we all work together to prioritize safety, when we all act together to protect each other, and when we all speak out together about keeping our students and staff safe.
Throughout our district, our leadership teams are working together to identify and deploy additional tools and supports for our teachers and building staff to further prioritize safety. We have added additional Safety and Security team members, and our counselors and social workers have provided additional supports to help teachers and staff address social emotional challenges in the classroom.
To truly be "safer together," we need everyone in the district to join together -- that includes our students, families, and community partners. I want to share what we are working on to add to our safer together efforts.
Empowering Student Voice
Fitting with our commitment to "Students Leading the Way," our first Safer Together Engagement effort centers on student voice.
We are in the initial stages of collaborating with teachers at several of our high schools to launch after-school Safer Together teams to identify and support brave students who want to stand up and speak out about safety in our schools and to promote ways students can safely and anonymously report their concerns.
Partnerships in Action
Our second Safer Together Engagement effort involves our community partners who are experts on student behavioral challenges.
Modeling off the success we've had with our Partnership in Action Team meetings during the pandemic, I have pulled together a group of our community partners and providers who understand the urgency and who have the resources and willingness to offer additional supports to address this critical need.
Right now, our Safer Together Partnership in Action Team includes Nationwide Children's Hospital, Buckeye Ranch, North Community Counseling, Directions for Youth and Families, our partners at the City, and our school counseling team.
The goal is to quickly identify and deploy additional resources for our teachers and staff in our schools to help address behavior challenges when they happen. This is only the start to a greater conversation with our partners about how they are part of helping us be safer together.
Virtual Family Engagement Sessions
Finally, a third Engagement effort around Safer Together involves giving our parents the resources they need to be advocates for safety.
In January, we will launch a series of Virtual Family Engagement Sessions aimed at helping parents who might need ideas or help on how to talk at home about safety with their children.
We'll try to answer questions like: What should a parent do if they suspect their child is involved with the wrong crowd? How do you talk to them about the fight videos we see popping up on social media? When should a parent step up and report suspicious activity to our schools or to the police?
We like to think these are easy questions, but they are not. Through our Virtual Family Engagement Sessions, we will seek out and share the advice of our community's experts to stand with our families so they, too, can help us be safer together.
See Something, Say Something
It goes without saying that safety is a serious matter. All threats to school safety are taken seriously, whether they are made on social media, in a crowd, by phone or note, or even as a joke.
We continue to remind students that "If you See Something, Say Something." One of this District's greatest safety resources is the trusting relationships between our students, families, staff, and safety teams.
This is more than just asking students to report weapons or fights; it's encouraging them to speak up anytime they see another student who is out-of-sorts or chronically alone. We encourage anyone connected to Columbus City Schools to "See Something, Say Something" by calling or texting our anonymous hotline 844-SAFER-OH if you are aware of a potential danger to one of our students or our schools.
That's because we need more partners in our community to help extend our safe zones and reduce incidents of violence in our surrounding neighborhoods. When we are intentional in enlisting our students, our families, our teachers and staff, every caring adult and community partner, we truly are Safer Together.
Sincerely,
Talisa Dixon
Superintendent/CEO, Columbus City Schools