Return to Headlines
Veterans Day is Extra Special For CCS Principal and Army National Guard Captain Jesse McKown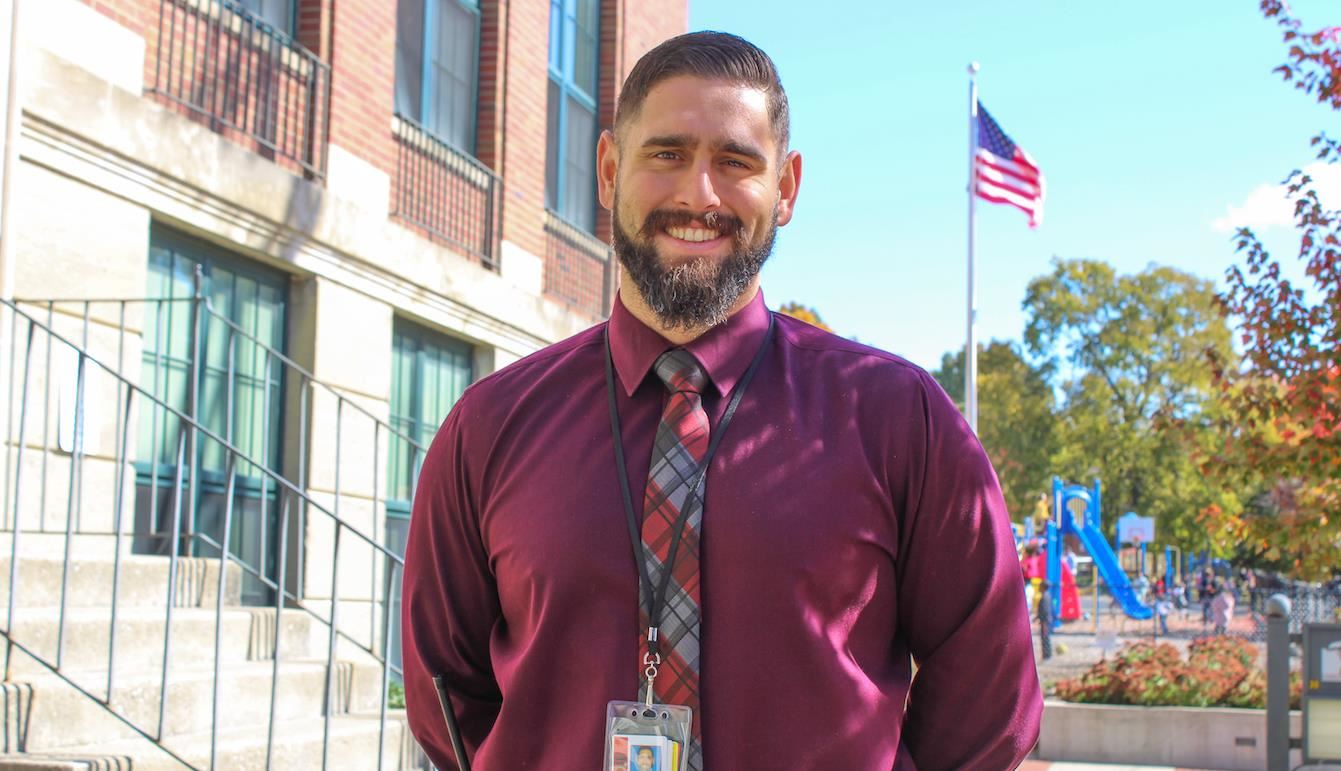 November 11, 2022 -- For Jesse McKown, living with purpose and inspiring others to be the best versions of themselves is what has driven him in his life and career.
McKown, principal at Clinton Elementary, is actively serving in the U.S. Army National Guard at the rank of captain. He has served for 11 years and is transitioning out of the service to spend more time with his family. Whether in the school system or the military, his goal is to make a difference.
"That's what drives my whole life," McKown said. "Everyone can live by their purpose and try their best."
McKown was born in Clearwater, Florida, and later relocated to Ohio. A first-generation college graduate, McKown decided to enlist in the U.S. Army National Guard to help with his goal of getting his degree.
"My mother worked hard to provide for me and always told me I could go to college, and I owed it to her to find a way to do that," McKown said. "I graduated high school, and it took about three or four months before I decided to enlist. After I got my first bill, I realized there was no way I would be able to afford this, and I had only taken about three classes at the time."
After getting his degree, McKown was commissioned as an officer from Ohio University in 2016. As part of his military service, McKown was able to tour Comoros, working with Comorian soldiers, and Italy. During his deployment, he found a passion for education, teaching English through tactics to Comorian soldiers.
"My time in Comoros with the cultural tour opened my eyes to being immersed in another culture," McKown said. "It was my first time out of the country, and it was an opportunity to teach. That spurred my love for education."
McKown earned his bachelor's degree in psychology from Ohio University. After graduating, he received orders to deploy.
"I was faced with a dilemma," McKown said. "I was going to go to grad school for clinical psychology. I wanted to get my doctorate as a clinical psychologist working with adolescents. I was excited to pursue that and work with young adults, but I couldn't do that because I had to deploy."
Before deploying, he spent the summer as a substitute teacher.
"I just loved it," he said. "I spent the entire summer working with kids about to enter Kindergarten. I was in love with the work."
McKown was activated various times throughout his service, including being deployed in 2017 and 2018 to Kuwait and briefly to Iraq.
"When I was deployed, I spent a lot of time thinking about what I wanted to do, and when I came home, I realized that education fits me better than being a psychologist," McKown said.
Once he came home, he became the assistant dean of students at Focus Academy. In addition, he taught a character development course for fifth graders. He later became vice principal and principal.
"It was wonderful because being dean showed me even more that I didn't want to be a therapist," McKown said. "I still had an interest in it, and when I went to school to get my principal license, I was deciding between being a principal or being a guidance counselor. I had a strong dilemma of which route to go."
McKown earned his principal license and got his Master's in Educational Administration from The Ohio State University in 2020. He then volunteered briefly in the COVID-19 response preparing and delivering food to homeless shelters.
"It tied back to why I feel so passionate about giving back," McKown said. "When you see the fruit of your labor and witness a family smiling, it's amazing. All of these experiences helped me frame the way I think about life, which is why I try to be uplifting and optimistic. I want to be of service to others and do what I can to help them."
When the opportunity to become principal at Clinton Elementary came up, he knew it was the right place for his personal and professional growth. He hopes to inspire kids to make a difference in their community.
"A big thing I want to accomplish is inspiring kids to go on to do great things," McKown said. "Another thing I would like to accomplish is that all of our students will have completed a community service project by the end of the year. It can be something as small as a classroom initiative or something big like a national movement. When it comes to global empathy at Clinton, we are very empathetic toward the needs of the world. Our kids in the past have done mental health initiatives and given back in a lot of different ways. I'm inspired by them because these are student-driven initiatives. I created this initiative because of that. Our kids care and can drive change."
McKown lives in Columbus with his wife, Kelsey McKown, and their two sons, Beau, 12 years old, and Everett, 18 months old. He hopes his work will leave an impact on tomorrow.
"What I love most about working with kids is I get to impact tomorrow," McKown said. "I want to leave a legacy where when I look back on my life, I see that I mattered. I did something that mattered to the world. When you work in education, you do that."
---