Return to Headlines
Extending Resources to Help Columbus City Schools Seniors Get to the Finish Line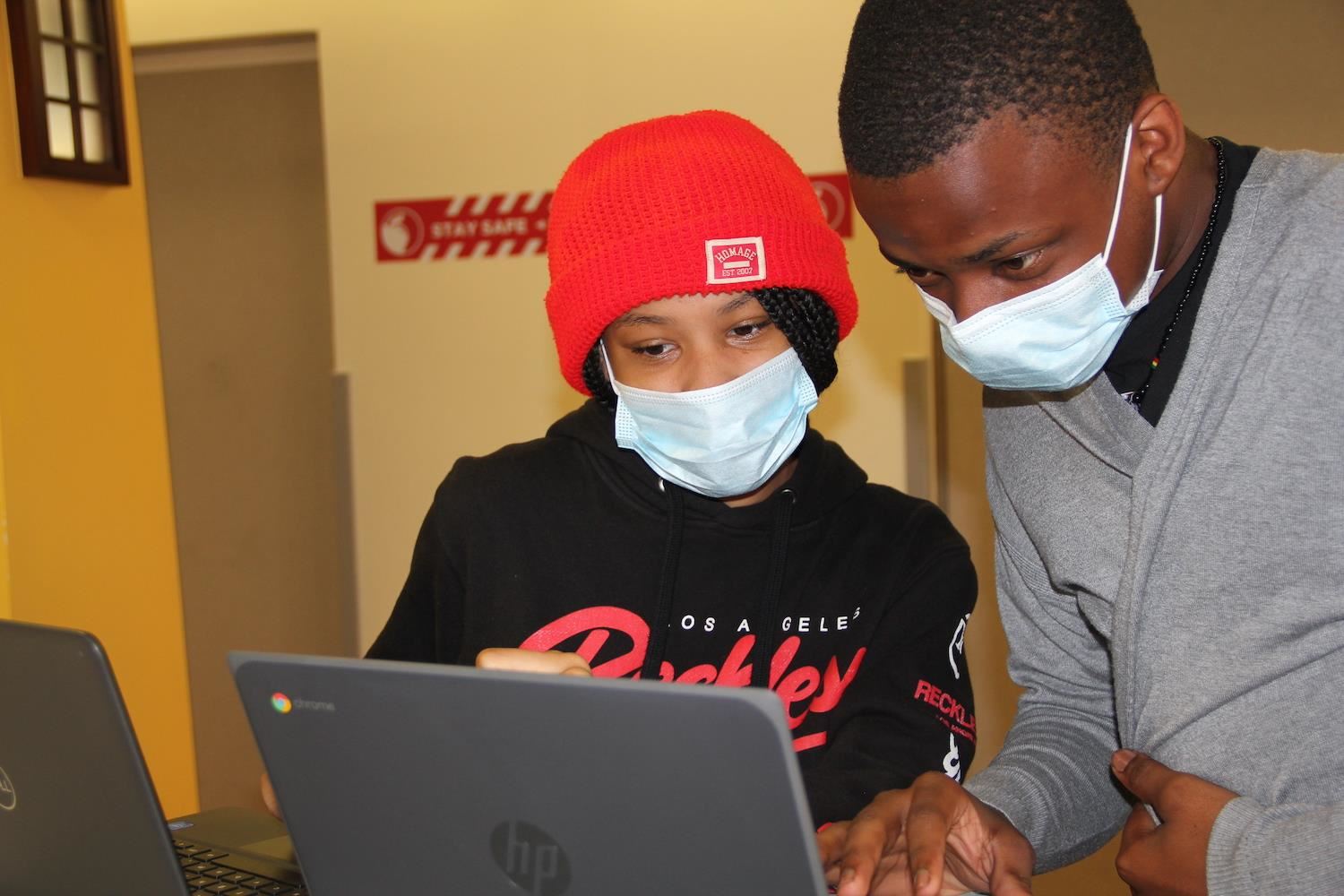 July 19, 2021 -- On the second floor of Columbus Africentric Early College Pre K-12, you will find the 2021 Columbus City Schools Summer Experience in-person learning lab. There are giant post-it notes on classroom doors to guide students if they need help with English, Social Studies, Math, even ESL (English as a Second Language).
Teachers are in each classroom. Or if you want to work at a high-top table with several chairs around it, there are teachers there too, along with a bevy of free snacks, salty and sweet, and school supplies if you need those.
Teacher Kristen Delay greets every student with a smile and cheery welcome. "How can I help? What do you need?" Delay asks.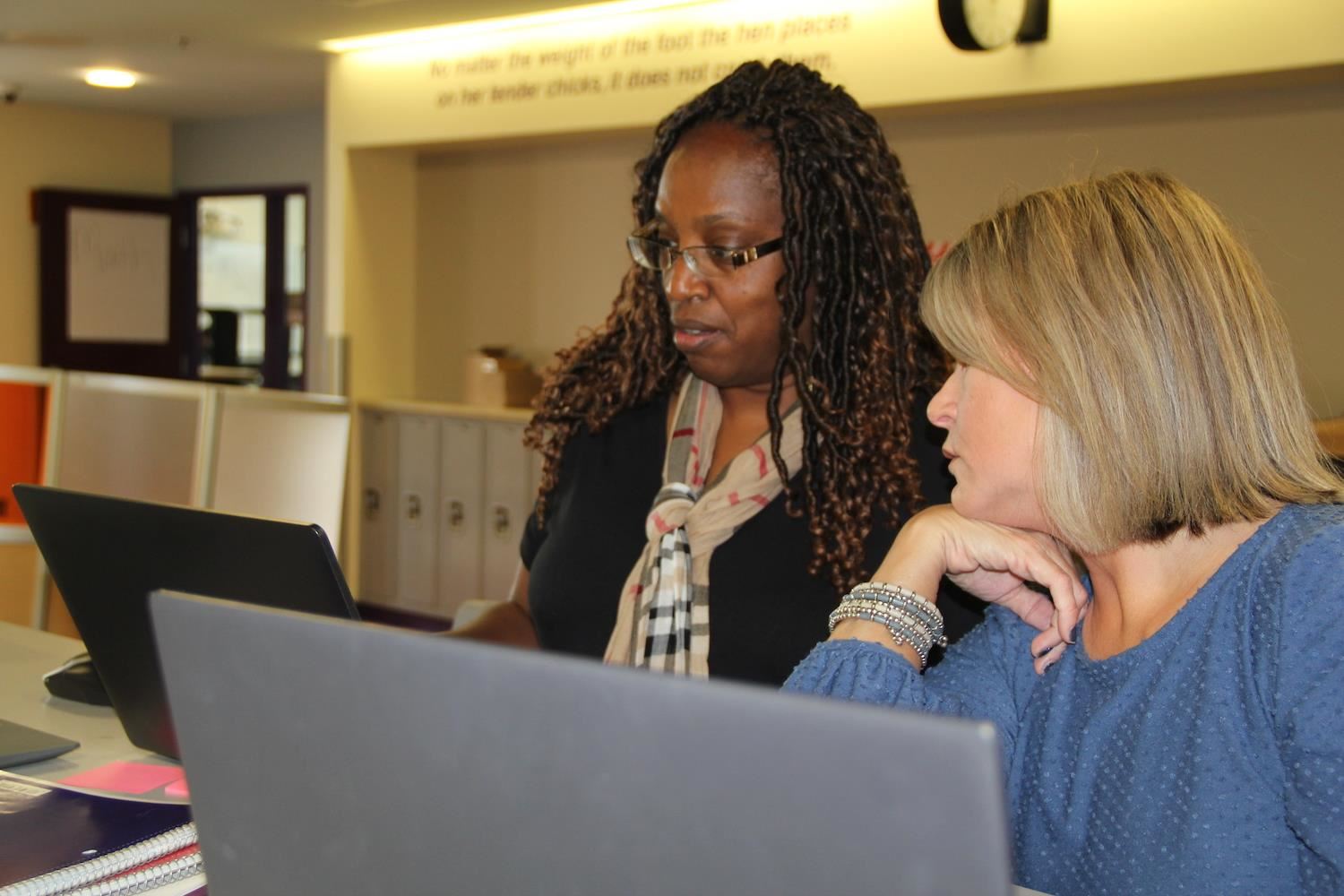 If you ask senior Jalen Walker why he is here, he will point and smile at Kristen Delay.
"I kept hounding him for weeks, but nicely, and now he's here doing the work, so hopefully he can graduate this summer," said Delay, a Centennial High School English teacher.
Walker successfully completed his government class this summer but still needs to complete English 11, Math 3, and Physical Education.
"Working at home, I just put off doing the work," said Walker. "It's fast-paced here. It felt good to complete one class. This is my last chance. It's not easy, but I'm going to do it. I will be proud of myself if I get all my credits and graduate."
To help students such as Walker make it to the graduation finish line, the District has extended the hours of the CAEC learning lab until August 11 for 2021 graduates only. The 2021 CCS Summer Experience officially ends this week, Friday, July 23, but the learning lab at CAEC will remain open for Monday through Friday, 9 a.m. to 1 p.m. until August 11, to focus exclusively on seniors to help them complete their graduation requirements.
"We are here to help these seniors," said Delay. "It's already been a great summer. Some seniors have already earned all the credits to graduate. We called one student's grandma, and you should have heard her on the phone, cheering. It was wonderful. We want to make that happen for more of our seniors."
Starting today through Thursday, July 22, the District is also extending the hours to unlock tests for seniors from 7 p.m. each night until 10 p.m.
"Hopefully, those extra hours each night will help our seniors complete the testing, especially if they are working jobs."
"Every graduate counts," said Kenny Lee, Director of Secondary Curriculum. We want seniors to know we are here to help them complete this milestone and graduate high school.
Even though Dakota Slappy and Tyshawn Parks are not seniors, they are regular visitors of the in-person learning lab, making quite a difference in their young lives.
"TikTok and Netflix are what got me here this summer," said Parks, an Eastmoor Academy sophomore. "I didn't do so well working at home. I was a little distracted. Coming here and working with Ms. Delay has been fun. I'm getting A's and B's this summer."
"Same for me," said Slappy. "I earned my Algebra I credit this summer. At home, I wasn't motivated. I need to be in school."
For students working at home, tutoring help is available 24/7 through a company called Paper that all students can access through Clever and hitting the paper icon. Paper provides around-the-clock tutoring help for CCS students, especially seniors.