Return to Headlines
Superheroes in the Classroom at Columbus Spanish Immersion Academy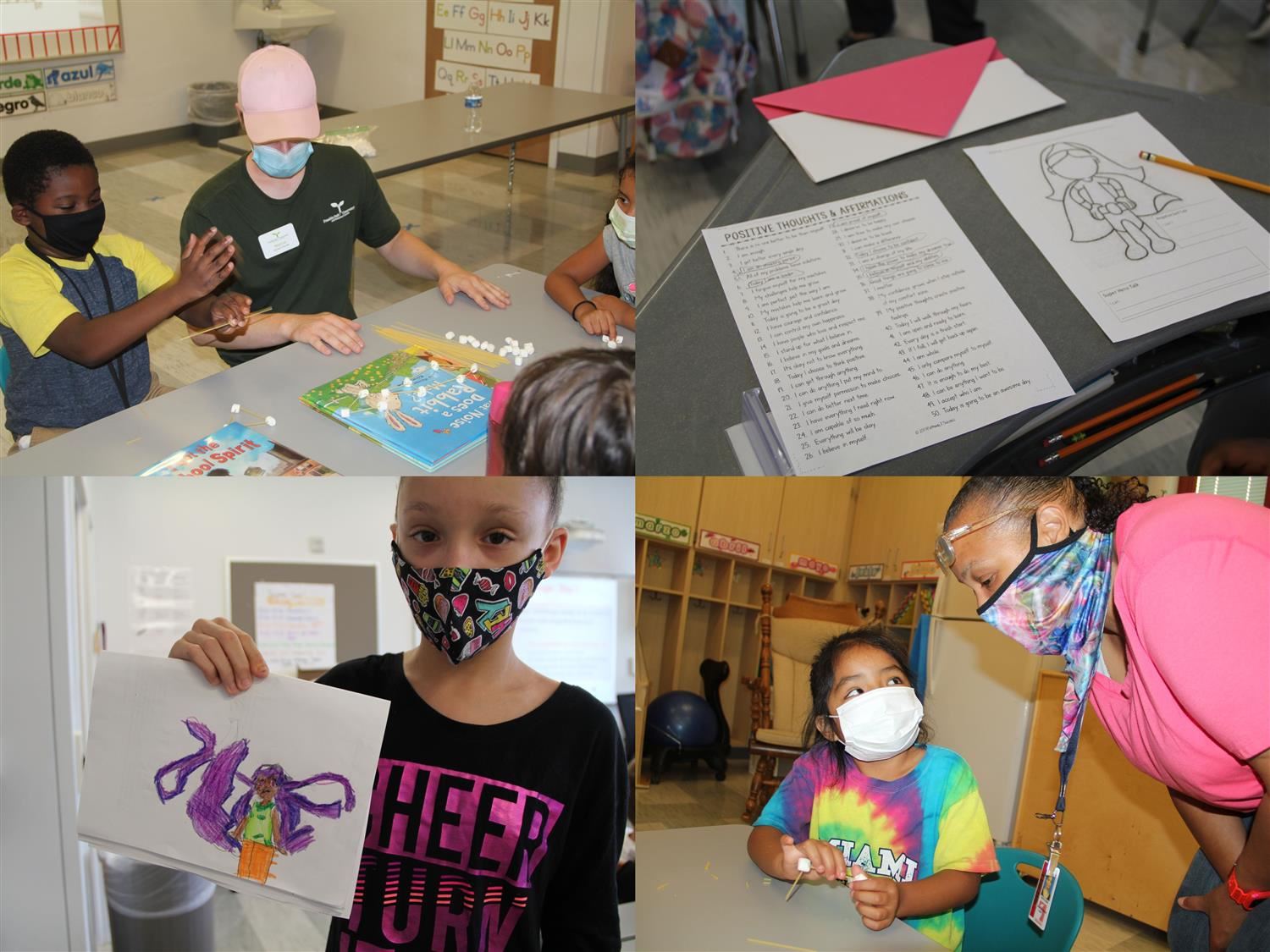 July 14, 2021 -- School is in session at Columbus Spanish Immersion Academy (CSIA) this summer. On the first floor are the youngest learners, including students that will start kindergarten at Columbus City Schools in 2021.
"A big part of our Pre-K class is about numbers and shapes," said Jeri Hensley, CSIA Summer Coordinator. "Students are building bridges with pasta and marshmallows. This project teaches students how to apply what they learn in the classroom into something they see in the real world."
Two students discussed where to break the pasta at one table so both bridge sides would be equal. "Break it in the middle," one student explained to his classmate. At another table, the staff member from Franklin Park Conservatory showed the students all the different bridges they could build by pointing to pictures in a book. "This is a beam bridge, a truss, arch, suspension, cantilever, and cable-stay bridge."
"The word cantilever doesn't sound like something you would hear in a kindergarten class, does it," asked Hensley. "It is never too early to expose our children to critical thinking, decision making, and collaboration."
Upstairs at CSIA, there was a recurring theme in both the fourth and fifth-grade classrooms: superheroes. In Paula Yarbrough's class, a counselor provided a social-emotional learning lesson on positive communication using superheroes.
"Draw your superhero and describe some words your superhero could use to communicate positively," the counselor instructed the students. "Write down what your superhero would say to express themselves."
In Lovie Debnam's fifth-grade classroom, students were given a writing prompt using a superhero. "Describe the superpower your superhero possesses and why," said Debnam, who teaches sixth-grade at Johnson Park Middle School during the school year.
"Some of these students struggle with writing, so I'm trying to make it fun," said Debnam. "I love teaching in the summer because it's a chance to help these kids. On Monday and Tuesday, our focus is on reading and math. Wednesday and Thursday are dedicated to hands-on design challenges. The students love those two days the best."
It was obvious when five students raised their hands, begging Ms. Debnam to let them share their superhero's superpower.
"My superhero is Phase," said Nataleigh Martinez. "Phase would have the ability to sneak around undetected, especially when my mom makes me clean my room. Phase also dreams of flying off to Paris. "Who wouldn't want to go to Paris," Martinez asked her classmates.
Jake Billingsley's superhero would be "ridiculously strong so that he could help his Dad with his carpentry work."
"My superhero is Troop, and he's red, blue, and green to represent firefighters, police, and the military," said King Frazier. "Troop's superpower is comfort and strength to fight terrorists."
Corrin Spencer and Marchel Diaz wrote that their superhero's superpower would be the ability to be invisible.
After all the students shared, it was Debnam's turn. "I want my superhero to be able to fly anywhere," said Debnam. "First, I would go to North Carolina to see my mom. Then I would have to fly to help people before the police got there, let's say if someone was drowning."
On days like this, time flies in Debnam's classroom. Her students are engaged and openly sharing while learning how to be better writers and creative thinkers.