Return to Headlines
Superintendent's Weekly Message - May 14, 2021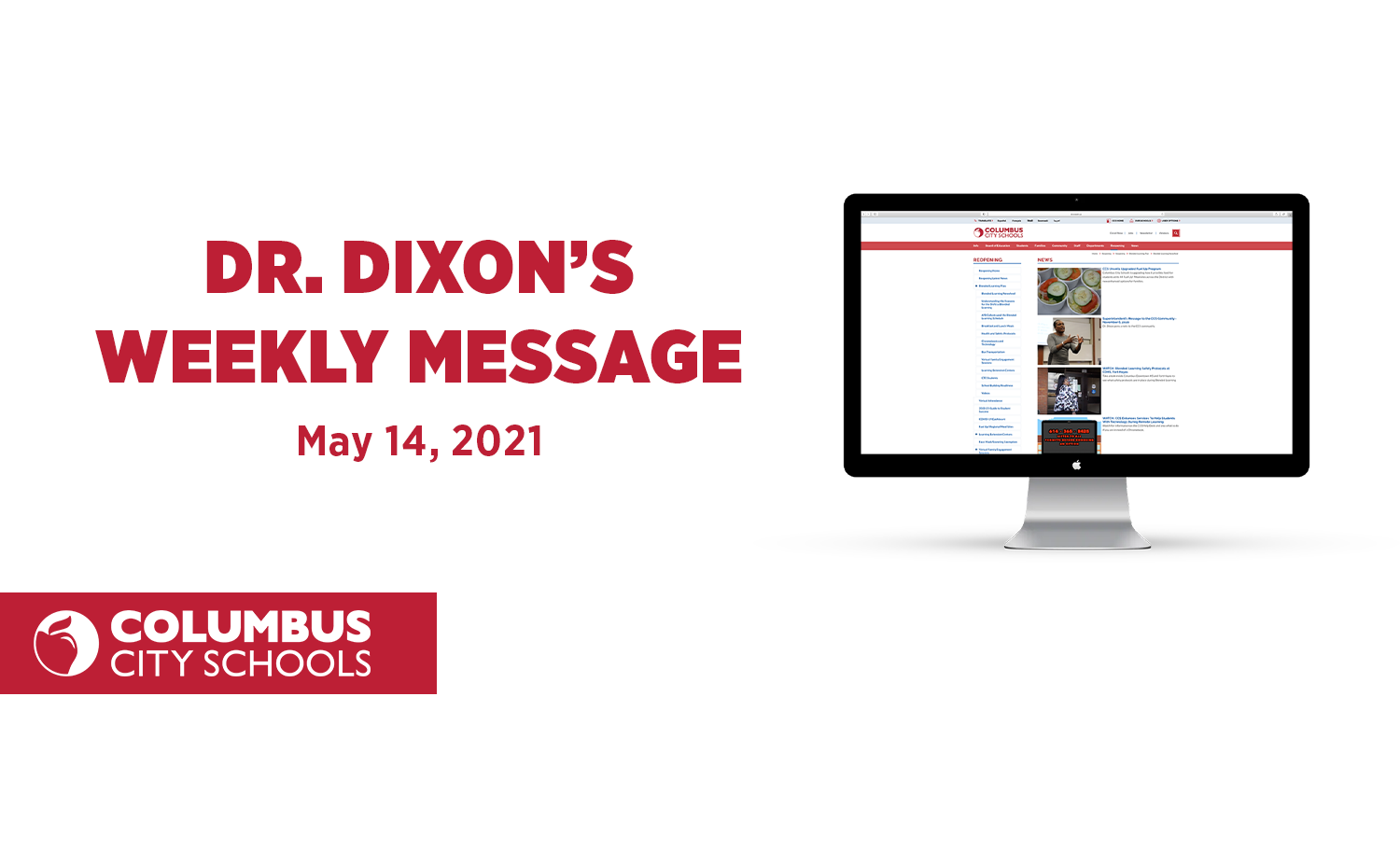 Dear CCS Community,
Late this week, we heard updated COVID-19 guidance from Governor DeWine, President Biden, and the Centers for Disease Control. Governor DeWine announced that many of the state's health orders would end on June 2, while the CDC reported that fully vaccinated people no longer need to wear masks.
Both of these updates are certainly welcome news as we try to end the ongoing pandemic. As you can imagine, we have received questions about what these mean here at Columbus City Schools.
We have been advised by Columbus Public Health that the City's local ordinance on face coverings will remain in effect beyond June 2, the date the Governor gave for the end of his health orders.
CCS will continue to follow the health and safety guidelines we receive from Columbus Public Health, which means we will maintain our current health and safety protocols and mitigation strategies. When this guidance changes and we are able to update those protocols and strategies within our classrooms, school buses, and offices, I will update our families and staff accordingly.
Portrait of a Graduate
Two weeks from today, May 28, marks the last day of class for many of our seniors. With graduation just weeks away, you may recall hearing about The Portrait of a Graduate, the District's new educational vision adopted at the April 20 Board of Education Meeting. The best way to describe the Portrait is to think of it as the District's "north star" that ensures we guide and prepare students for success, now and in the future. The Portrait is a collective vision that articulates our community's aspirations for every student in Columbus City Schools.
Summer Enrollment
That vision begins this summer. If you have not enrolled your student in our innovative, free, hands-on educational programming for students Pre-K through 12th grade, at four (4) high school sites, nine (9) middle school sites, and thirteen (13) high school sites, I encourage you to do so. More than 4,200 students have registered so far for the six-week Summer Experience, which begins June 14. Sign up your child through the Parent Portal or call your child's school if you need assistance. The school secretary can also register your student for the 2021 Summer Experience at CCS. Visit CCSSummer.org for more information.
The 2021-2022 School Year
The vision continues when students, Grades Pre K – Grade 12, return to in-person instruction for the 2021-2022 school year. The first day of school for the 2021-2022 school year is July 29, for Woodcrest Elementary School, the District's year-round school, and August 26, for our schools on the traditional calendar.
I am excited to welcome students back to the classroom for in-person learning five days a week, following COVID-19 health and safety guidelines. For those families who wish to have their child continue their education in an online environment, we are offering the District's new BlendED option. This new online Pre-K through 12 option is a year-long commitment and will provide a balance between synchronous and asynchronous time for students, resulting in reduced screen time, extended learning options, full-time teacher availability, and flexible scheduling options for families. Students will participate in sports and graduate from their school of address.
Enrollment for families wishing to enroll their students in the BlendED option begins May 17 - 28. Families of current students and students already enrolled to start the 2021-2022 school year can enroll through the Parent Portal beginning Monday, May 17. The BlendED program will be capped at 2,000 students to allow for curriculum planning and staffing. For more information, visit the CCS website and click on the 2021-2022 School Year tab.
CCS Facilities Master Plan Envision Phase
The District is now in the Envision phase of the Facilities Master Plan process. For this phase, we will be discussing goals and aspirations to imagine the future of learning environments to support the vision set in Portrait of a Graduate. In particular, we will review three specific pillars of the Portrait of a Graduate: Adaptability, Communication, and Global Empathy. How do schools with these pillars as a vision perform? What do they look like? Register for the next round of community conversations that begin this Monday, May 17.
COVID-19 Vaccines Now Approved for 12 - 15-Year-Olds
Students 12 and older are now eligible for the COVID-19 vaccine. For those families wishing to have their students age 12 and older vaccinated, there are several health agencies and pharmacies offering clinics, including:
Celeste Center at the Ohio State Fairgrounds

on 17th Avenue Monday - Saturday. No appointment is needed.

Columbus Public Health

240 Parsons Avenue, Monday - Friday Walk-in immunization clinic
This week we continued to show our appreciation for our CCS team members who make such a difference in the lives of our students. Wednesday, May 12, was National School Nurse Day. This year our school nurses demonstrated incredible agility and flexibility to support our students remotely and when they returned to school in February for blended learning. We love and appreciate our school nurses every year, but especially so as they helped us navigate the pandemic.
Sincerely,
Talisa Dixon
Superintendent/CEO, Columbus City Schools