Return to Headlines
Pre-Kindergarten: The Foundation of Portrait-Ready Graduates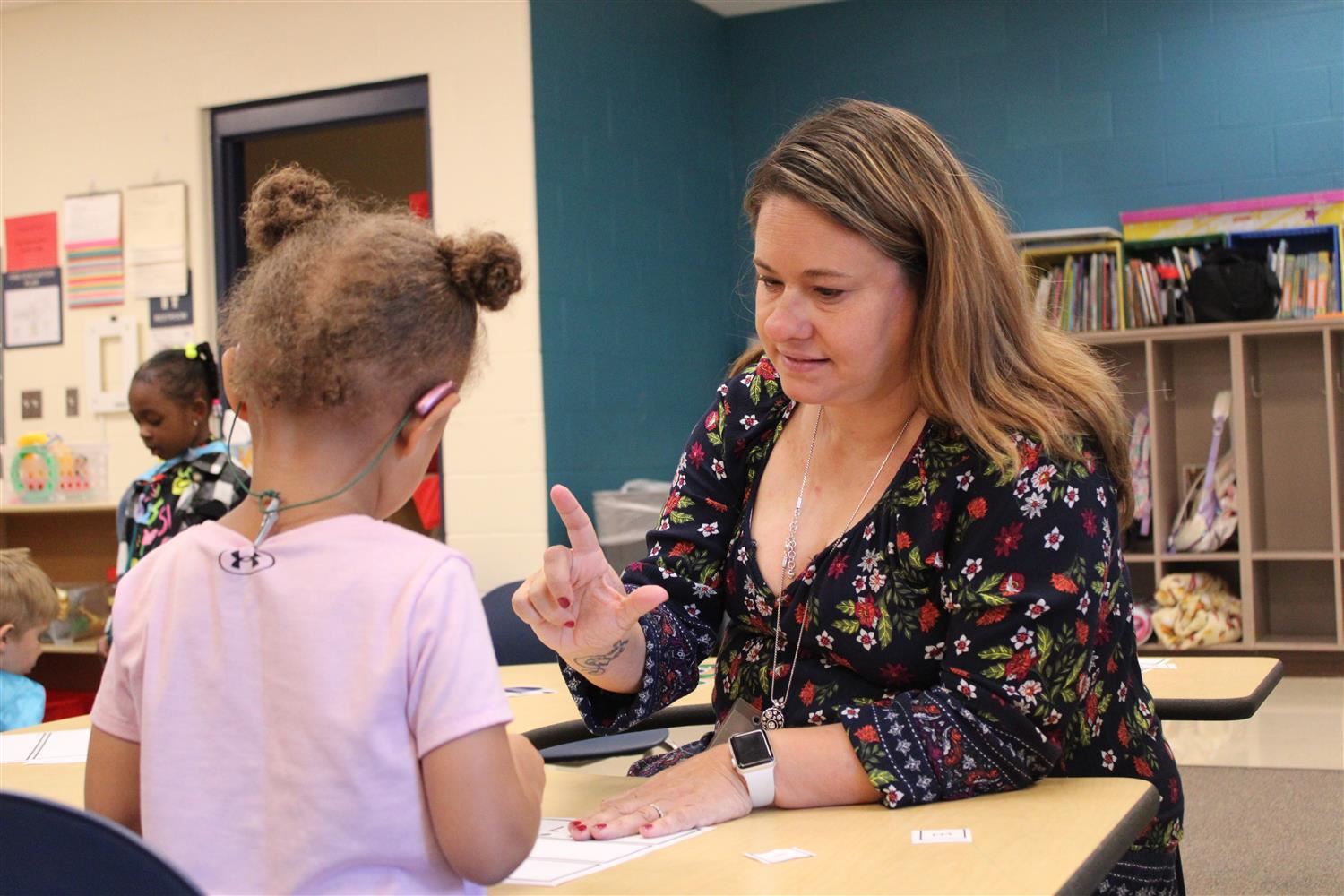 October 05, 2023 — When you walk through the doors of Parkmoor Elementary School, vibrant colors covering every inch of the walls bring the building to life.
With each step taken throughout the building, your ears vibrate from the excitement of students learning in their classrooms, especially our youngest learners who are well on their way to becoming Portrait-ready graduates.
Columbus City Schools (CCS) has a vision for students to be part of a world-class public education model that prepares them to be Portrait-ready graduates. Through this model, students can reach their full potential.
Portrait-ready graduates are students who are leading the way in their education. These students are adaptable, creative, and strong communicators. They think critically, have global perspectives, and are exposed to the latest technologies.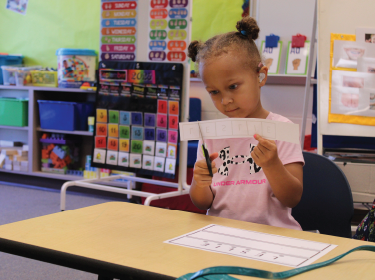 This vision forms the foundation of a student's education career: pre-kindergarten.
"Pre-kindergarten gives students a jump start on school," said Dr. Terra Baker, CCS Director of Early Childhood Education (ECE). According to Dr. Baker, students who attend pre-K acquire school-age skills earlier, setting them up for success in school, work, and life.
Under the guidance of Mark Kempton, the pre-kindergarteners at Parkmoor Elementary School spend their mornings gaining a baseline knowledge of literacy, language, and even mathematical skills.
Inside Kempton's classroom, you may find his pre-kindergarteners singing songs that teach them not only rhythm and rhyme but also the days of the week or months in the year. Kempton and his team work to incorporate yoga and movement throughout the day as well as art projects and games to connect their learning.
Dr. Baker noted that families can often assume that pre-kindergarten is about play, thus deeming it an unnecessary step for their child's education.
To the contrary, Dr. Baker explains that "intentional play simultaneously supports social-emotional and academic development," said Baker.
Sara Harris, an intervention specialist for pre-kindergarten at Huy/A.G. Bell Elementary School provides an inside look at her classroom and how she prepares her students for kindergarten.
"Students need to be ready to learn before they can tackle academics," said Harris. "Students are expected to have strong phonemic awareness and letter identification by the end of pre-kindergarten. That's huge growth."
Harris' formula for kindergarten readiness is rooted in play. Play in her classroom combines academic requirements with the social-emotional components necessary for a child's development.
"When a child hasn't been in school learning to play and engage with other children, they're already behind," said Harris. "I always say everything you need to learn in life, you probably learned in pre-kindergarten."
Families with children three years old by September 30 can enroll their children in pre-kindergarten. Currently, the ECE department has 2,096 seats available across 63 sites in 121 classrooms. 768 of those seats are reserved for students with special needs.
Additionally, the District has reported a consistent demand for pre-kindergarten as the average waitlist for students is three years, with over 190 students waitlisted each year.
"We have students who are currently on a waitlist to attend pre-kindergarten," said Dr. Baker. "If the levy passes that would give more opportunity to serve more students. If the levy doesn't pass, that waitlist will grow."
On August 1, 2023, the Columbus Board of Education proceeded in placing a combined 7.7 mill Permanent Improvement and Operating Levy on the Ballot - also known as Issue 11.
With the desire to provide more educational opportunities for families and their children across the Greater Columbus community, the District is looking into the possibility of expanding its current pre-kindergarten sites with the addition of six new sites to fulfill the needs of the students better.
"These supports are mission critical for us to continue on our Board goals and guardrails," said Columbus City Schools Superintendent/CEO Dr. Angela Chapman during the Columbus Board of Education meeting held on September 19, 2023.
As stated in the statement of facts/information presented by the Superintendent, the expansion of additional locations would add six pre-kindergarten teachers and 12 pre-kindergarten aides to these sites. As well as serve 48 to 120 more students in early childhood education.
Without additional funding, ECE will not be able to expand to regions of need resulting in a decrease in grant funding and an increase in general fund spending. This limits the opportunities early childhood education provides for its students including field trips and classroom experiences.
According to Dr. Baker, all pre-kindergarten rooms active since the 2021-2022 school year are rated 4 and 5 Stars by Step Up to Quality (SUTQ), Ohio's five-star quality rating and improvement system for early childhood education.
Administered by the Ohio Department of Education and the Ohio Department of Job and Family Services, ECE classrooms are mandated to participate in SUTQ. All ECE classrooms rated 3, 4, and 5 Star receive state funding to support students and families.
"We receive grant funding to support each child," said Dr. Baker about the Department of Early Childhood Education. Adding that if additional funding is not provided to help support the expansion of Early Childhood Education, Baker says the District will likely see a decrease in enrollment and in grant funding, resulting in less equitable opportunities for students.
Dr. Baker has one message for Columbus families: "Send your child to Pre-K."
"It was one of the best things that I could have done for him," Dr. Baker commented about her son's journey from pre-kindergarten to high school and her excitement for him to graduate in the Spring.
"Every child can benefit from attending pre-kindergarten," Dr. Baker concluded.
---