Return to Headlines
Superintendent's Letter to the CCS Community: September 25, 2020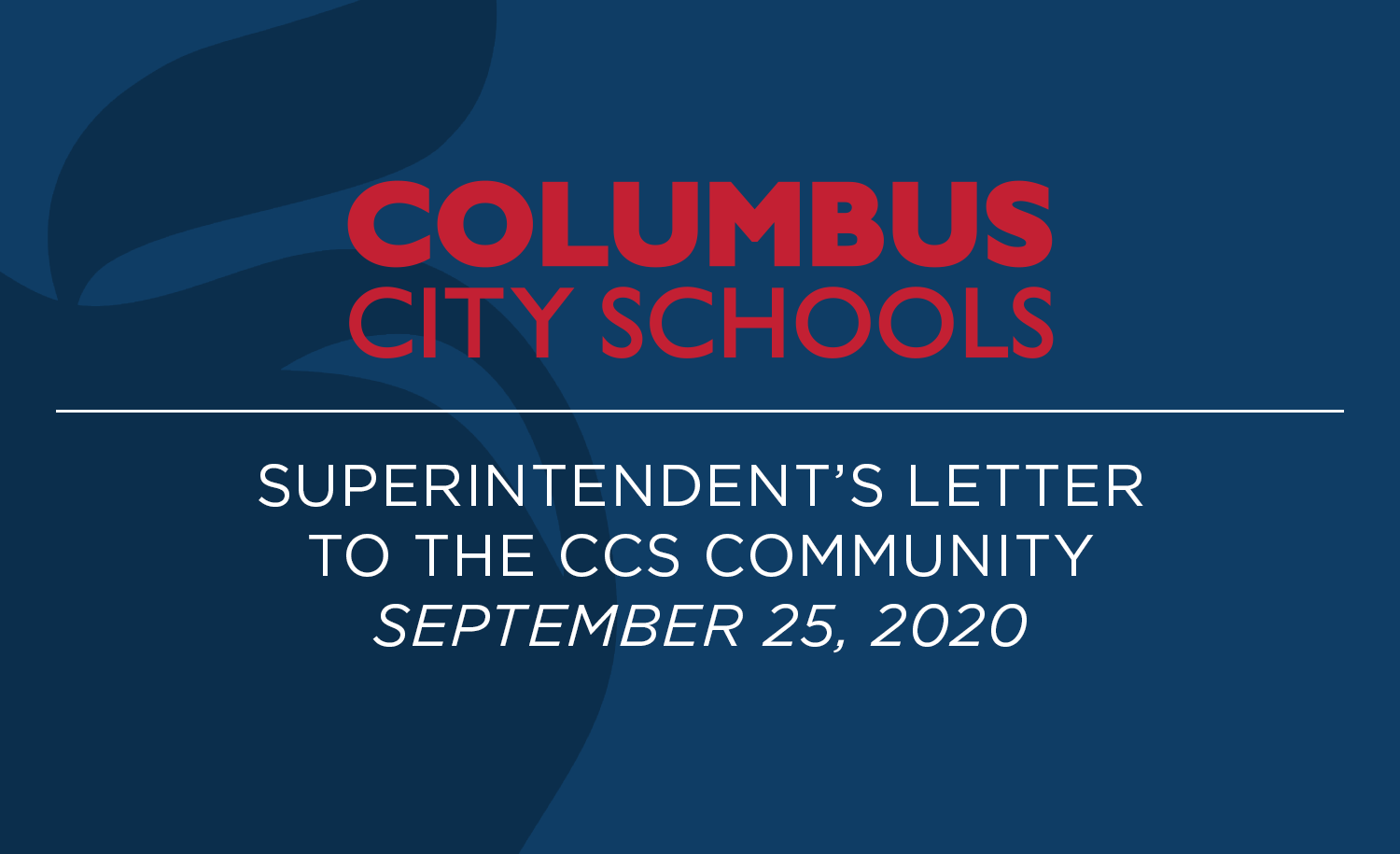 Dr. Dixon penned a check-in letter to the CCS community on September 25, 2020. Read her letter below:
---
Dear CCS Families,
This week I want to start by recognizing a group of staff members who are RISING UP to support our students and their families in a new and innovative way. Many of our classified staff members, including custodians and food service members, have been serving in our new Virtual Learning Outreach program by calling our families and students to personally check-in on them during this time of remote learning.
For many of the staff members, these outreach efforts are new to them as they wait to perform their typical roles when we return to in-person classes in October. However, I must applaud their willingness and enthusiasm to take on these roles and help our schools connect with their families. We know that even the smallest acts of kindness and compassion go a long way to making a big difference.
If you receive a call from one of our VLO representatives, please take the time to connect and let them know how your student is handling virtual learning and if there is any way in which CCS can help you navigate through these uncertain times.
Virtual Family Engagement Sessions
As a reminder, our Department of Engagement continues to host Virtual Family Engagement Sessions twice weekly. These are held live online every Tuesday and Thursday from 6-7 p.m. and are also available on-demand on our website. I encourage you to check out this resource for valuable information.
Free Breakfast and Lunch on Wednesdays
If you have not been to one of our meal distribution sites yet, I encourage you to do so. Every Wednesday -- from 11 a.m. to 1 p.m. and from 5 p.m. to 7 p.m. -- families are able to pick up a free weekly five-day meal pack for any child 18 and under while our students are learning in our remote environment.
The meal packs contain five days of breakfasts and five days of lunches boxed together. To make it easy, we have assigned families a specific grab-and-go location close to their home. If a family does not know their meal site location, they can call their school office or our Factline at (614) 221-3228 for this information.
We continue to have a strong turnout at our meal sites. Our Food Services team has distributed more than 200,000 meals each of the past two weeks.
Safe Schools Working Group Survey
There is still time to submit your feedback on the District's current safety and school climate efforts. The information we receive from the community will help inform the Safe Schools Working Group, which will present a recommendation to the Board of Education this fall. Click here to take the survey. Or watch the first Safe Schools Community Session from September 2. Your feedback is important as we reimagine what safety looks like in the 21st century.
Be Counted: 2020 Census
Make sure your family is counted in the 2020 Census! I have been honored to work with Mayor Ginther and County Commissioner Boyce on a nearly year-long effort to make sure every person living in Columbus gets counted. But so far, only 63% have filled out the Census, which means our community risks losing out on funding for critical public services over the next 10 years. Spread the word that you can still respond to the Census online at 2020census.gov, by phone at 844-330-2020, or by completing and mailing back the paper questionnaire. The time to act is now!
Guide to Student Success Available Online
An electronic version of the 2020-2021 Guide To Student Success is available on our website. The Guide to Student Success provides an overview of the important policies put in place by our Board of Education, as well as the rules and guidelines that are designed to ensure safe and nurturing learning environments for all students and staff. This online document should be read carefully and can be accessed on our website for reference at any time.
Families are asked to read all four of the important documents found at the end of the publication. The forms will request that you agree to or opt-out of the criteria provided, then you will be asked to sign the related forms when your student returns to their school buildings for in-person learning.
Free Mask Kit Giveaway on October 1
Our partners at the African-American Male Wellness Initiative and Franklin County Job and Family Services are working together to get more protective masks to families who need them.
They will be handing out free mask kits on Thursday, October 1, from 10:00 a.m. to 2:00 p.m. at the East Opportunity Center at 1055 Mt. Vernon Avenue. Supplies are likely to go quick, so get there early.
Celebrating National HBCU Week
This week Columbus City Schools helped celebrate National HBCU (Historically Black College and University) Week. HBCU graduates are making a powerful impact on CCS. Click here to learn about several staff members who graduated from HBCUs.
I am the proud daughter of two HBCU graduates, and I followed in my father's footsteps by attending Mississippi Valley State University in Itta Bena, Mississippi. The experiences and education I received as a student at Mississippi Valley State opened many doors for me as a young person who was still figuring out her career path. In fact, it inspired me to go on to earn three master's degrees and a doctorate.
As our CCS students consider their options beyond high school, I encourage them to explore the many advantages and experiences that HBCUs have to offer.
Let's Continue To Do Our Part
We remain on track for students to return in a hybrid learning model -- two days of in-person instruction and three days of remote instruction per week -- in late October. But we must all continue to do our part to keep ourselves, our families, and our community safe during the ongoing COVID-19 pandemic.
Be sure to wear a mask, social distance, and wash your hands regularly. We continue to receive regular updates from Columbus Public Health officials on the spread of COVID-19 within our district boundaries and will continue to monitor the city's rate of infection. You can learn more by visiting the Columbus Public Health COVID-19 site here.
Sincerely,
Talisa Dixon
Superintendent/CEO, Columbus City Schools