Return to Headlines
Superintendent's Weekly Message - May 28, 2021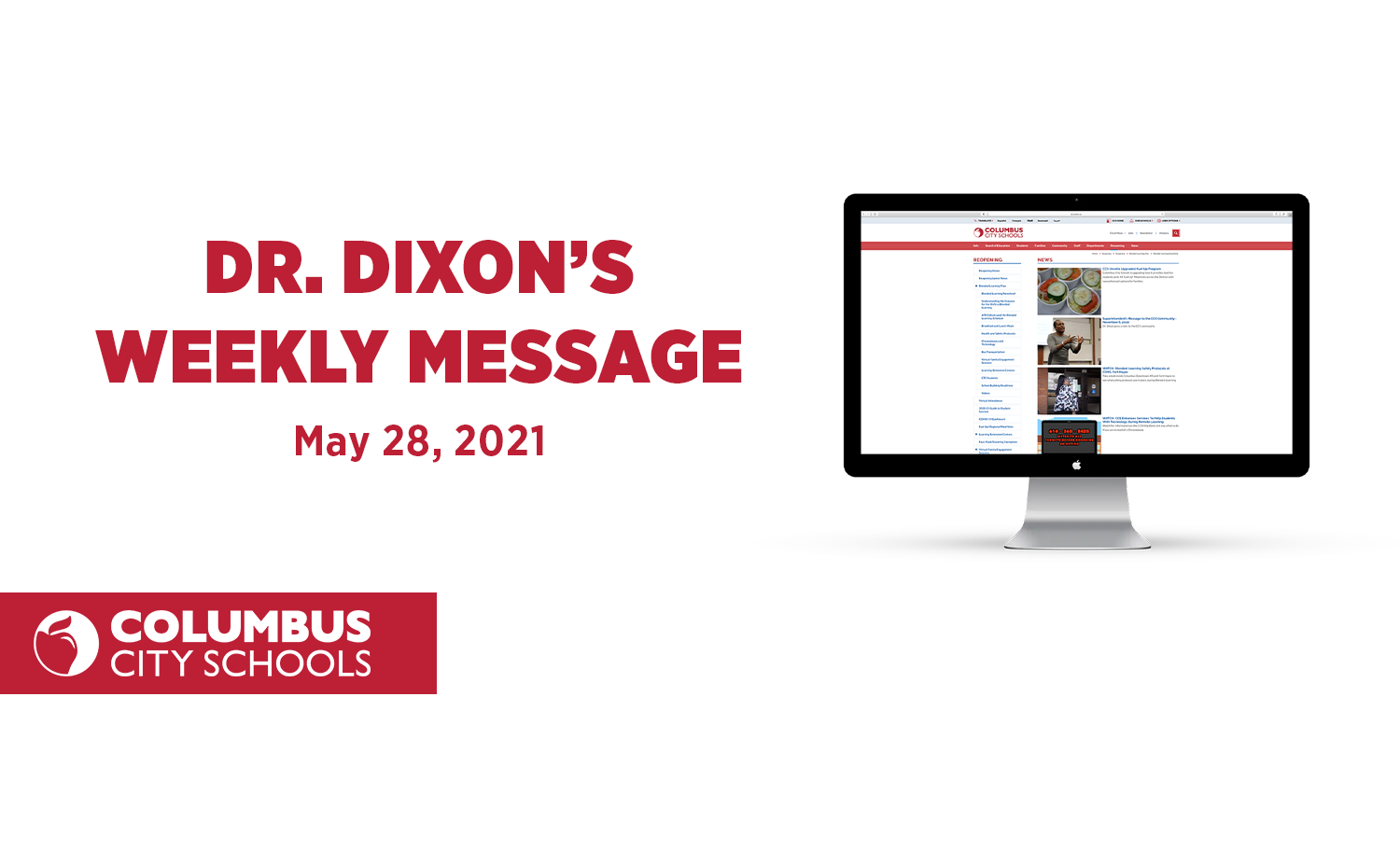 Dear CCS Community,

Today marks the last day of classes for our seniors. We are all looking forward to next week's in-person graduation ceremonies to honor the seniors who proudly represent our 19 high schools. When this school year began and even at the start of the new year this past winter, in-person graduation was uncertain because of the pandemic. Still, our CCS community persevered, and now we celebrate our seniors who will walk across that stage to accept their diplomas beginning Wednesday, June 2.
Summer School Registration Extended
Because of this unprecedented year, we realize some of our seniors need a little more time to complete their coursework and testing, which is possible this summer through our 2021 Summer Experience programming. This week, we extended registration for middle and high school students to Monday, June 7. With more than 6,200 students already registered for the 2021 Summer Experience at CCS, we still have spaces available to register your middle or high school students.
Please visit the Summer Experience Hub on the District website to learn more about the opportunities for your child. There is a registration link at the top of the page, or you can register through your Parent Portal. If you need assistance, you can also call your middle or high school student's school, and the secretary at the school can register your child.
Strategic Priorities

While our 2021 graduates are center stage, we are also focused on our future graduates and the six pillars that will shape a Portrait of a Graduate at Columbus City Schools: Adaptability, Communication, Creativity, Critical Thinking, Global Empathy, and Technology.
This week, we continued our work on the Columbus City Schools strategic plan that began in the fall of 2020. This week, we met with students and principals to discuss the draft and get even more input. Our Virtual Family and Community Engagement session last night discussed our strategic priorities with community members and staff.
The three priorities outlined in the strategic plan include:
Priority Area I: Whole-Child Focused -

CCS will design and implement a student learning curriculum with a holistic approach so that students find their education more relevant, rewarding, and energizing.

Priority Area II: Equitable Opportunities for All -

CCS will improve equitable access to educational opportunities so that students and the CCS community realize greater individual and collective qualities of life.

Priority Area III: Strong Learning Communities in Every Region -

CCS will strengthen a high-quality, interdependent set of learning communities so that within and among these centers of growth are reliable sources of support, identity, and hope.
Student, staff, and community engagement will collectively shape this plan. In a video message I delivered this week, I encourage our CCS community to provide feedback on our strategic priorities. Click here if you would like to give feedback on the strategic priorities.
Together we can ensure every Columbus City Schools student is highly educated, prepared for leadership and service, and empowered for success as a citizen in a global community.
Today is also the start of a long holiday weekend for many of us. There are no classes on Monday, and administrative offices are closed as we celebrate Memorial Day, the official start of the summer season. I hope all of you enjoy the long weekend with family and friends, and please stay safe.
Sincerely,
Talisa Dixon
Superintendent/CEO, Columbus City Schools