Return to Headlines
Liberty ES Teacher Building Educational Memories Brick By Brick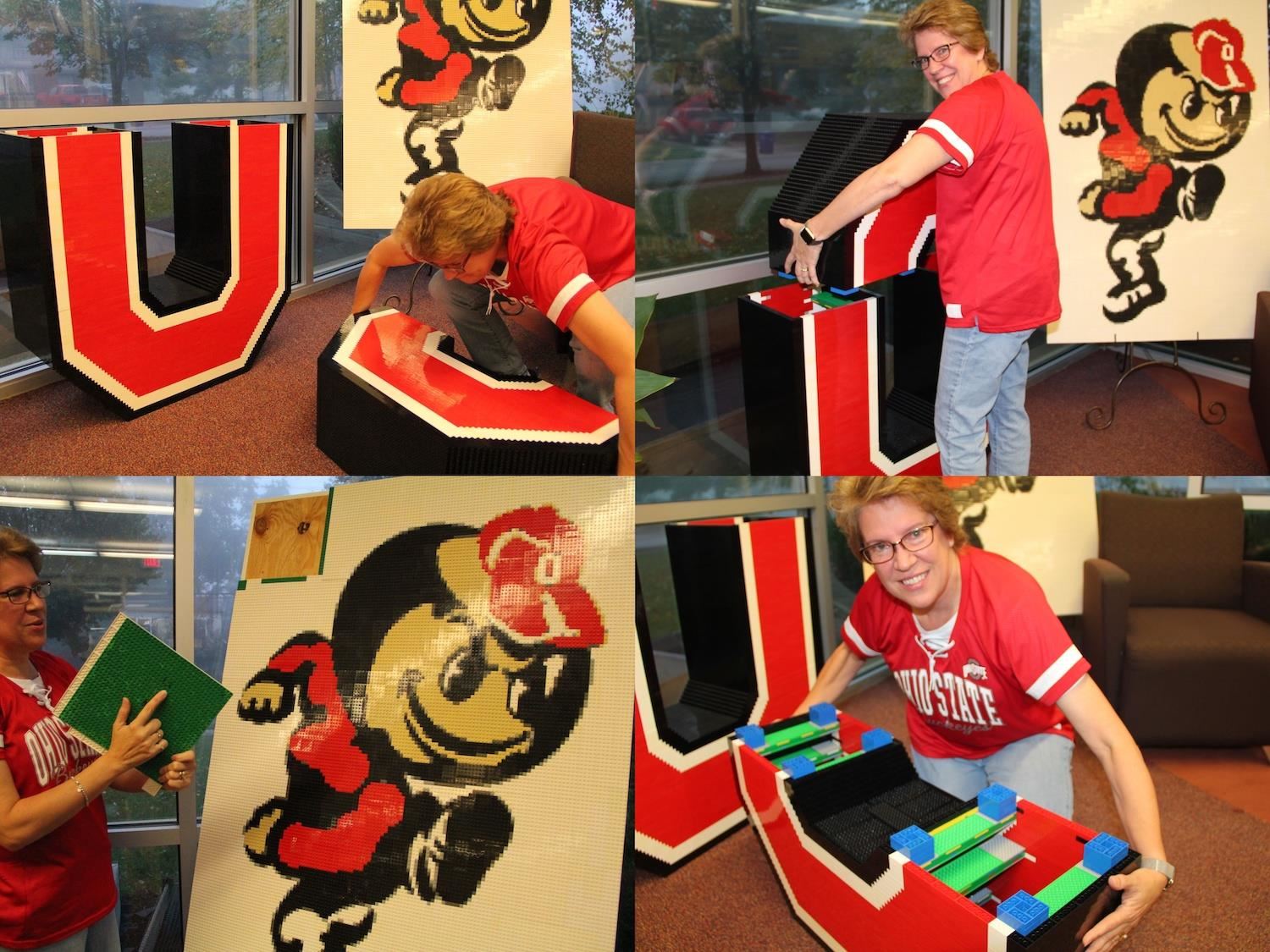 October 11, 2021 -- Molly Selan is a fourth grade teacher at one of the largest elementary schools in Columbus City Schools, but to the staff and students at Liberty Elementary School, she has another name: The Lego Teacher, and for good reason. Two of her custom Lego creations are on display in the library for the entire school year. A huge Ohio State fan, Selan built a three and a half-foot Block "O" and a five-foot Brutus out of Legos, better known as "bricks" in Selan's world.
"I smile when I see my work on display," said Selan. "The students get a kick out of it when they learn that one of their teachers did it."
Selan built Brutus first. The sculpture used more than 24,000 bricks and cost about $1,500 to construct.
"I built Brutus in two days, two snow days, that is," Selan shared. "The planning took months. That was the hardest part since Brutus was constructed from a photo on more than a dozen 10-inch by 10-inch flat panels that sit on a large easel."
Next came Selan's Block "O" that the teacher built in four sections and completed in 2018. While the Block "O" used fewer bricks, it was more difficult because of the angles and the base, which required additional supports to hold up the three-foot sculpture. It also took months to get all of the red, black, and white bricks.
"I was pretty proud of the Block 'O' because it was on display at the Columbus Museum of Art," Selan said. "That was definitely a feather in my cap to have my work displayed in a museum."
In Selan's home, there is one room dedicated to everything Lego. The only things in that room are bricks and a building table. Selan is also a member of an adult Lego club, which definitely has its advantages.
"Our club is officially registered with the Lego company, which means we are a certified Lego group," said Selan. "We buy bricks in bulk at a discounted price which is a huge help since Legos are expensive."
In addition to the Columbus Museum of Art, Selan's Lego club has also created custom displays at other libraries in Dayton and Urbana in addition to retail businesses. Right now, Selan is working on a Lego display for a company in Cincinnati. Even though it's a year away, Selan's club has already started planning its display for the Columbus Museum of Art in 2022.
"The theme for that museum show is Columbus real and imagined," said Selan. "It's a huge undertaking to coordinate the cityscapes, which could include Spongebob in church, who knows?"
In the meantime, if and when you are able to visit the Liberty Elementary School library, look for Brutus and Selan's Block "O," which are hard to miss.
"I'll never forget the day Ms. Hunter, the school librarian, called and said a student had knocked down a section of Brutus," said Selan. "Ms. Hunter was in tears. I think she would guard my Lego sculptures with her life."
Selan was not stressed at all by the Lego mishap in the library, which goes to show you how much she loves those colorful plastic bricks.
"It's Legos," Selan said. "They are meant to be taken apart and put back together again."