Return to Headlines
Welcome Back Letter from the Superintendent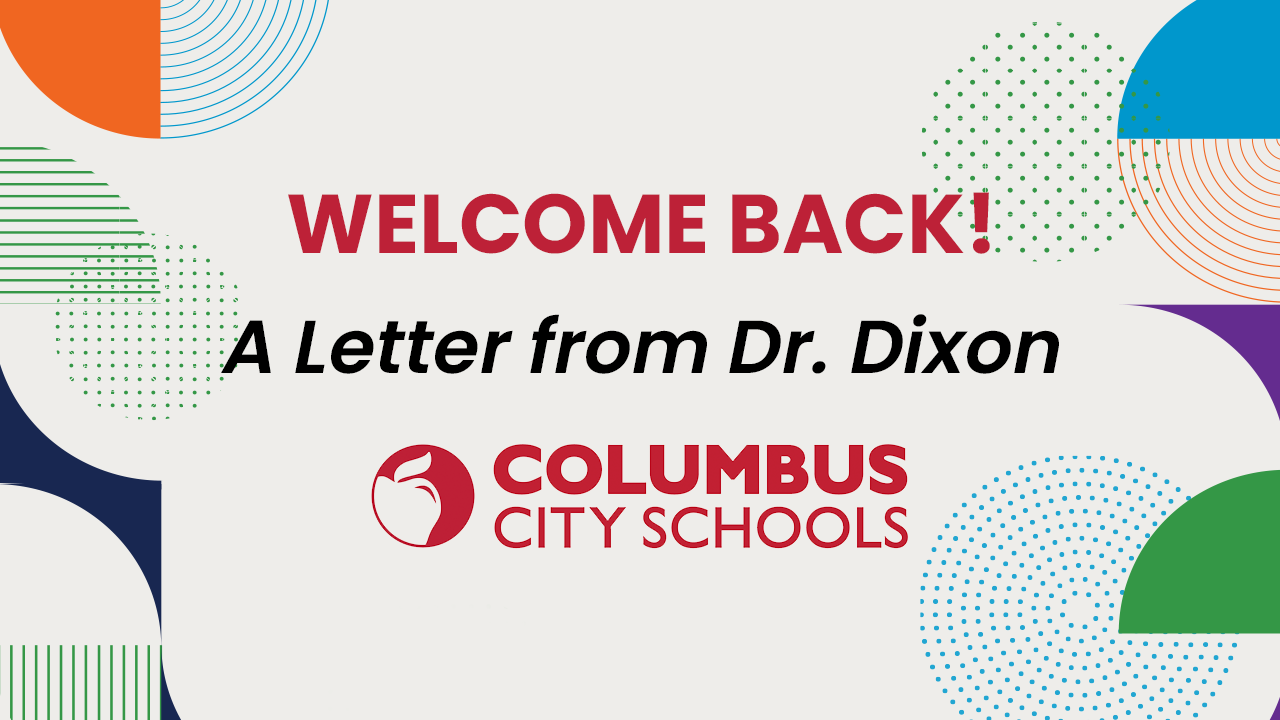 Dear CCS Families, Teachers, and Staff,
Welcome to the 2021-2022 school year in Columbus City Schools! I hope that you had an opportunity to relax, recharge, and enjoy the summer break.
This is a great time to be a part of CCS. If you are new, welcome to the largest school district in Ohio, where every student can find the resources and supports they need. If you are returning, welcome back!
As Superintendent, there is no better feeling than the start of a new school year. Regardless of your role or title, we are all part of the CCS family and share in the excitement and anticipation that comes with most of our students back in the classroom five days a week. It has been 531 days since March 13, 2020, the last time we were all together for in-person learning.
As we start the new year, 20 of our schools will be learning remotely for the first two days of the 2021-2022 school year due to the anticipated extreme temperatures and high humidity.
My top priority, along with the Board of Education, is to ensure the safety of our students, faculty, and staff. Our health and safety protocols will support full in-person instruction. Masks will be required for all students, staff, and visitors inside our schools and administrative sites regardless of an individual's vaccination status. And as we know, our mitigation strategies could change as we continue to work closely with our public health experts to make informed decisions.
Our community continues to be impacted by the COVID-19 pandemic. We will continue to provide accurate and transparent information regarding COVID-19 cases in our District while maintaining privacy and confidentiality for our students and staff on our COVID-19 Dashboard (CATS).
District-wide, we want to ensure that we provide a rigorous and equitable educational experience to all students. We know that learning recovery will be a priority as we continue to navigate through the pandemic. Federal ESSER funds will be used to enhance student supports, including mental health support. Every step forward will be student-centered and innovative. We cannot return to business as usual.
Together, we navigated last year's challenges bridging the gap between remote and blended learning by leveraging technology to stay connected to our students and staff. We built strong relationships and partnerships so that education and collaboration could continue. If we've learned anything from this pandemic, it's been to adjust and adapt, and we are committed to doing just that.
I look forward to the excitement of the new year, and I thank you for your dedication to our District, our community, and the students and families that we serve.
I wish everyone a great first day and a productive school year.
Sincerely,
Talisa Dixon
Superintendent/CEO, Columbus City Schools