Return to Headlines
Northland HS Senior is Semi-Finalist for Gates Scholarship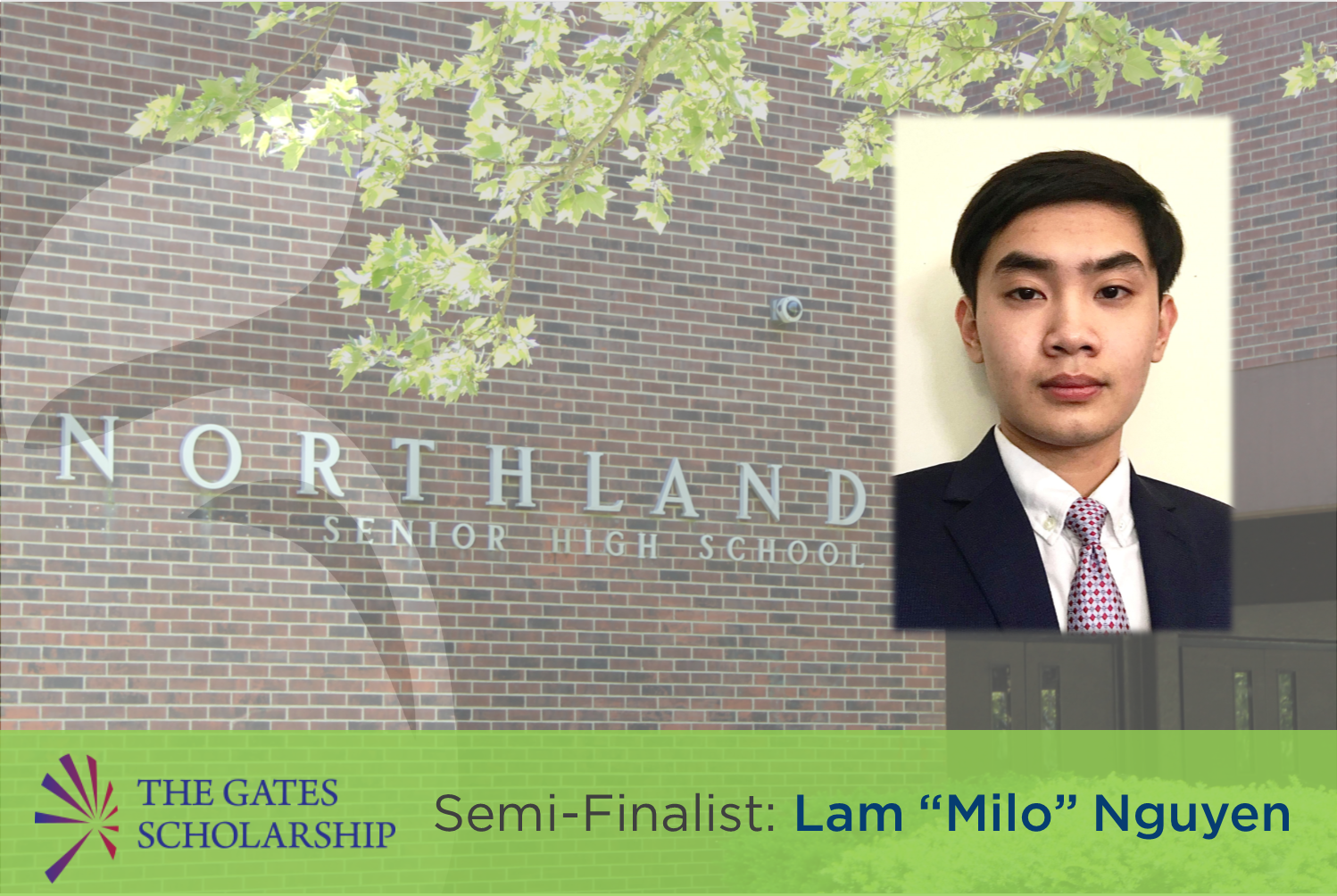 February 11, 2021 -- Lam "Milo" Nguyen is a senior who will graduate this spring from Northland High School after being selected to complete his remaining high school requirements as a college student. "I take classes at Ohio State University now, and everything is online due to the pandemic," said the 17-year-old Nguyen. Eric Watson, Milo's senior counselor, at Northland boasts about Milo's college performance so far. "He got straight As in all three of his OSU courses for the first quarter," said Watson.
Nguyen is currently enrolled in the Seniors to Sophomore Program at Columbus City Schools, a dual enrollment program for seniors that enables them to earn a year's worth of high school and college credit simultaneously. The program will allow students like Milo to be further challenged academically, gain valuable life skills and enter college as a sophomore.
"Milo is an outlier," said Watson. "He taught himself classical piano and performed in a citywide conference before COVID." Tanya McClanahan is the administrator of the Seniors to Sophomore program at the District. "I am honored to be on this path with Milo. It's an honor to know him," she said.
Recently Milo learned he was a semi-finalist for the prestigious Gates Scholarship, a highly selective scholarship for outstanding minority high school seniors from low-income households. Nguyen is one of the thousands of students vying for one of 300 Gates Scholarships.
"I want to be an aerospace engineer and minor in astrophysics," said Nguyen. "This scholarship will help me work at NASA or another big company like Boeing one day. People will always need planes to travel, so the industry should be around for a while."
Nguyen has been fascinating with the universe since he was a small boy growing up in Vietnam. In one of his essays that he submitted to the Gates Scholarship Committee, he wrote, "growing up in the city of Saigon, Vietnam, the sky was permanently polluted, and the blanket of smog eternally concealed the grandeur of the night sky." As a child, Nguyen read books about inventors such as Galileo Galilei, Neil Armstrong, and Stephen Hawking, but his biggest inspiration came from African American astrophysicist Neil deGrasse Tyson.
Nguyen wrote, "Dr. Neil deGrasse Tyson possesses the charm and inspiration of an approachable person. Knowledge can be learned, skills can be taught, but personality is hardly malleable; therefore, Dr. Neil deGrasse Tyson's charm and passion are what I aspire to possess in the future."
Milo came to Columbus with his family two years ago. "From Vietnam, we went to California first," said Milo. "It got too expensive for my family, and we were about to be homeless, so we moved to Columbus because my aunt is here."
At 15, Nguyen began high school right away at Northland but struggled. "The classes were too easy for me," he said. That's when Northland's Business Education Teacher and AVID advisor Jaime Elledge got involved. Advancement Via Individual Determination or AVID's mission is to prepare students for college readiness.
Milo's circumstances were unique. "He couldn't take College Credit Plus (CCP) courses initially because one of the requirements is you must be an Ohio resident for at least a year," Elledge said. "We found an AP Calculus class at nearby Beechcroft that would accept Milo, but then we had a transportation issue."
"My parents used our only car for work, so I rode my bicycle to Northland every day," Nguyen said. "Beechcroft was too far by bike. That's when Ms. Elledge really stepped up for me."
"I drove Milo and one other student from Northland to Beechcroft every morning beginning in the Fall of 2019, so they could take AP Calculus," said Elledge. "That was the only solution, and if I couldn't make it, Mr. Sanchez at Northland was my back-up driver."
"I couldn't believe this teacher would do that for me," said Nguyen. "Why would someone invest in this teenager from Vietnam? It didn't make sense to me, but I think it's because I struggle with self-confidence. When I applied for an internship at Bank of America last summer, I didn't think they would pick me. I felt the same way when I applied for a job at Kroger."
Milo's internship at Bank of America was researching laws and housing codes for Habitat for Humanity. The teenager currently works at Kroger as a customer service associate.
Milo says he's only done three brave things in his young life. "I talked to a girl, got my driver's license, and bought a $1,000 telescope with the money I made at my internship. My parents disapproved because they said that was too much money to spend on something that wasn't a necessity."
With a GPA of 4.1, Lam "Milo" Nguyen has already been accepted at OSU and the University of Michigan. "I was surprised both of them accepted me," he said.
While he hasn't decided where he will go to college, one thing is certain. Milo could graduate in three years, in 2024, thanks to the Seniors to Sophmore program at Columbus City Schools. That's the same year Milo hopes to become a United States citizen.
"In 2018, a South High School senior, Ricardo Felix, was awarded a Gates Scholarship. In subsequent years, there have been semi-finalists but no winner," said Kate Webster, the District's High School Resource Counselor.
Lam "Milo" Nguyen is looking forward to his high school graduation in a few months."Walking across the stage with my fellow Northland High School students is a milestone event for me and my family," Nguyen said. The Northland senior expects to hear next month if he has moved on to the finalist stage for the Gates Scholarship.