Return to Headlines
Superintendent's Weekly Message - March 26, 2021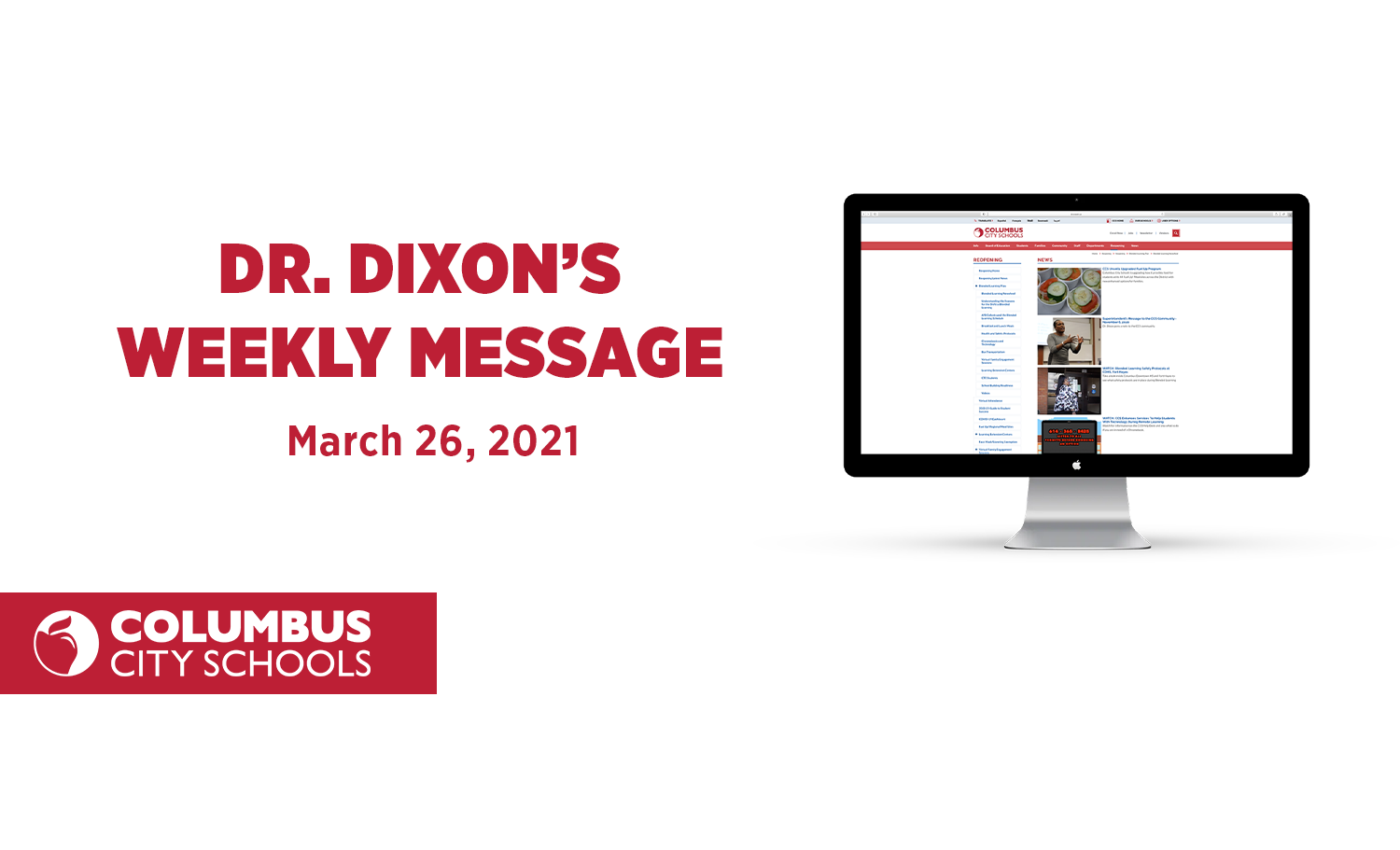 Dear CCS Families,

Unmerited mercy or a thoughtful way of behaving is how best to describe grace. All week, I found myself wondering what role did grace play in our world?
The troubling headlines demonstrated how grace was indeed lacking as crimes and attacks against Asian Americans spiked by triple digits in some cases in major U.S. cities. In my statement shared earlier this week, xenophobia, prejudice, racism, and violence have no place in our society, nor are they acceptable in our school community.
Using grace is strongly encouraged and something we must foster both in and out of the classroom. Nothing is ever achieved through violence, but using grace can yield positive results.
An example is an action our State Legislature and Governor took this week. Signed into law by an emergency measure, House Bill 67 provides grace to our juniors and seniors who have felt the acute impacts of this worldwide pandemic as they work towards one of life's milestones -- graduating from high school.
One of the primary components of HB 67 is the allowance of using a student's course grades for graduation requirements rather than using a student's score on state test assessments.
This new law is a perfect example of grace.
As we wrap up March, a month dedicated to celebrating women's contributions to history, culture, and society, it's clear that grace played a role in the pathways of many great women.
Leaders can use grace and still be strong, formidable, and persistent. Using grace is not weak but admirable and effective.
Blended In-Person Learning Grades 6 - 12
Grace coupled with coordination and collaboration played a role in returning all grades to blended learning. This week marked the final group of middle school and high school students to return to the classroom for face-to-face instruction two days a week.
This week I visited several middle schools and high schools to welcome back students, including:

Champion Middle School

Columbus City Preparatory School for Girls

Columbus City Preparatory School for Boys

Johnson Park Middle School

Berwick Alternative PK-8

Woodward Park Middle School

Woodward Park at Walden

Northland High School

Indianola Informal K-8

Columbus Gifted Academy
I am so pleased that since February 1, I have walked in and met with educators, administrators, staff, and students at 40 different schools, including 20 different school buildings, in just the past two weeks. While learning in a completely remote environment got us through this global pandemic, returning to the classroom for face-to-face instruction is critical to academic success and social-emotional development.
Important School Calendar Update
The District is making an update to the 2020-2021 School Calendar to provide an asynchronous day for teachers to complete third-quarter grades; April 1st will be a remote learning day for all students.
Spring Break for the District begins Friday, April 2, and runs through April 9.
Cohort A students will resume their class schedules on Monday, April 12. Cohort B students will resume their class schedules on Thursday, April 15.
Summer Experience
Long before COVID-19 became a household word, a team here at CCS started planning back the curriculum, field trips, and engaging classroom visits for the Summer Experience. Not calling it summer school was done with purpose as the free, six-week summer program promises to be a transformative educational experience that can be remedial for some students, if necessary, and meaningful for others in that it gives them a jump start into the 2021-2022 school year.
The program promises engaging innovative instruction that teachers and staff can take back into the classroom during the traditional academic school year. Students from Pre-K through 12th grade have options to learn reading, math, science, and critical thinking while working outside at the Spruce Run Nature Center or inside with robotics, eSports gaming programs, fashion, and food.
Please visit our website for more details or log on to Parent Portal to sign up.
Books Before Bedtime
To close out our district's celebration of National Reading Month, I had the opportunity to read a bedtime story to hundreds of our city's children with help from our partners at NBC4. All this week, different personalities from NBC4 took time to read as part of our Book Before Bedtime series on Facebook Live. I had so much fun reading "The Night is Yours" with evening news anchor Kerry Charles (by the way, he's a proud Linden-McKinley graduate, and the book we read together was illustrated by an artist who graduated from CCAD). At the end of each reading, our team has provided tips and strategies for parents to boost book reading benefits at home with their children. Our bedtime book club attracted thousands of young readers this week. If you have time - and especially if you have a young reader in your house - you should check out our Books Before Bedtime series on our Facebook page.
Safe Spring Break plans when "School's Out."
Next Friday, we begin our long-awaited Spring Break - a critical time for teachers, staff, and students to pause and recharge so we can all finish out the school year strong. But we also know that the structured activities and supports that are usually in place to keep young people engaged are gone during these ten days. I want to thank our partners at Columbus Recreation and Parks for their "School's Out" initiative and for planning additional activities during Spring Break as a way to keep children safe and engaged (here's the link for you to check out all they have planned). We're also making sure children have additional food for the long break. Thanks to our Food Services team, our Fuel Up Food Sites will be handing out extra boxes of take-home meals next Wednesday. I appreciate how everyone in the community is stepping up and working together to help make this a safe Spring Break for our students.
With each passing week, the impacts of the pandemic become less restrictive. That's not to say we should be lackadaisical when it comes to mask-wearing and social distancing. Following city, county, and state health and safety protocols are paramount as we continue to vaccinate more of our friends and family. Remaining vigilant will allow us to plan for in-person graduation ceremonies and summer programming in June.
Let's continue to move forward with grace for our students and families. Grace is not black, white, Asian, Indian, Muslim, female, or male. It's universal. Grace is a positive trait that strengthens character.
Sincerely,
Talisa Dixon
Superintendent/CEO, Columbus City Schools