Return to Headlines
Superintendent's Weekly Message - April 23, 2021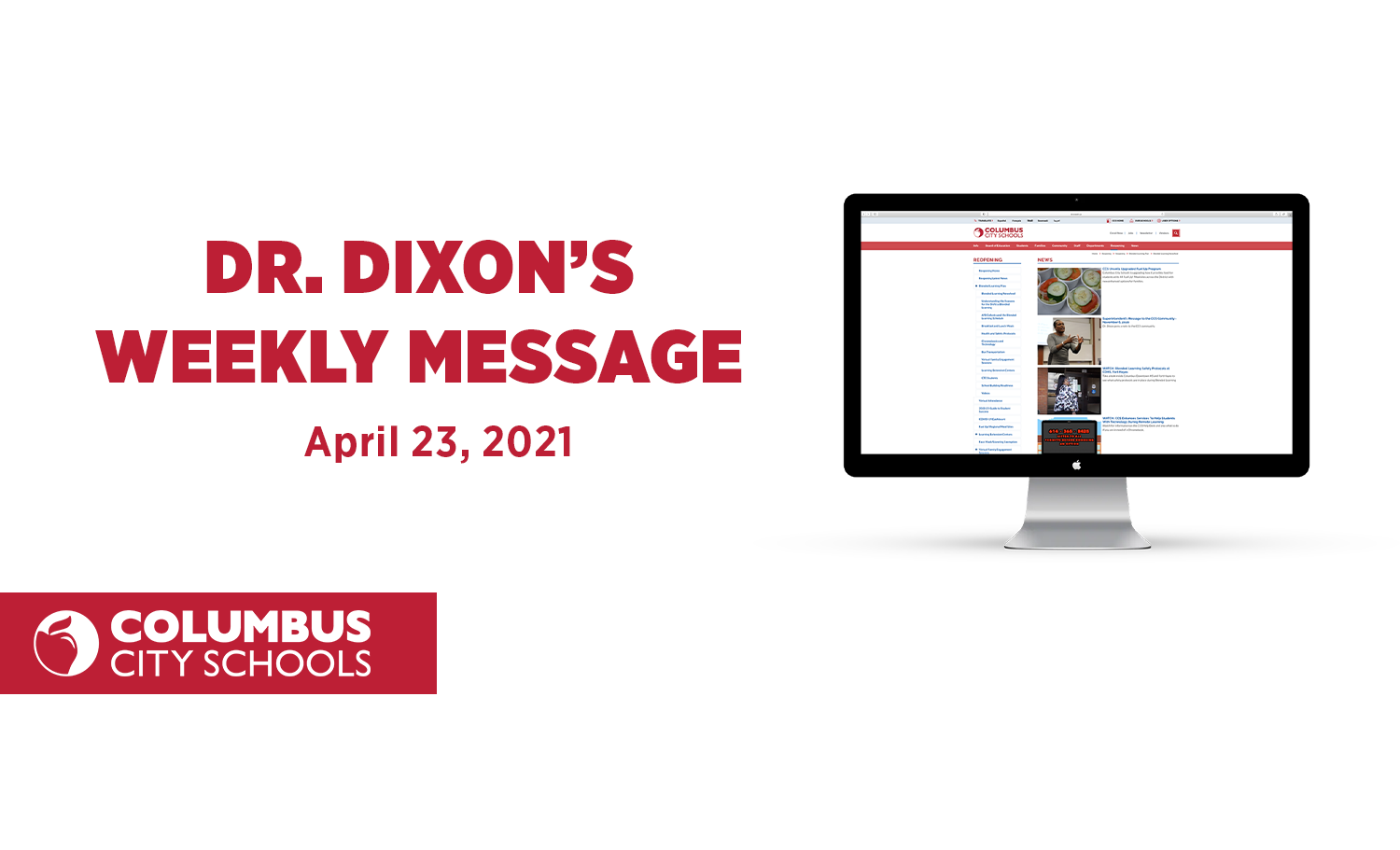 Dear CCS Families,
As the leader of this District, when I reflect on this week, I think about what it means to belong to a community. Our Columbus City Schools community lost two students tragically this week, sixteen-year old Ma'Khia Bryant, an Independence High School student and fifteen-year old Tre Von Dickson, a Sherwood Middle School student.
Our hearts are breaking because these young people lost their lives too soon. We must support each other in these times, embrace our children, keep them safe and guide them through the grieving process.
Our school buildings are neighborhood hubs and community centers -- safe places for our students to gather, learn, grow and succeed. That hasn't changed. During times like this, we must reinforce that sense of community and belonging as we collectively move forward.
Building a Community of Support
We all react to tragic events, especially those close to home, differently. That's why we put together a resource guide that we shared with all teachers, staff, and administrators in the District to help our children and support one another. There are lessons and strategies on talking to children about grief, discussing racism in the classroom, and police violence.
As the Superintendent, I felt it was important to issue a community statement and video after learning that our CCS community had lost two students tragically on the same day. Our Board of Education also released a statement echoing a similar sentiment; it is time to come together to address the very real issue of community violence and systemic racism in our Columbus community.
Building a Community of Immunity
Now is also the time to build a community of immunity against the COVID-19 virus. That is why beginning Monday, April 26, we start vaccinating Columbus City Schools students 16 and older at four school building locations across the city. The vaccine roll-out is a partnership with Nationwide Children's Hospital and Columbus Public Health. This is a community mitigation effort to defeat this virus and protect students and staff in this District. Our families with teenagers eligible to receive the vaccine will receive an automated email with instructions and the sign-up link to reserve their appointment.
Building a Community of Future Leaders
The Board of Education unanimously approved two measures at its meeting on Tuesday, April 20, that will help shape the future of our District. Board Members officially voted to adopt the Portrait of a Graduate as the educational vision for all Columbus City Schools students. The six attributes of a CCS graduate are:
Adaptability

– Our students will be agile in thoughts and actions, responding productively to positive and negative feedback while balancing diverse views to reach workable solutions.

Communications

– Our students will effectively express thoughts and ideas using oral, written, and nonverbal skills while being active listeners able to decipher meaning and intention.

Creativity

– Our students will be imaginative and explore original ideas and innovative solutions by transcending traditional thoughts, patterns, and relationships.

Critical Thinking

– Our students will analyze and apply evidence-based reasoning to understand "big picture" challenges and how solutions affect other parts of a system.

Global Empathy

– Our students will value and engage diverse cultures and unique perspectives through mutual respect and open dialogue while taking action to make the world more equitable and inclusive.

Technology

– Our students will leverage traditional and emerging technology to consume, create, communicate, and connect while practicing responsible citizenship in an increasingly digital world.
You will be hearing more about our Portrait of a Graduate and how we will integrate it into our classrooms and schools, as well as the Board's adoption of its "Goals and Guardrails." Click here to watch a presentation of the goals and guardrails.
We are also working to finalize a new strategic plan that will outline our priorities as we work to accomplish the Board goals and realize our educational vision in Portrait of a Graduate. As these priorities are established, you will start to see shifts in our organization that align to each and are focused on "students leading the way." These shifts will include initiatives, projects, and strategic staffing that will allow us to meet the needs of all students. I look forward to sharing more about our vision in the weeks and months ahead.
Building a Community of 21st Century Learning Spaces
Building a community also includes our facilities, and exactly what our school buildings should look like in the future. It's more than just the brick and mortar. This week, the Facilities Master Plan Committee completed the first of many "regional community conversations" to gather community input first-hand. Videos of all the regional community conversations are available on the District's website.
Hearing from community members and students will help us create safe school buildings that foster and empower our students to become productive, global citizens of the 21st century. The Facility Master Plan process is a year-long endeavor that goes hand-in-hand with supporting our students and building our communities. The events of this past week have reinforced the importance of community for me.
Columbus City Schools must continue to build a community of love, not hate, a community where justice is prevalent, not violence. A community where our children learn and thrive through peace, equity, and inclusion.
Sincerely,
Talisa Dixon
Superintendent/CEO, Columbus City Schools