Return to Headlines
Superintendent's Weekly Message - January 15, 2021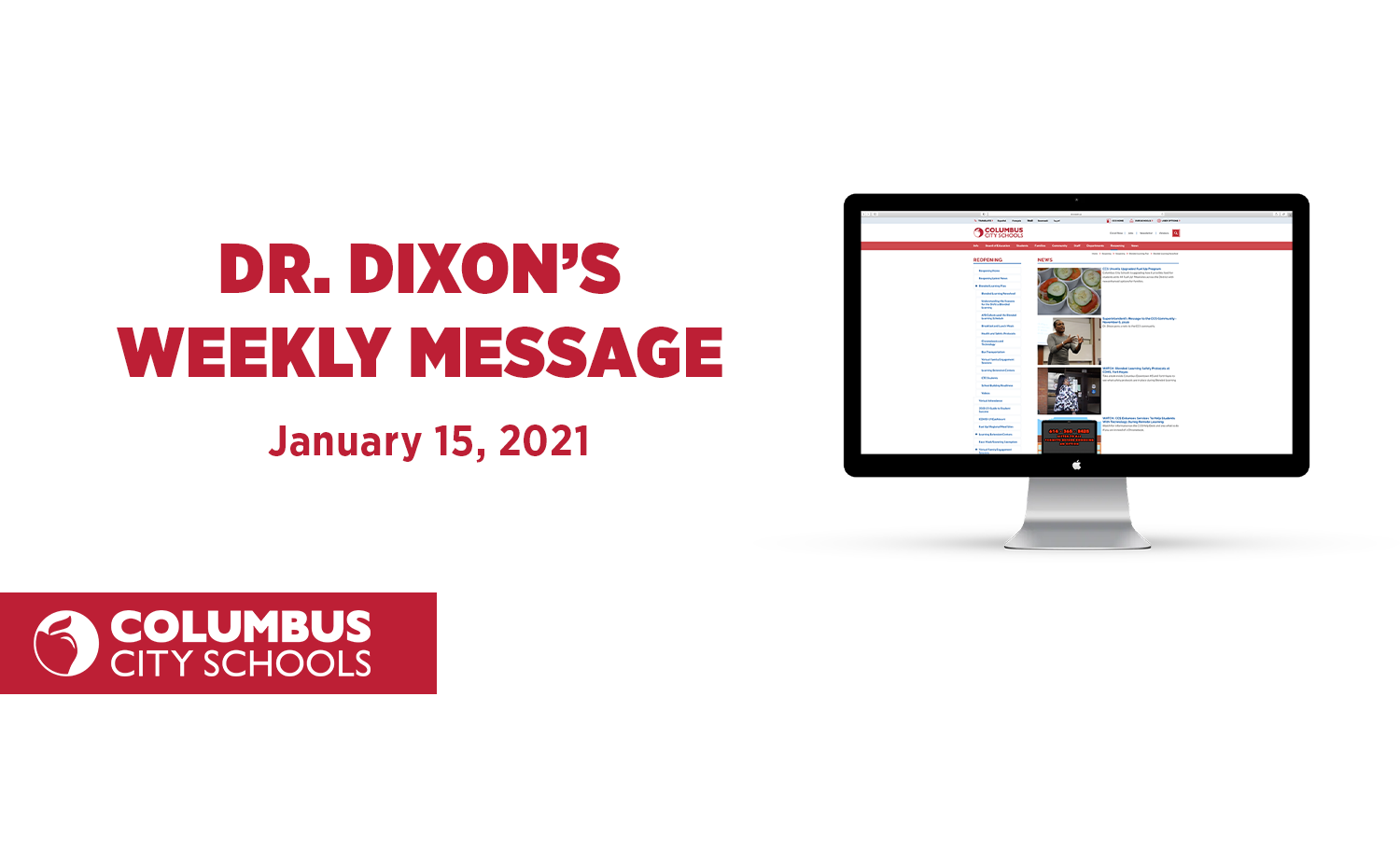 Dear CCS Families,
The second week into the new year has provided many opportunities for our CCS community regarding the COVID-19 vaccine and educating our students in these challenging times. Earlier this week, I was pleased to announce that Columbus City Schools will transition to a blending learning model for a portion of our students beginning February 1.
As I have said before, our youngest learners need that in-person, face-to-face connection with their teachers, which allows them to build meaningful relationships that may not be possible in a remote learning environment. Our school buildings are ready for students and staff to return, meeting all of the health and safety protocols that are necessary for holding in-person classes during the COVID-19 pandemic.
Important Information and Updates
Please see the topics below for information and updates that are important for our CCS families to know.
Transition to Blended Learning
Our transition to blending learning will be phased in based on specific groups of students. Click here to watch a video on our website explaining why we are returning to blended learning at this time.
I encourage you to visit the website and our Blended Learning Hub. There you will find a plethora of information on various topics, including more than 20 health and safety videos, a list of frequently asked questions about blended learning, student cohort groups, meals, transportation, and health and safety building and school bus protocols.
Parent Portal for Cohort Information
Parents/guardians were allowed to choose their preferred blended learning weekly schedule for their students. If you did not select a preference, a schedule was assigned to your student. Your student's cohort assignment can be found in the Parent Portal.
Cohort A: Students will attend classes in-person on Monday and Tuesday and participate in remote learning on Wednesday, Thursday, and Friday.
Cohort B: Students will attend classes on Thursday and Friday and participate in remote learning on Monday, Tuesday, and Wednesday.
On Wednesdays, students will have a remote class meeting with their teacher and may have small group instruction/intervention opportunities.
NOTE: On days when students are not scheduled to be at school, they will participate in asynchronous (self-paced) core content (ELA, Math, Science, Social Studies) and remote with Unified Arts classes in alignment with their remote instruction days.
Mask Exemption Form
Face coverings are required of all students, employees, and visitors due to the Public Health Order issued by the Ohio Department of Health on August 4, 2020, mandating that all K-12 children wear face masks in the classrooms across the state. This follows The American Academy of Pediatrics guidance, recommending that all school-aged children wear face coverings in hospitals, schools, and across the community.
For those parents who believe that these exemptions apply to their children, the Mask Exemption Form can be accessed by clicking HERE to view or download.
As with all mask exemption requests, a doctor's recommendation/order will be required.
CCS Digital Academy
Registration for the second semester, which begins on January 20, remains open until February 12, for families who want to enroll their students in the CCS Digital Academy, a completely remote and self-paced learning option for students in Kindergarten through 12th grade.
As CCS transitions to a blended learning model, all CCS Digital Academy students will remain in a completely remote learning environment. Visit your Parent Portal for information on how to register.
Weekly Virtual Family Engagement Super Sessions
Our next Virtual Family Engagement Session on Tuesday, January 19, will be about the CCS Digital Academy. During our Super Session this past Thursday, we heard several questions from parents who are considering a move to the Digital Academy instead of transitioning to blended learning. Principal Angel and her team -- including teachers and counselors -- will provide information about the Digital Academy and all that it offers our students.
At this past Thursday's "Super Session," we discussed health and safety protocols in our school buildings and school buses, as well as the COVID-19 vaccine, cohorts, and transportation. Click here to watch a recording of this session.
COVID-19 Vaccine Information for CCS Staff
CCS is working alongside Columbus Public Health to prepare for administering the COVID-19 vaccine to CCS teachers and staff as part of the State's Phase 1B distribution that begins February 1. The vaccine will be made available to all CCS staff members, but we want to ​prioritize it for our teachers, school-based staff, and transportation staff members​ -- those who will be working most directly with students.
2021 HBCU Homecoming Virtual Event
TOMORROW is the third annual HBCU Homecoming 2021. If you still don't have a ticket, be sure to log in to www.cbushbcu.org to pick the sessions you'd like to attend. We only have a few spots left, so register now if you don't want to miss out on all the fun prizes, giveaways, parent workshops, and the opportunity to hear from 20 current college students about their experiences. We hope to see you at 2:00 p.m. tomorrow!
Finally, I want to say once again how thankful I am for the continued support from and partnership with our district community as we navigate the pandemic together and determine how best and most safely to educate our students.
Sincerely,
Talisa Dixon
Superintendent/CEO, Columbus City Schools