Return to Headlines
Superintendent's Weekly Message - October 1, 2021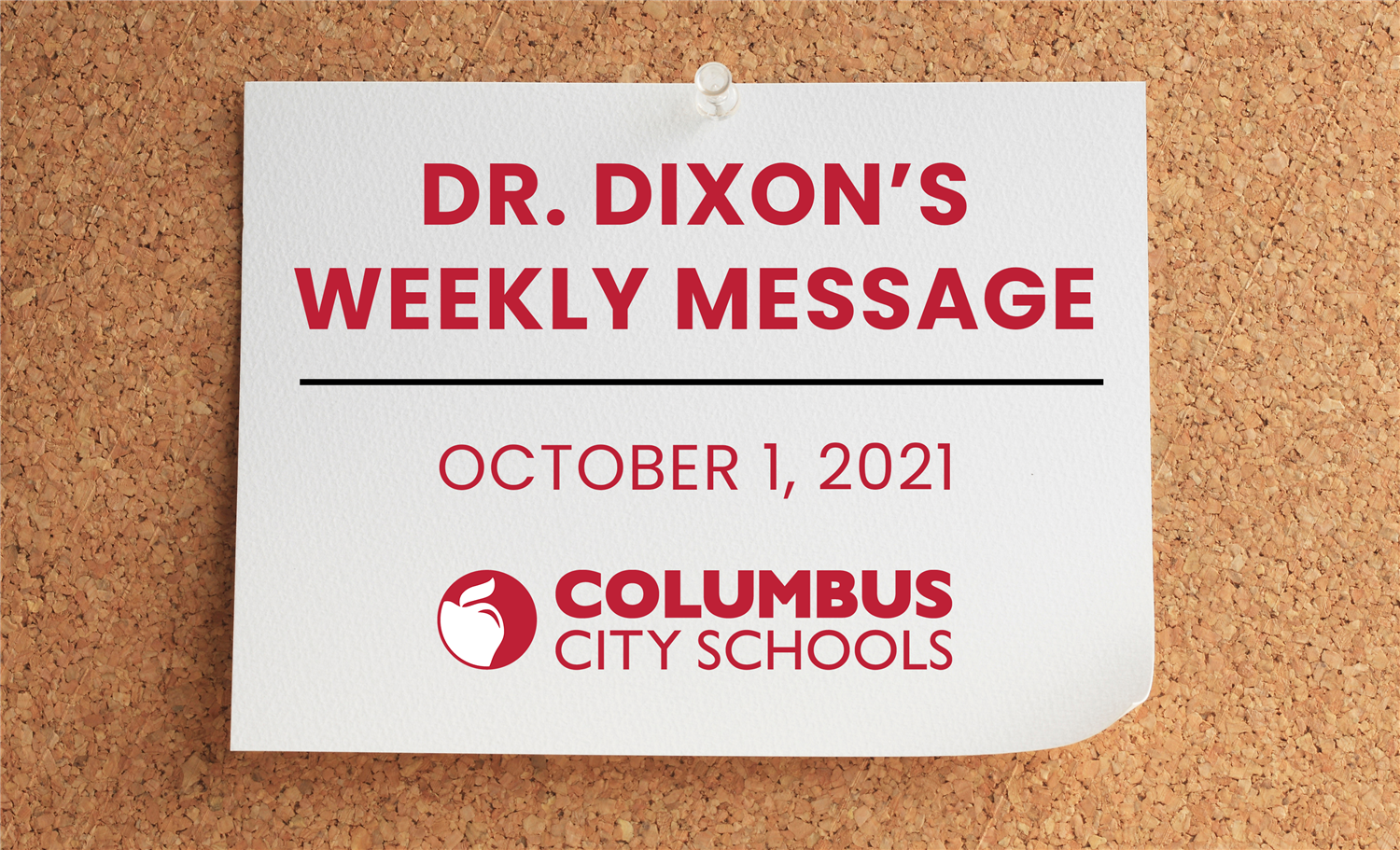 Dear CCS Community,
Now that we are more than a month into the traditional school year and approaching the quarter mark at our year-round school, I wanted to take this opportunity to provide some important updates to our staff and families.
COVID-19 Data and Quarantine Procedures
We continue to update our COVID-19 Data Dashboard each week with new information on positive cases among staff and students and isolation/quarantine numbers by school and by region.
Much like all other school districts around the region, we are balancing in-person learning for all students with the quarantine procedures that are established by the Ohio Department of Health. We want all students to be in the classroom with their teacher, but we must direct some students to quarantine at home when it has been determined they were exposed to someone with a positive case of COVID-19.
Our Academic Services team recently created some helpful information for families to answer your questions about remote learning when your student is directed to isolate or quarantine. I encourage you to watch the video -- which is translated into five additional languages -- and reach out to your school principal or the Office of Customer Relations if you have any questions. We also have a video that explains the difference between isolation and quarantine.
COVID-19 Vaccinations for Staff and Students
We are partnering with Columbus Public Health to provide dedicated vaccine clinics for CCS staff and students during the month of October.
CPH will be stationed at a CCS high school location each Thursday in October from 11:00 a.m. to 6:00 p.m. to administer booster doses and first doses of the COVID-19 vaccine, as well as the flu shot, to all eligible recipients.
Education staff, which includes all CCS employees, are eligible to receive the booster dose immediately, provided that they initially received the Pfizer vaccine series at least six months ago. Click here for more information from the CDC about booster doses.
CPH will be at these school locations:
October 7 - Briggs High School (gym)

October 14 - Columbus Africentric (field house)

October 21 - Beechcroft High School (gym)

October 28 - Linden-McKinley STEM Academy (middle school gym)
All CCS teachers, staff, and students can access these dedicated clinics regardless of where they work or attend school.
Students who are eligible (ages 12 and older) for the COVID-19 vaccine can also access the CCS clinics after school hours (2:30 - 6:00 p.m.). Students under the age of 18 must have a signed consent form from their parent or guardian to receive the first dose of the vaccine.
In addition to CCS clinic locations, teachers and staff can go to any pharmacy or medical provider who offers the booster dose to receive it. Click here for information on additional CPH vaccine locations.
If you have not received your first dose of the COVID-19 vaccine, I strongly encourage you to do so. It is our greatest and most effective mitigation strategy against this virus. The vaccine is safe, effective, and recommended by medical professionals who are experts in their field.
Transportation Services
We continue to experience issues with delayed bus routes due to the nationwide driver shortage. As an example, on just one day this week, we had more than 100 bus drivers who either called off or were out due to isolation/quarantine procedures.
With an already short staff of qualified drivers, we cannot afford to be even more short-handed. This has caused routes to be delayed by as much as an hour. Our transportation team is working diligently to ensure families receive timely notifications if there are significant delays to their students' routes. We will be sending a letter to the families of all transportation-eligible students regarding the use of Bus Bulletin notifications to provide these important alerts.
As we mentioned earlier this fall, we are also increasing the staff and capacity of our Transportation Call Center. This will allow us to better address the volume of questions and inquiries that come in.
Finally, our team is also advocating at the state level for measures that will enable us to provide improved transportation services. This includes the use of vans and additional certification opportunities for trainees. We will keep you informed of the results of these efforts.
Safety and Security
Many schools across the region and throughout the country have faced safety concerns since the start of the new school year. We have had our own share of these concerns related to unsubstantiated threats on social media and disturbances to the school day.
We continue to monitor the rise of new Tik Tok challenges and encourage families to do the same. These challenges range from disruptive to explicitly illegal. Even if it is meant to be a joke or social media fodder, we take every incident seriously.
The safety and well-being of our students and staff is our top priority. We want our young people to understand the seriousness of these types of safety concerns and the disciplinary action and criminal charges that could follow. We also have support teams in place to assist with social-emotional issues that may lead to the onset of these occurrences.
I encourage our families to talk with their children about appropriate behaviors in school and in their neighborhoods. Please remind your student that if they see something, they should say something. They should immediately report any concerns to their teachers, staff, or a responsible adult. Anyone connected to Columbus City Schools can call or text our 24-hour anonymous Safer Together hotline at 844-SAFER-OH.
As always, I appreciate the support and continued partnership that our school community provides in promoting safe learning environments for all.
Facilities Master Plan
The next phase of our Facilities Master Plan (FMP) process is currently underway. Community input from all stakeholders -- staff, students, families, and community members -- is vitally important. We need your participation to ensure everyone's voice is heard as we work to shape the future of school facilities in Columbus.
During this current "Anticipate" phase, participants tour two CCS school buildings -- one recently constructed and another older construction. Subsequent phases will continue through mid-December. Each step of the process is built to create a consensus of community values and develop a complete and clear understanding of the community's expectations of future learning environments as part of the Facilities Master Plan.
Click here for more information on the FMP process and to register for upcoming engagement sessions.
Staff Appreciation
School Nurses - I want to say a heartfelt "thank you" to our school nurses who have been leading our pandemic response efforts over the past 18 months. Our nurses have been on the front lines to protect the health and safety of our students and staff members. Their efforts and dedication have been even more valuable this school year as we transitioned all students back into the classroom five days a week.
To all of our nurses, we see you, we support you, and we appreciate all that you do for our students, staff, and community.
Bus Drivers and Transportation Team - Thank you to our bus drivers and transportation support team for your hard work and dedication to serving our community. Our team is working tirelessly to provide the best possible transportation service to our students and families during this ongoing crisis. Our team will continue to work on making improvements and tackling this challenge head-on.
School Leaders - I would like to recognize all of our outstanding school leaders! October is National Principals Month, and we want to take this opportunity to show how much we appreciate the leadership that principals provide day in and day out in our school buildings. I encourage you to reach out to your school's principal this month and express your appreciation for their efforts and expertise.
I know there are staff members in all teams across the district that are going above and beyond this school year. I appreciate your efforts and energy -- it's because of our amazing teachers and staff that we have made it through this first month of the new school year.
Talisa Dixon
Superintendent/CEO, Columbus City Schools