Return to Headlines
New COVID-19 Quarantine Guidelines for Ohio Schools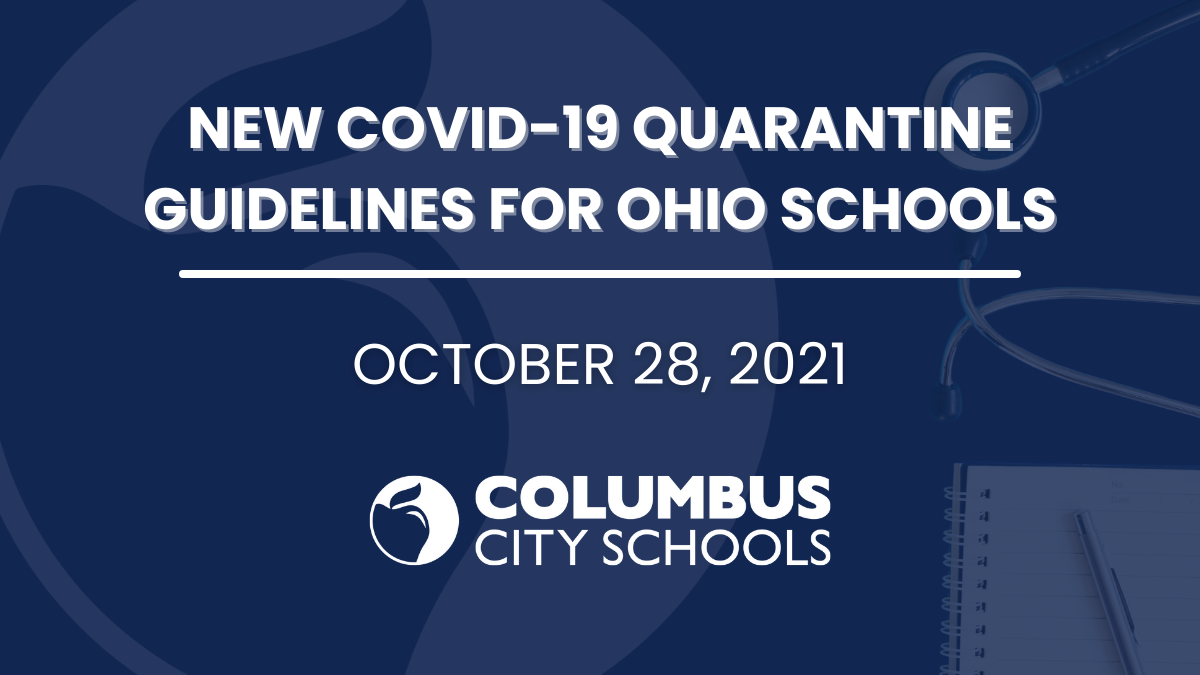 Students and Staff Can "Mask to Stay" in the Classroom
Alternate Languages: Arabic | French | Nepali | Somali | Spanish
October 28, 2021 -- On Monday, the Ohio Department of Health (ODH) updated its Quarantine Guidelines for schools. Columbus Public Health (CPH) fully supports implementation of this new option for schools in their jurisdiction.
The changes incorporate mask wearing and testing to reduce the chance of spreading COVID-19 and provide a safe alternative to out-of-school quarantining for students and staff.
Columbus City Schools, in consultation with Columbus Public Health, will adopt the new quarantine guidelines effective immediately for those students and staff who are identified as a close contact in the classroom or school-related environment.
CCS will continue to require universal masking indoors regardless of vaccination or quarantine status. Students and staff who are currently in quarantine due to classroom/school related exposures only will be permitted to return on Friday, October 29, as long as they have not exhibited any symptoms. If you are unsure if this applies to your situation, please reach out to your school nurse or school administrator.
---
To help answer questions that parents might have about these new protocols -- as well as share information about the upcoming opportunity for younger students to receive the COVID-19 vaccine -- our district's Health Services team and our partners from Nationwide Children's Hospital will join our Virtual Family Engagement Session next Thursday, November 4, from 6:00 p.m. - 7:00 p.m. (on Zoom). Families can sign up to join this informative session at www.ccsoh.us/rsvp.
---
The changes from ODH include two options:
Mask to Stay - applies to participation in the classroom following a COVID-19 exposure in a school setting or another school-related environment.
Test to Play - applies to participation in extracurricular activities following a COVID-19 exposure in a school setting or school-related environment.
Additionally, CPH emphasizes the following:
Universal masking and other public health mitigation strategies -- social distancing, surface cleaning, ventilation, etc. -- should be maintained.
Schools should continue to report all school-related cases (within 24 hours) to CPH.
This new option does not apply to contacts that occur outside the school setting. Contacts exposed outside of the school setting or school-related activities should continue to quarantine if unvaccinated.
The guidelines below only apply to direct contacts in a school environment – those individuals who are identified as being directly exposed to COVID-19 by a positive case in a classroom or school-related activity.
Updated Ohio Department of Health Guidelines:
Mask to Stay
Direct contacts, regardless of vaccination or masking status, may remain in the classroom environment if they do the following:
Wear a mask for 14 days after their last date of exposure.

Please note: CCS will continue to require all students and staff to wear masks inside all indoor facilities, including past this 14-day period identified by ODH.

Self-monitor, or parent-monitor, for symptoms of COVID-19.
Isolate and get tested if they start to experience symptoms associated with COVID-19 (regardless of level of severity).
Direct contacts for COVID-19 are those individuals who are identified as being directly exposed to an individual(s) with a confirmed positive case of COVID-19.
Parents and students are responsible for symptom monitoring; however, if nurses/school staff see a child exhibiting symptoms they should act accordingly.
Test to Play
Asymptomatic contacts may continue to participate in extracurricular activities if they do the following:
Wear a mask when able. (This includes: transportation; locker rooms; sitting/standing on the sidelines; and anytime the mask will not interfere with breathing, the activity, or create a safety hazard.)
Test on initial notification of exposure to COVID-19.
Test again on days 5-7. If they are negative at this time, they will test out of quarantine.
Please Note: The tests referenced above are SARS-CoV-2 viral (PCR or antigen) tests. They should be proctored/observed by someone and cannot be an over-the-counter, at-home test that was self-administered without a proctor.
For additional information, please visit: