Back to School Night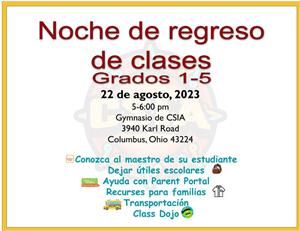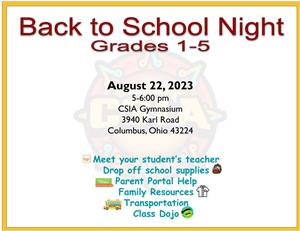 August news
Click on the link below for the August newsletter
Bus Transportation:
Parents will start receiving information from transportation for bus stops and times by mail. It is estimated the mailings will start August 14. Check your parent portal as the information is scheduled to be in there also. Any concerns, please call 614-365-5074 for any transportation questions.
School supply lists for the 2022-23 school year are located in the Student Tab.
Annual Update
Parents please remember to do the annual update of your personal information in Parent Portal so we will have your child's current contact information. This information is very important as it determines bus transportation, school/district mailings, and people who are allowed to pick up your child from school.
GREAT NEWS address changes now can be done through Parent Portal. The schools no longer can do it.
If you need further assistance in setting up your Parent Portal account, or retrieving your Username/Password, please sent an email with your picture ID, along with your child's name and date of birth to: