Return to Headlines
Centennial High School Students Tell Compelling Stories through Sound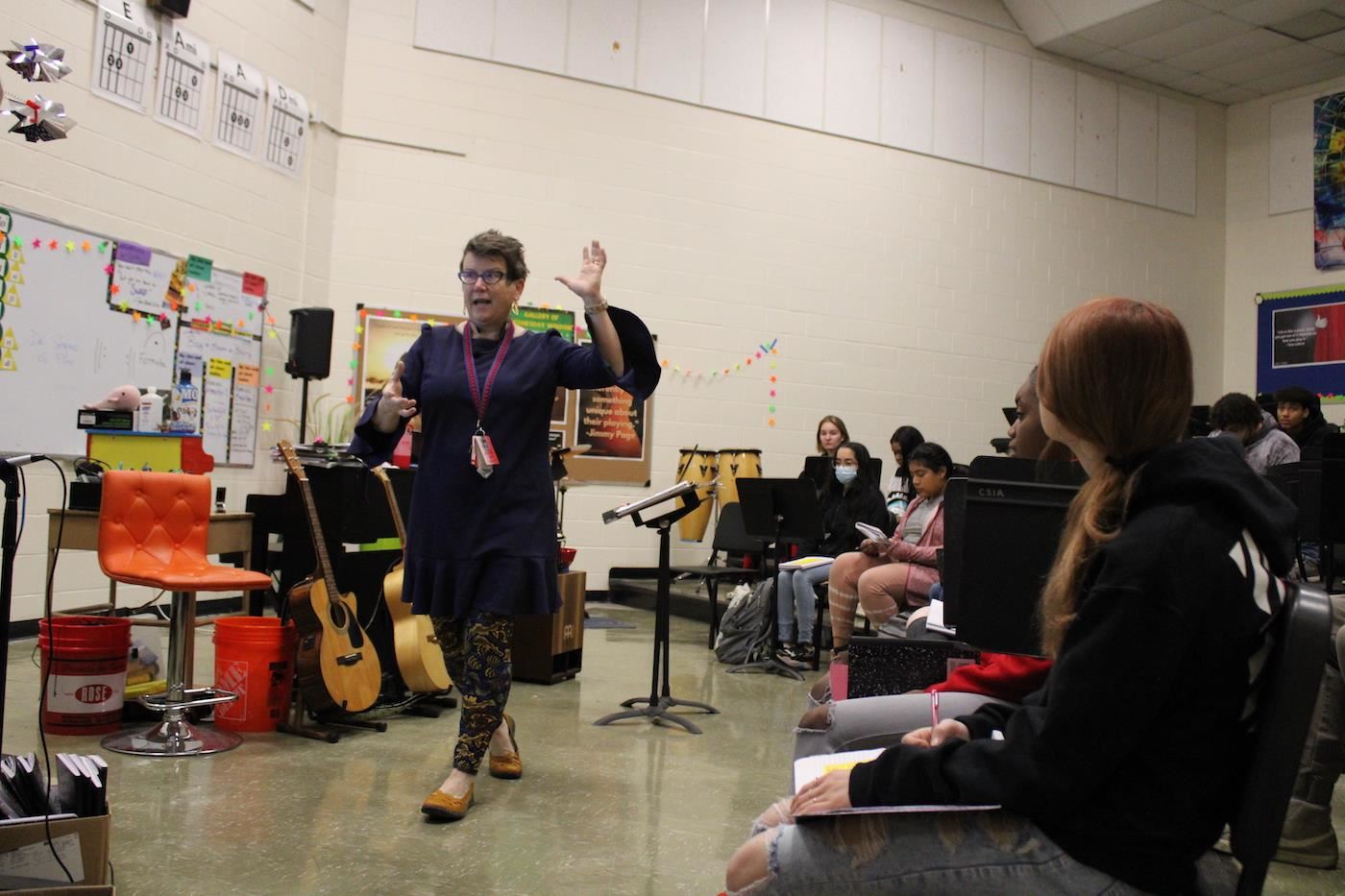 January 9, 2022 -- Whether capturing the whimsy of a childhood dream or encouraging people to wear seatbelts, Centennial High School students used short sound bites to tell compelling stories.
Pam Welsh-Huggins is a vocal music and modern band teacher at Centennial. In the past, she used Sountrap projects as an opportunity to open up the district-provided Digital Audio Workstation Studio. Soundtrap is an online composition and recording tool accessible from any device. Meanwhile, the Digital Audio Workstation is an entire studio at students' fingertips.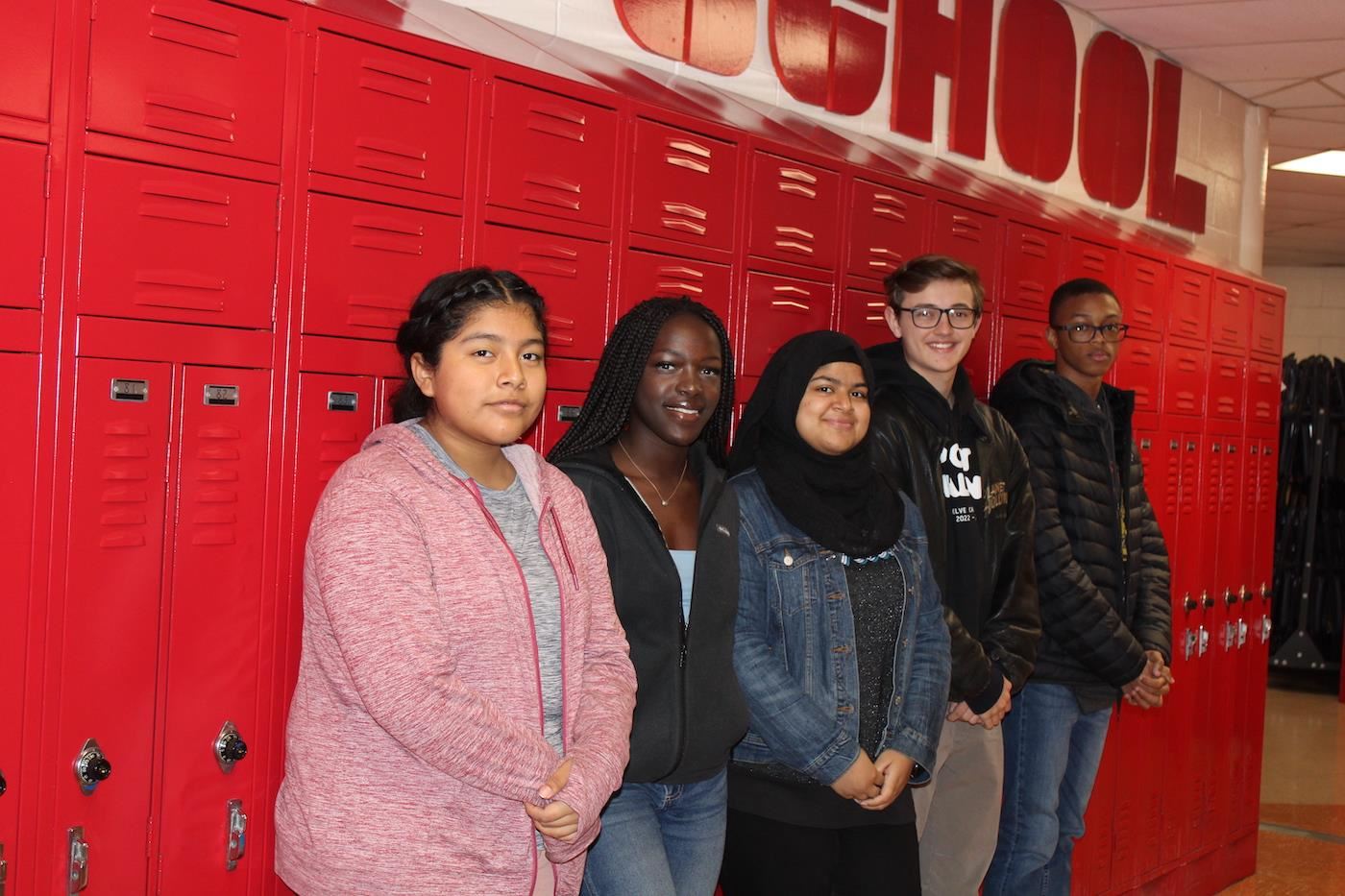 For this year's projects, Welsh-Huggins wanted students to think about how they would tell a story to convey a mood using loops and sound effects. The project taught students technical skills and storytelling while also sparking creativity. Welsh-Huggins used the prompt of celebrating or promoting a national day.
"I love seeing and hearing the nuances they build into their projects," Welsh-Huggins said. "I'm listening and looking for students to hit the requirements. However, I'm always struck by how students are drawn in by the possibilities of technology or the creative momentum to make something beyond the assignment."
Niko Moret, a Centennial junior, wanted to convey a serious message. So Moret recorded himself getting into his car and putting on his seatbelt to tell the story of a person who made a different and lifesaving decision to fasten a seatbelt. The short promo told the story through sounds, including heart monitors, crashes, and seatbelt clicks. Click here to listen to Moret's promo.
"I thought I could do something interesting with seatbelt clicks," Moret said. "I made something off that where someone got into a car accident without a seatbelt. They end up flatlining. Then it repeats, but this time, he puts on a seatbelt. I wanted to get across that you need to wear your seatbelt, or you could get seriously injured. I wanted to highlight the dangers behind that."
Deonta Sigers, a freshman, chose National Unfriend Day. His promo featured a sad intro but shifted to a more powerful tempo.
"I picked National Unfriend Day because I thought it would be something unique," Sigers said. "One message I wanted to get through to people through this project is that you're not obligated to stay in any friendship. It's your choice. Don't let anyone control you."
They had to use a minimum of five layered sound loops, using their voice to say the name of the national day, and use a sound effect or slogan. The time requirement was 30-60-second sound bites.
"Some of the projects made me laugh out loud, like Deonta Sigers' project about National Unfriend Day; a project a student did about Clean Your Refrigerator Day; and another about National Men Make Dinner Day," Welsh-Huggins said. "Others were deeply touching, like the one for All Souls Day, where the student chose loops that conveyed both grief and hope. Others, like Wafaa Raheem's and Estrella Ramirez's projects, just struck me as cute. Niko's project was even cooler than I expected. His project told the story in a fresh, provocative way, and I was blown away."
Raheem, a senior, and Ramirez, a sophomore, worked on more lighthearted promos.
"My project was National Ice Cream Day," Raheem said. "I like ice cream and thought it would be something everyone could relate to."
"Mine was National Princess Day," Ramirez said. "What inspired me was that being a princess was a childhood dream. It's why I did more of a high-pitched voice because it brings back that imagery of a childhood dream. I added some sprinkling sounds in the background to go along with the theme. I feel like even if you're an adult; you can still remember your childhood dream."
Alice Ochieng, a senior, also chose a more lighthearted theme - National Butter Day.
"I wanted to go with something unconventional that was funny and nonsensical," Ochieng said. "I chose to go with an R&B style tempo and beat just to get that smooth, buttery effect. Then, I decided to use rhymes taken from a poem to go along with that beat."
Many of the students said they had fun while creating their projects, but for Welsh-Huggins, it also taught deeper lessons. For students new to instruments, Soundtrap can help students express musical thoughts more profoundly than they may be able to through their instruments.
"Setting an intention and working sonically toward an emotional feel was key so that the project would connect with ideas we talked about in our weekly music listening sessions," Welsh-Huggins said. "We are learning ways artists choose from the musical elements to express their ideas and feelings and to evoke an emotional response in the audience."
---