Return to Headlines
Superintendent's Weekly Message - December 3, 2021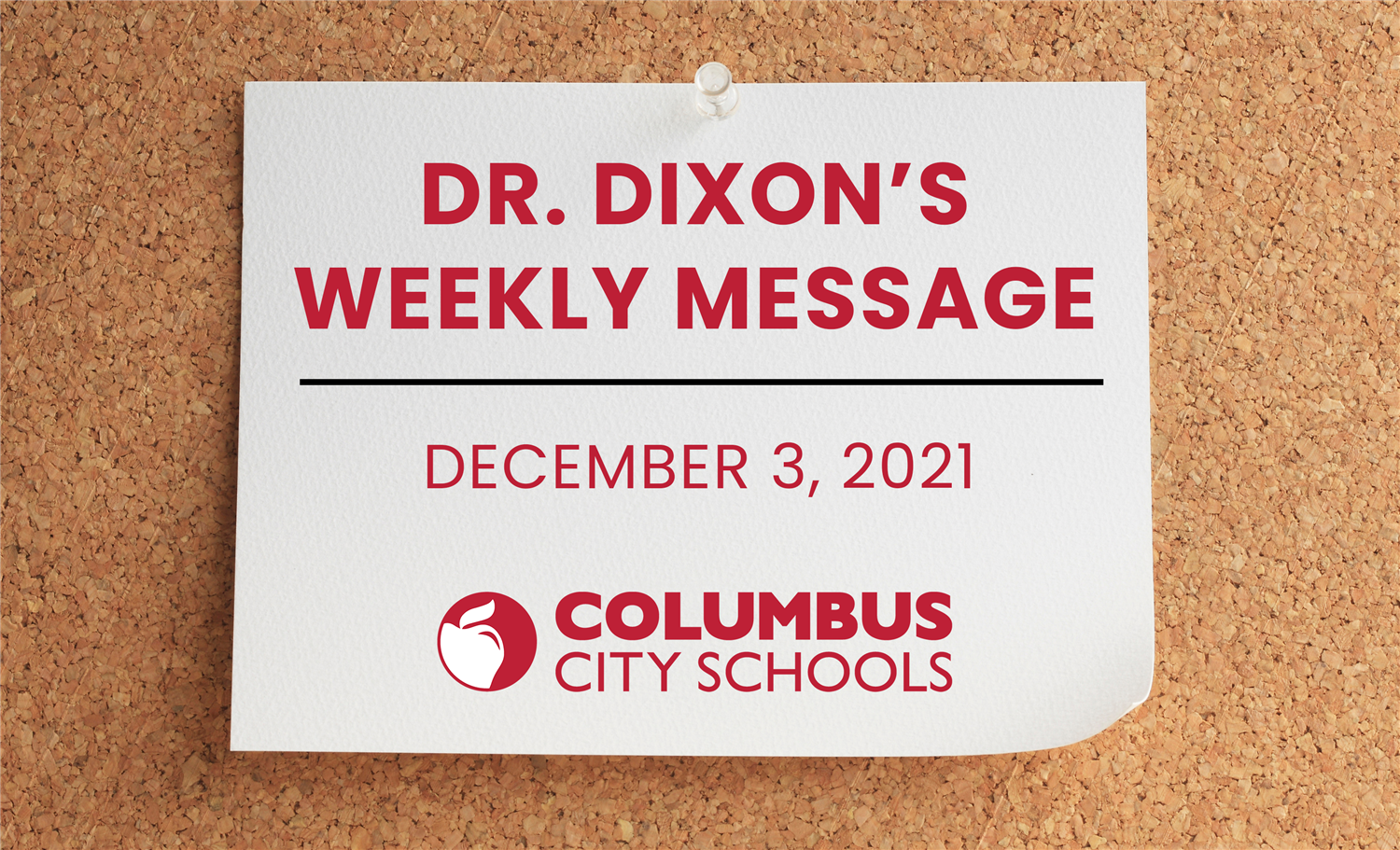 Superintendent Message to Families
December 3, 2021
Dear CCS Community,
Welcome to December! I hope you were able to make time for yourselves and your families during Wellness Week and were able to gather with loved ones safely over the holiday weekend.
I want to start this week's message by asking each of you to have an age-appropriate conversation with your child about the importance of having a safe school environment to support the academic success of each student.
This week, the behavior of CCS students on our school campuses has been the focus of several news reports. Civic leaders and parents are asking what we are doing to curb youth violence. This is not a discussion that we can have alone.
I want you to know that we take the safety of students and staff very seriously. One of our District's best safety resources is the high level of trust and cooperation that our safety teams, teachers, and school administrators have built with students and families within our schools and across our neighborhoods.
We have been experiencing issues with neighborhood disputes involving our students outside of school hours. Those outside influences are being brought into the building and creating problems inside the school.
We need our students to understand that choices have consequences, even at young ages. Having a safe school environment relies upon each student making smart choices in the actions they take. With your guidance, the leaning in of our civic leaders, and the community working with us in addressing the external issues, our students can build the skills to evaluate their actions and consider how those actions might affect other students, teachers, staff, and themselves inside the classroom.
We are not alone as districts across the state and nationwide have also been grappling with this challenge. It may be a national issue, but it requires local solutions which is why community conversations are so critical. We also need to engage our young people to understand the root cause of the problem and develop student-led solutions.
We can't do it alone. Together, we can work with our community and our students to understand and address these issues.
Vaccination Clinics for Students Ages 5-11
Our dedicated COVID-19 vaccination clinics for all students ages 5-11 are quickly approaching. The clinics, in partnership with Nationwide Children's Hospital and Columbus Public Health, will be held at every elementary school during regular school hours for all eligible recipients ages 5-11.
To get a COVID-19 vaccine for your child, parents must complete and return the COVID-19 consent form, no later than December 7. Consent forms can be completed electronically or by paper copy and returned to your school nurse.
The clinic dates are:
December 13-17, for the first dose of the COVID-19 vaccine
January 3-7, for the second dose of the COVID-19 vaccine
CCS school nurses, along with nurses from Nationwide Children's and Columbus Public Health, will monitor students in a designated waiting area for 15 minutes before they are permitted to return to their classroom.
If you have any questions, please contact your school nurse or log onto the District's Health Hub at ccsoh.us/pfizer5-11.
Facilities Master Plan Committee Needs Your Input
Phase 6 of the Facilities Master Plan process is underway. And we need to hear your voice and input as the District finalizes its roadmap to meet the changing needs of District students and help ensure that resources are allocated efficiently and effectively to meet District goals.
During this "Transform" phase, the community will be asked to weigh in on three varying concepts created as a result of community conversations during the past five phases for each grade at the high, middle, and elementary school level when it comes to new buildings. Concepts include bigger high schools and middle schools, district-wide equity, and the replication of program opportunities for students throughout the district in the next 5 to 20 years.
This is why your participation in the FMP process is so critical in shaping the future of Columbus City Schools.
Feedback collected during phase 6, over the next week, will be reviewed by the FMP Committee before it makes a recommendation to the Columbus Board of Education.
There's still time to make your voice heard. Please join us for one of the FMP meetings scheduled between now and December 9.
Saturday, December 4, 2021 | 10:00 a.m. | All Regions | Main Metropolitan Library (96 South Grant Ave)
Monday, December 6, 2021 | 6:00 p.m. | Region 5 | Mifflin HS
Wednesday, December 8, 2021 | 10:00 a.m. | All Regions | Main Metropolitan Library (96 South Grant Ave) (LIVE STREAM)
Wednesday, December 8, 2021 | 6:00 p.m. | Region 1 | Briggs HS
Thursday, December 9, 2021 | 6:00 p.m. | Region 2 | Walnut Ridge HS