Return to Headlines
District Message/FAQ Regarding Measles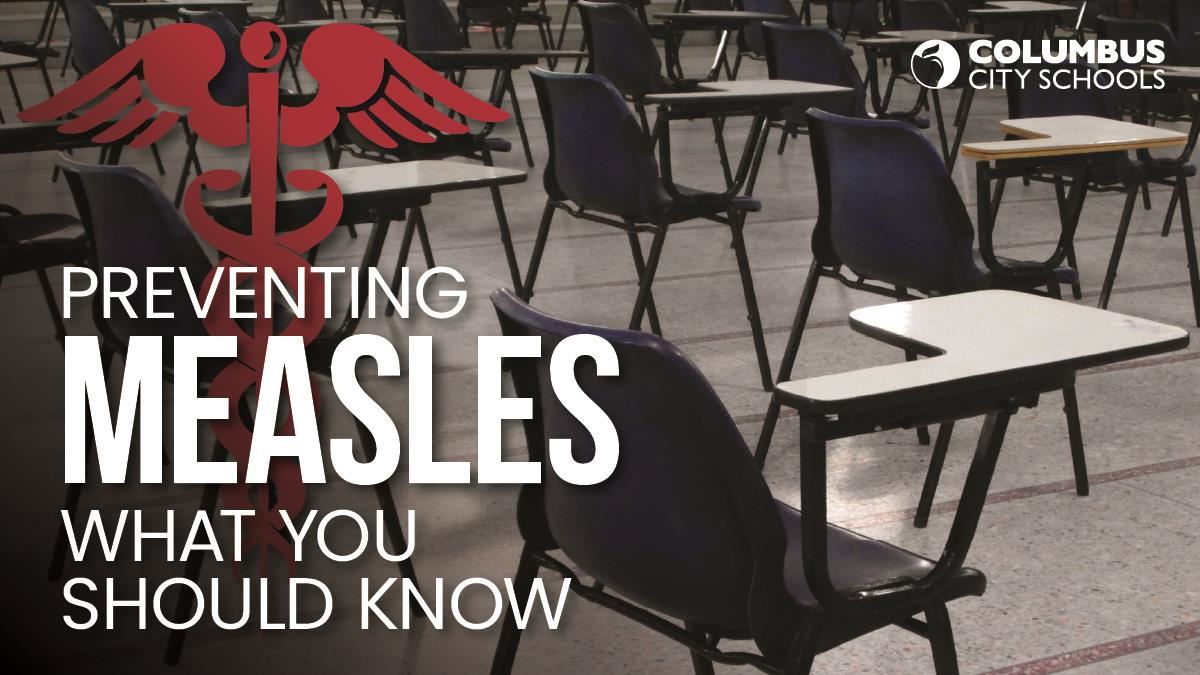 ---
Dear CCS Community,
As you may be aware, Columbus Public Health is investigating confirmed cases of measles at several local public places around the city.
Measles is a vaccine-preventable disease that is highly contagious and spreads through the air when an infected person coughs or sneezes. The most important thing anyone can do to prevent measles is to get the measles-mumps-rubella (MMR) vaccine, which is safe and highly effective. One dose of MMR is 93% effective at preventing measles, and two doses are 97% effective at preventing measles.
Columbus City Schools does not currently have any reported cases of students with measles in the District.
The best way to prevent measles is through vaccination. The MMR vaccine is one of the school-required vaccines. CCS nurses track each student's vaccination status. They can provide information on where students can access the vaccine if it is incomplete. This process is completed at the beginning of every school year and is ongoing for any new students who enroll.
If your child is 12 months or older and has not been vaccinated with MMR, you should have them vaccinated immediately. Please note: Children who are not vaccinated may be excluded from school if there is a case at their school. They may also be excluded from school if they are exposed to measles in the community.
Families can also access vaccines through vaccination clinics collaborating with Columbus Public Health and Nationwide Children's Hospital. Vaccinations are available for families and students who need any vaccine, including MMR. In addition, Columbus Public Health offers no appointment-needed walk-in measles vaccines for anyone one year and older. MMR vaccines are also available from health care providers.
What can parents do?
First, check your entire family's vaccination status. Are you all up to date on your measles vaccine?
Columbus City Schools Health Services partners with Columbus Public Health to track measles cases and will provide appropriate guidance for testing and quarantine if needed.
Vaccination is safe and highly effective at preventing measles. You can contact your healthcare provider or your child's school nurse if you are unsure if your child has been vaccinated.
If anyone in your home has been exposed or is experiencing symptoms that could be due to measles, please stay home from school and contact your health provider.
Students who have at least one dose of the MMR vaccine do not need to isolate after measles exposure.
Cover coughs, wash hands and clean and disinfect frequently touched surfaces
If you would like more general information about measles or are unsure of your child's vaccination status, contact the school nurse at your child's school. You can also contact Columbus Public Health (CPH) at Columbus.gov/measles. Anyone with questions can also call CPH at 614-645-1519.
Here is a list of Frequently Asked Questions from Columbus Public Health with more information.
---
Updated on December 16, 2022:
Columbus Public Health has provided measles educational materials for the public.
Visit the Columbus Public Health website for more information.