Return to Headlines
Eastmoor Academy Graduate Leans on CCS Mentors to Succeed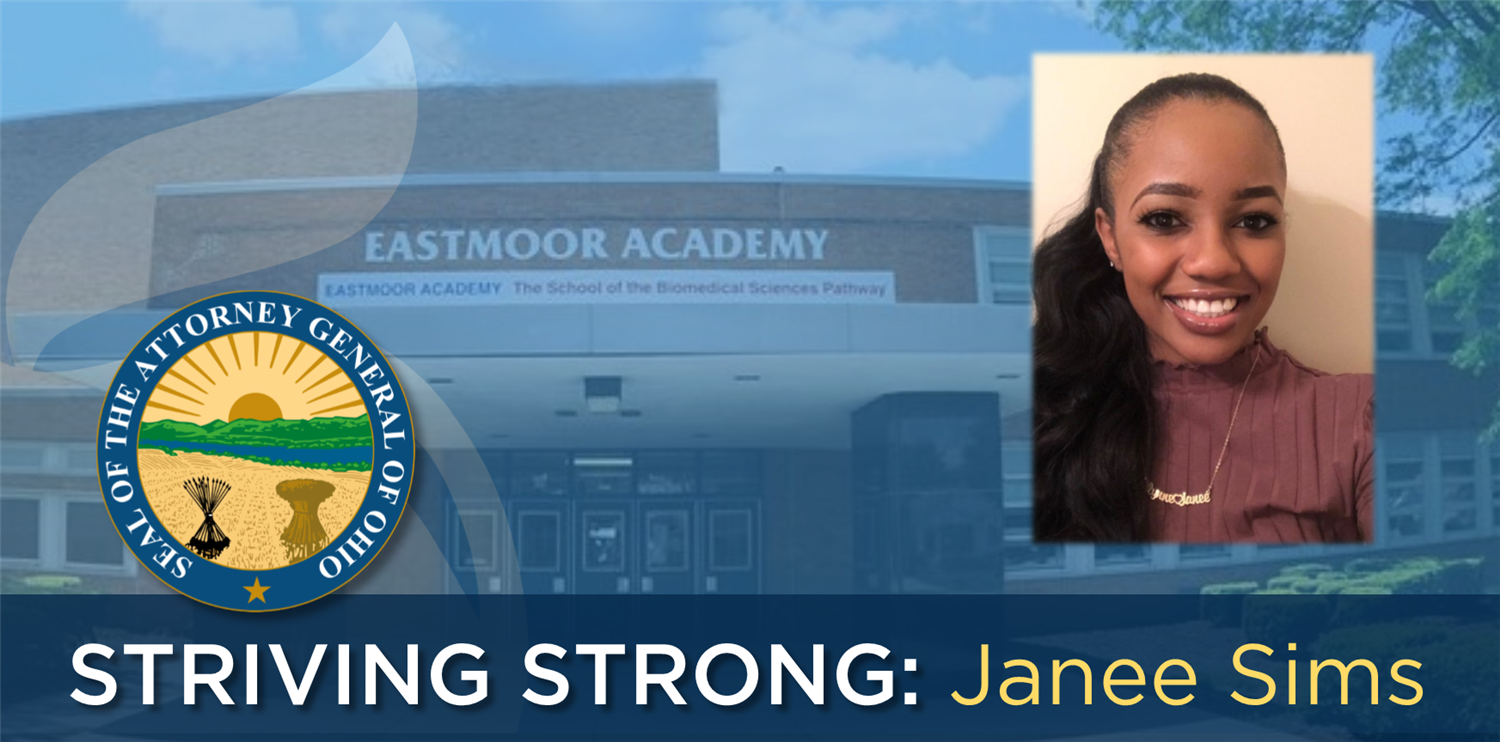 February 3, 2021 -- When 22-year-old Janee Sims thought about starting her own Information Technology business, she reflected and turned to those who inspired her most when she was a Columbus City Schools student. "There's Kirk Jackson, my entrepreneurship teacher, and Regina Scott, my advisor, both at Columbus Downtown High School (CDHS) my junior and senior years," said Sims. "They are two of my favorites, but I have several others," Sims said, chuckling.
In December 2020, Janee Sims launched JTech Solutions, a business where Sims works with clients to set up Information Technology (IT) solutions. "I first created a business plan for JTech Solutions," said Sims. "I learned that from Mr. Jackson, where we learned how to develop a business plan. My final exam in 2016 was a presentation of our business plan to the Ohio Small Business Development Center at Columbus State Community College."
Kirk Jackson is still teaching. Presently, he's the technology teacher at Eastmoor Academy, and he remembers Janee Sims fondly. "As a teacher, you always look for the student who is going to find that spark and run with it," said Kirk Jackson. "Janee found it in my class.
"She was a quick learner. After she graduated from CCS, she came back to my class to talk to students about her experiences at Columbus Downtown High School."
Even though Regina Scott was not Janee Sims' teacher, she was her Business Professionals of America (BPA), Advisor. "I traveled with Janee to Boston for the BPA Leadership Conference," said Scott, a Career-Tech and Academic Specialist at CDHS. "Janee competed in the Interview Skills completion and placed 4th in the nation. Janee has a quiet demeanor, but she will command your attention the minute she opens her mouth to speak."
While Sims' love of business ownership started at CCS, her passion for Information Technology began right after her high school graduation in 2016. "I went to Capital University majoring in business administration and computer sciences," said Sims. "I took a social media class my freshman year and learned about coding. I loved it, and the skills came easy to me."
In the last four and half years, Sims has been an Information Technology Specialist and Help Desk Analyst at the Ohio Department of Transportation, clothing giant Gap, Inc., One Federal Credit Union, and the Columbus City Schools Information Technology Department. "My dream job is to own my own IT company that serves Columbus City Schools and other large entities," said Sims.
In the meantime, 22-year-old Janee Sims is building her resume. Four months ago, she was hired full-time as an IT specialist with the Ohio Attorney General's (AG) Office. "I love the work environment at the Attorney General's office because I am on the front line for so many services," said Sims. "I work with special agents and different departments that incorporate many hardware and software applications."
Sims left Capital University after two years because the school wasn't the right fit. In 2019, she became a full-time student at Central State University, a Historically Black University majoring in Business Administration and Management. "Through my work at the state with the Attorney General's Office, my college tuition is free," said Sims.
As if a full-time job and her college course load weren't enough, Janee Sims is also mom to an 18-month-old baby girl. "Sometimes, I don't get a lot of sleep, only a couple of hours a night because I'm working on school work and IT solutions," said Sims. "Luckily, my daughter sleeps through the night."
Sims has a lot of family support as she balances motherhood, college coursework, and workplace tasks. The support and mentorship she received as a Columbus City Schools student also guided her. "Mr. Jackson saw something in me even when I couldn't see it in myself," said Sims. "I remember and think about that when it gets a little tough."