Return to Headlines
Eastmoor Academy Graduate and Scholarship Recipient Making Her Mark in Practical Nursing Program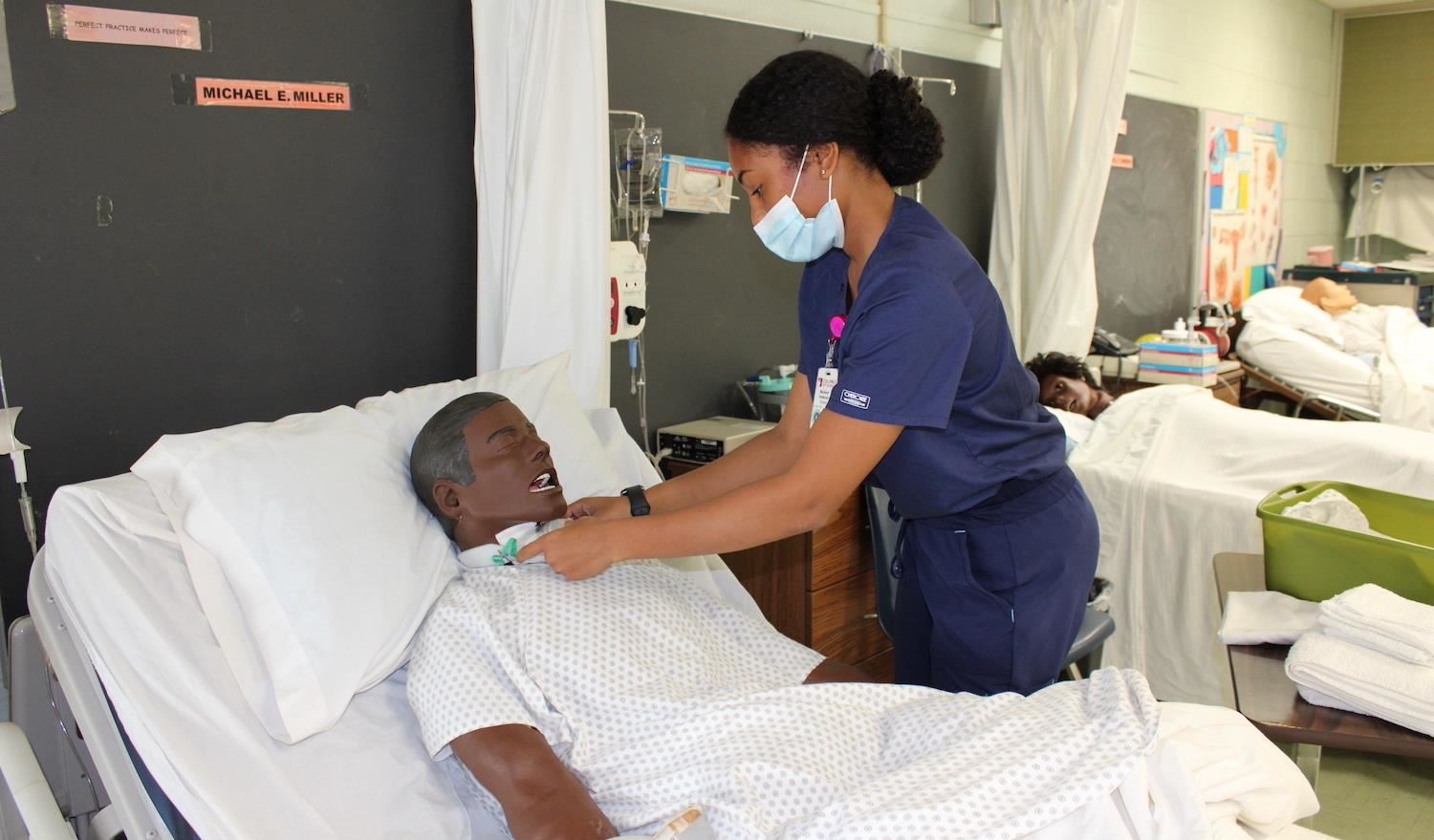 October 8, 2021 -- Eastmoor Academy graduate Nazhaya Anderson has dreamt of becoming a nurse since middle school. Now, she is making that dream come true after receiving a full-ride scholarship to the Columbus City Schools (CCS) Adult Education and Workforce Development Practical Nursing Program for the 2021-2022 school year.
One full-ride scholarship for a CCS student, worth $15,600, has been available for the past three years, however Anderson was the first recipient. According to Ed O'Reilly, director of Adult Education and Workforce Development, a lot of CCS students aren't aware of the scholarship. That is something he and Anderson would both like to change.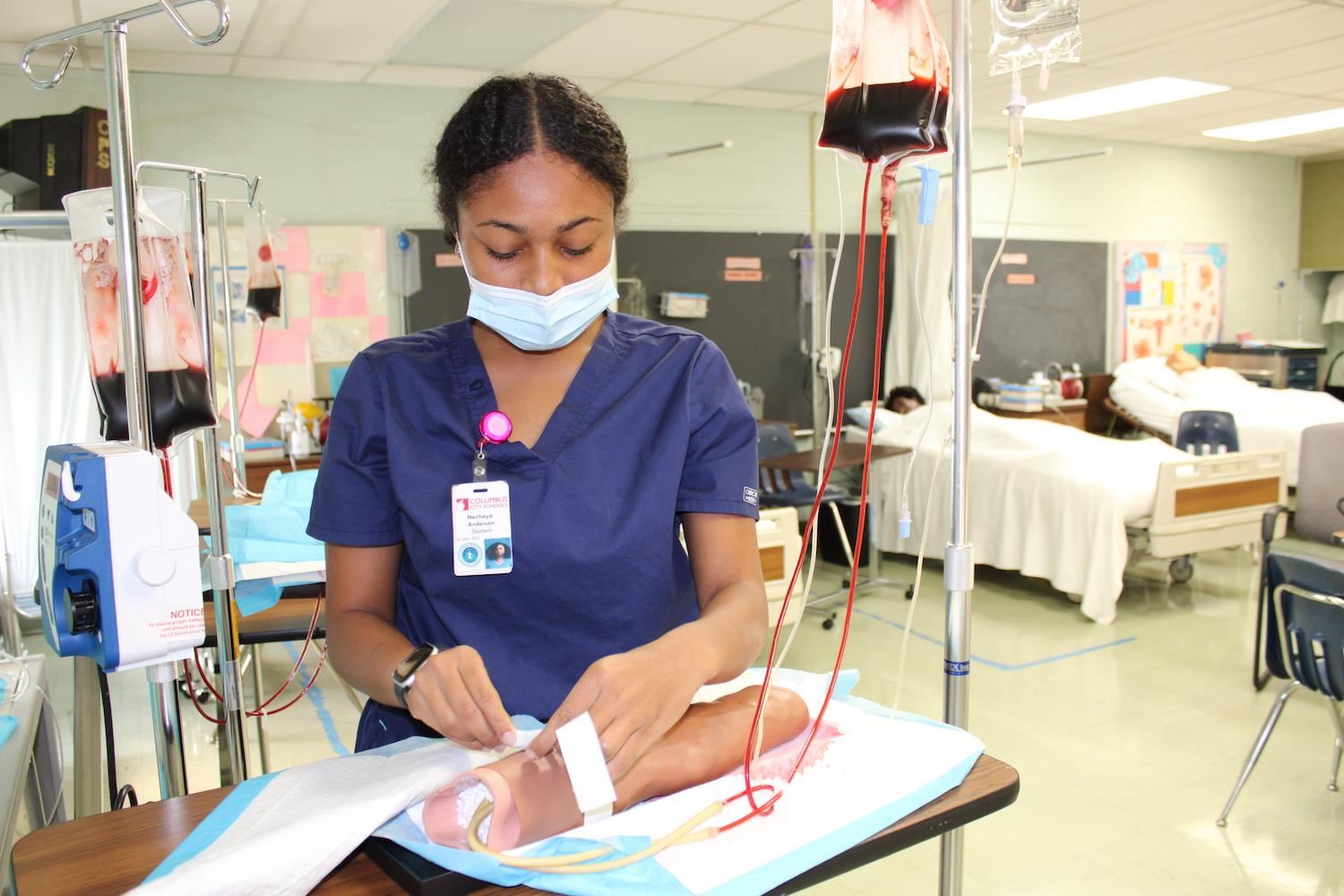 "I happened to hear about it because my mom knows some people who went to school here," Anderson said. "I'd like to go to some of the high schools and give a presentation so that students are aware of this great program and the scholarship."
The recipient must be a CCS student and meet specific qualifications, which includes passing a background check and an entrance exam. O'Reilly says that Anderson performed extremely well on the exam.
Just a couple months in, 18-year-old Anderson says the program is very demanding, but rewarding.
"It requires a lot of self-motivation and discipline," Anderson explained. "There are times I just want to go hang out with my friends, but I have to put that on hold to study first. There's a lot of information to retain, but I know it will be well worth it."
The one-year program is completed in trimesters, with specific courses and clinicals for each term. During the first trimester, students participate in hands-on clinicals one day per week. That increases to two days per week for the second and third trimesters, so the students gain many practical application skills.
While the District's School for Practical Nursing has been in existence for 67 years, many have had a misconception of the program and Adult Education and Workforce Development in general. That is changing.
"A lot of people think higher education has to be a two or four year degree," O'Reilly said. "That's one way, but we provide an excellent option as well. We offer a hands-on practical nursing curriculum that includes more personal and individualized instruction."
In addition, O'Reilly says they have over a 90% completion rate, and over 90% of their students pass the National Board exam on their first try.
"With our program, students can complete the nursing program in one year. Once they pass the National Board exam, they can be in the workforce much sooner," O'Reilly explained. "This means a 19-year-old can be earning $43,000 annually. That's life changing."
Life changing it is, as Anderson is well on her way to a bright future. Once she completes the program and passes the National Board exam, she plans to continue schooling to complete her Bachelor's in Nursing.
Students interested in applying for the scholarship can contact Valerie Griffith at vgriffith4290@columbus.k12.oh.us for more information, or visit Adult and Community Education / Overview, where applications will be available in March for the 2022-2023 school year.