Return to Headlines
Add Yoga to the Three R's at Mifflin Middle School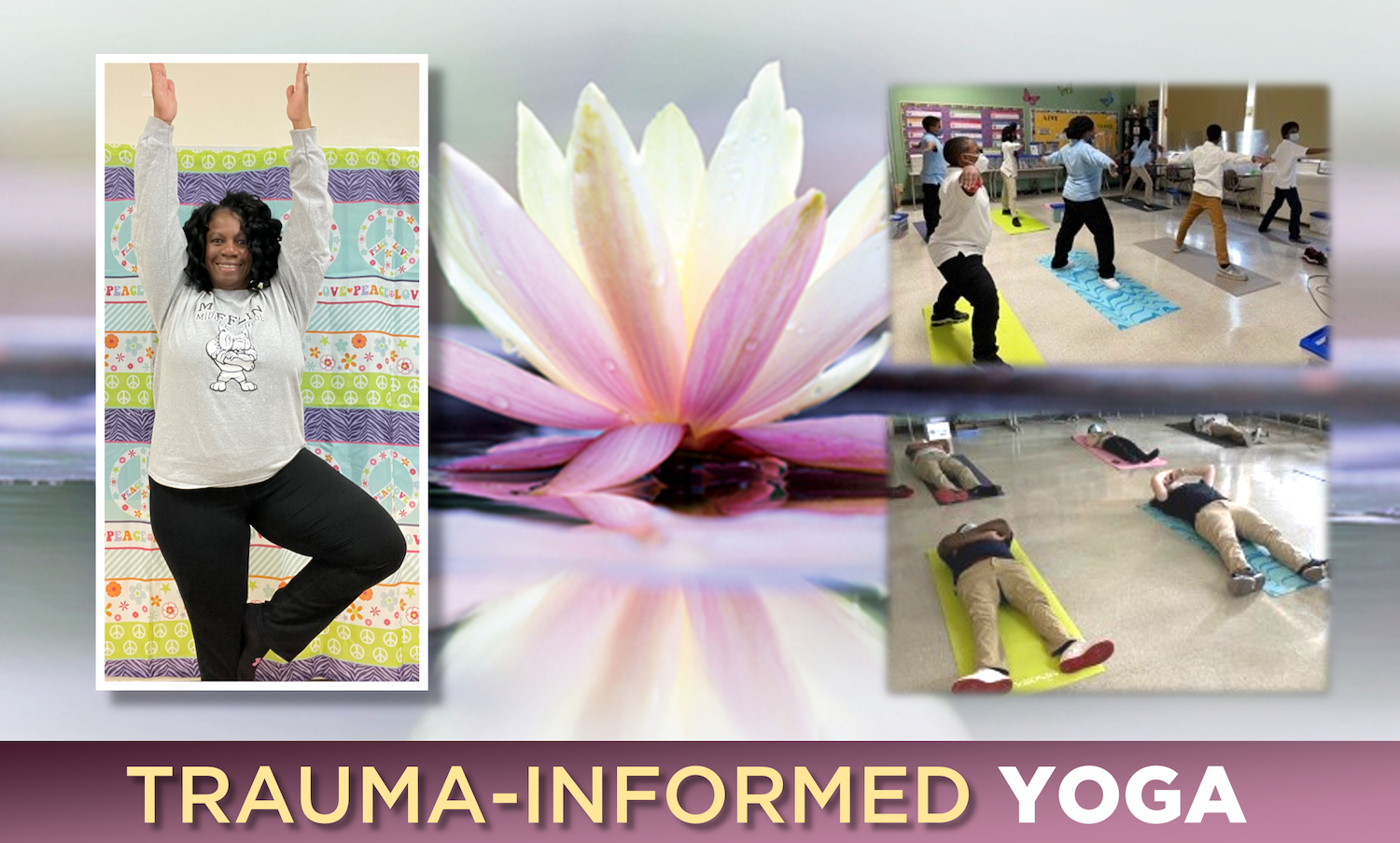 April 21, 2021 -- Seventh-grade English teacher Yvonne Roberson was so moved by how the COVID-19 pandemic impacted students at Mifflin Middle School; she turned to a passion of hers to help: yoga, specifically trauma-informed yoga. That's a type of yoga that creates a safe, supportive space where students can learn social-emotional regulation skills through breathing and increased body awareness.
"I love it, and it works," said Roberson. "I thought, why not try it in the classroom?"
Yvonne Roberson has been a teacher with Columbus City Schools for 25 years. This past fall and winter, she was concerned for many of her students.
"My students were struggling to show up for their Zoom classes," said Roberson. "Many times, their cameras were turned off. Other times, my students would show up after class at lunchtime just to talk. They were craving a human connection."
That's when Ms. Roberson reached out to the Health and Wellness Team here at CCS, who introduced the seventh-grade English teacher to the Youth Yoga project.
"The CCS Wellness Initiative in collaboration with Youth Yoga Project is committed to improving student outcomes by expanding access to comprehensive staff training in Positive Behavioral Intervention Supports (PBIS) and Social-Emotional Learning (SEL) programming," said Jacqueline Broderick Patton MA, BSN, RN, Wellness Initiative Coordinator at CCS. "The goal of this yoga project and other programs in our schools is to eliminate non-academic barriers to learning through high-quality, evidence-based wellness programming and resources."
Roberson said her principal at Mifflin Middle School was so supportive; she took it to the next level; trauma-informed yoga for all students at Mifflin Middle, not just her seventh-graders.
"I enrolled in the Breathe for Change program," said Roberson. "That's where classroom teachers learn how to use trauma-informed yoga to help students develop social-emotional skills. These skills are taught through breathing and movement exercises and result in calmer solutions, better focus, and clearer thinking."
At the end of the six-month training -- Roberson is halfway through it—she will be a certified trauma-informed yoga instructor, which is why she decided to apply for a Teachers' Dream Grant.
"I received a Teachers' Dream Grant for my proposal to build a yoga/calming room at Mifflin Middle School," said Roberson. "It's not a place where students go to calm down. It's a calming room because students go there to find a sense of peace, a place to reconnect with their emotions."
The walls of the room will be painted with soothing colors. Once complete, there will be yoga mats and calming music. Since Roberson is already using trauma-informed yoga during breaks and before and after academic class times, she knows the room will be a hit.
"This space will be for all students," said Roberson. "A perfect place for our Muslim students, for example, to pray during Ramadan." That's the ninth month of the Islamic calendar observed by Muslims worldwide by fasting, prayer, reflection, and community.
Roberson admits some students were a little reluctant when she initially introduced trauma-informed yoga.
"One young man said yoga was for girls, not boys," said Roberson. "When I shared that some famous male athletes like Steph Curry use yoga as part of their training, he was all in. Now students will ask me, can we do yoga before class?"
So far, Roberson estimates about a hundred students have used trauma-informed yoga at Mifflin Middle School. She now incorporates themes into the breathing and movement exercises.
"The theme could be who do you love and why? Or maybe the theme is gratitude," said Roberson. "I believe trauma-informed yoga gives students a healthy outlet, a way to harness their energy and use it positively to change and improve."