Return to Headlines
Superintendent's Weekly Message - October 22, 2021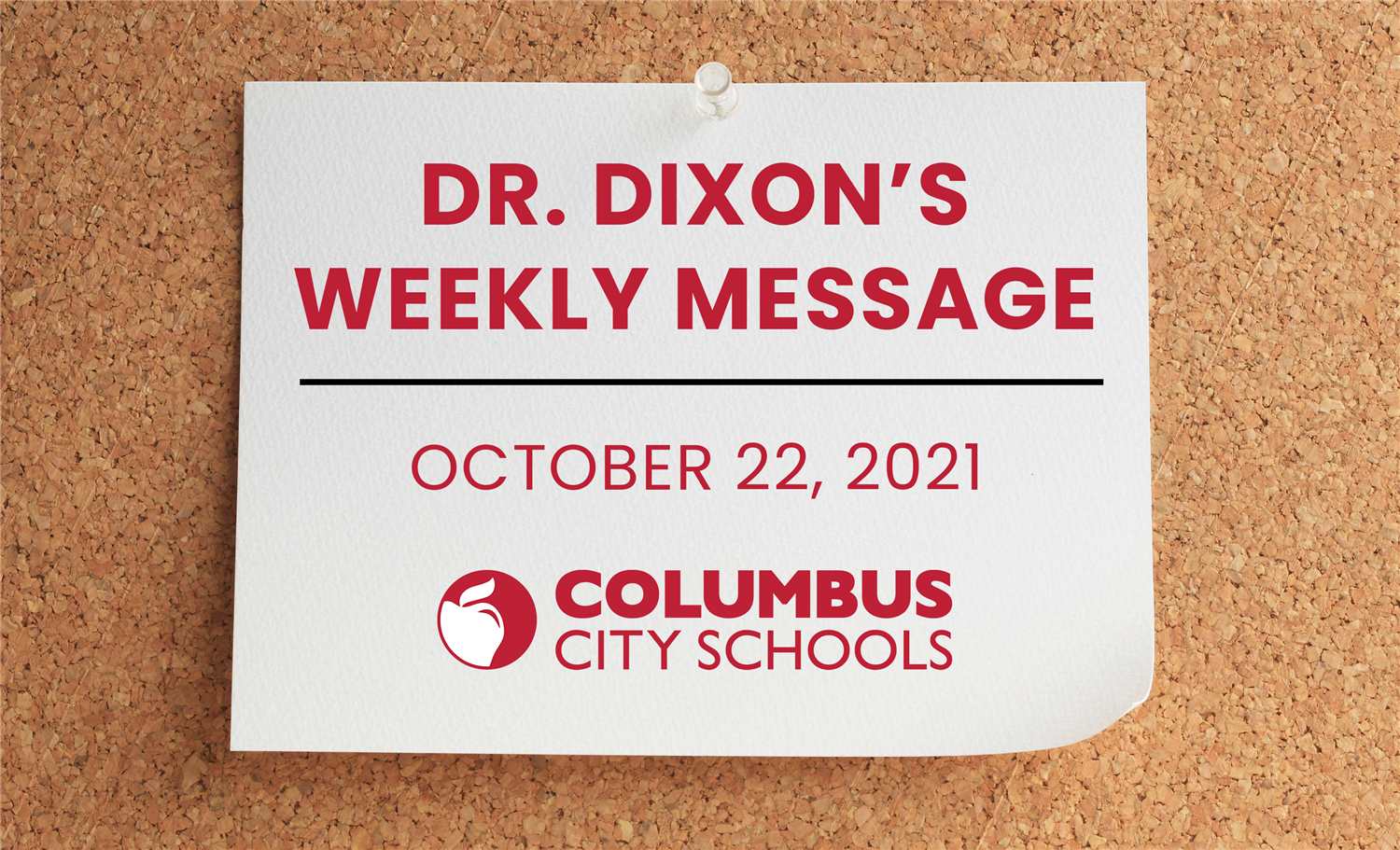 Dear CCS Community,
This week I was reminded that we all impact our young people's lives, and we all serve as a network of support in ensuring our students are on the pathway to success.
This week, we ratified the contract for our 3,000 Columbus School Employee Association (CSEA) members. These staff members are dedicated to our students and are essential to the mission and vision of our district. Their efforts are evident in our school buildings and on our school buses daily.
As we begin to talk about our strategic plan—investing time into planning intentional and meaningful student-centered learning experiences, it's all about how we bring everyone together to impact a child's life. Building solid relationships and a culture of trust is how we equitably prioritize student achievement.
Here are some important updates for our staff and families to know.
COVID-19 Vaccinations for 5 to 11-Year Olds
We continue to monitor ongoing discussions about expanding COVID-19 vaccine availability to students in the 5 to 11-year-old age group.
As we anticipate the children's vaccine approval, we are working with our health partners at Columbus Public Health and Nationwide Children's Hospital to schedule vaccination opportunities.
We have one more Thursday clinic dedicated for all CCS teachers, staff, and students to take advantage of getting the Pfizer COVID-19 booster, first dose, or the flu shot for eligible recipients.
Columbus Public Health will be at Linden-McKinley STEM Academy from 11:00 a.m to 6:00 p.m. on Thursday, Oct. 28.
All CCS teachers, staff, and students can access these dedicated clinics regardless of where they work or attend school. No appointment is needed.
As the seasons begin to change from late fall to winter, it is important to consider these critical vaccines. The flu shot has been an annual vaccine that we encourage staff and students to receive, but now we also strongly recommend that all eligible recipients get their COVID-19 vaccine. It is our best defense against and strongest mitigation strategy against this deadly virus.
Facilities Master Plan – We Need Your Input
Phase 5 CONSIDER of the Facilities Master Plan launched on Monday and will continue through Nov. 1. During this phase, participants will have the opportunity to look at how to transform facilities and provide equitable learning spaces.
We need your input now in the FMP process. Phase 5 CONSIDER introduces participants to the various limitations and opportunities we face as we look to provide students, staff, and the community with learning environments and facilities that support 21st-century learning. In small groups, participants will work with enrollment numbers and programming and consider other factors in whether the District constructs new buildings, moves programming, or grade-level configurations to maximize the use of our facilities. You can help decide.
The remaining meeting dates for Phase 5 CONSIDER are as follows:
Saturday, October 23 – All Regions at 10:00 a.m. | Main Metropolitan Library
Monday, October 25 — Region 4 at 6:00 p.m. | Centennial HS
Wednesday, October 27 — All Regions at 10:00 a.m. | Main Metropolitan Library
Wednesday, October 27 – Region 6 at 6:00 p.m. | Linden-McKinley HS
Monday, November 1 – Region 3 at 6:00 p.m. | East HS
Please visit ccsoh.us/FMP to fill out a pre-meeting survey, serving as your registration for our upcoming community conversations.
Phase 6 TRANSFORM launches November 30.
REMINDERS
October 28, 2021 - Records Day for the Traditional Calendar
November 2, 2021 - Professional Development Day for All Schools (Students are not in attendance).
Sincerely,
Talisa Dixon
Superintendent/CEO, Columbus City Schools