Return to Headlines
Swim Scholars Learn Life Lessons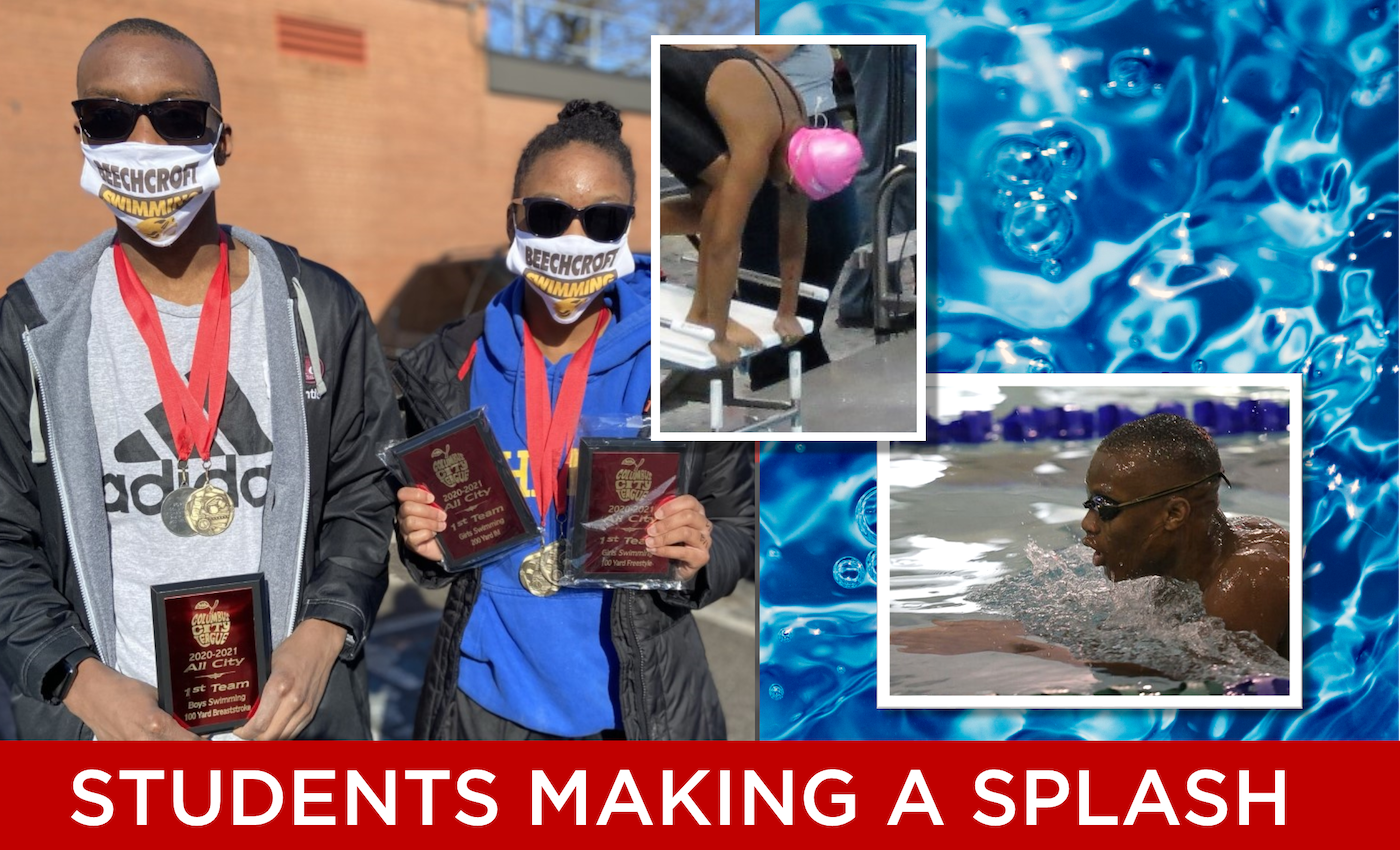 March 8, 2021 -- As members of the Beechcroft swim team, Juniors Nyrobi Whitfield and Daylen Allen make a difference in the pool and the classroom.
"I have a 3.9 GPA and am taking one college credit plus course at Columbus State Community College," said Allen, a Fort Hayes Arts and Academic junior who is also enrolled in the Information Technology program at Columbus Downtown High School.
"I have a 5.0 GPA for the last two quarters because I'm taking an International Baccalaureate (IB) class at Columbus Alternative High School (CAHS)," said Whitfield.
Recently, each of them took home top honors in individual relays at the City League Swim Championships. "I got first place for the 100-meter breaststroke and second place for the 200-meter freestyle," said Allen, who has qualified for the District championship three years in a row.
Whitfield placed first in the City League Championship for the 200-meter Individual medley, two laps swimming the butterfly stroke, two laps backstroke, two laps breaststroke, and two laps freestyle.
"I also placed first in the 100 freestyle, but I am upset because I missed last year's time by three seconds," said Whitfield, who started swimming when she was in the third grade, following her older sisters' footsteps.
Daylen and Nyrobi are pretty close friends because they make up half of the Beechcroft swim team. "There are only four of us on the team," said Whitfield. "We don't have enough bodies to compete as a team, so we support each other in our relays."
The two high school students also support each other because of the looks they get from fellow swimmers when the competition takes away from the city. "Daylen and I walked into a pool in Marion County a few weeks ago and were the only black people in the whole place," said Nyrobi Whitfield.
"I don't think about skin color; I just focus on getting the best time," said Allen. "When I beat everybody in Marion by 30 seconds, they were still staring." Nyrobi Whitfield had a different reaction after an encounter with a competitor. "After the competition, one of the swimmers came up to me and said she was surprised by my performance in the pool. The other swimmer actually looked at me and said, we thought you would be crap in the pool. I just didn't know what to say to that."
Coach Dan Zedeker has been coaching Daylen and Nyrobi since they started high school. He doesn't see color but does notice the stares. "Daylen and Nyrobi are phenomenal people," said Zedeker, who's been the Beechcroft swim coach for more than two decades. "It's not about color. It's about respect. I coached Nyrobi's older sister, who now attends Denison University and is still swimming in college. Her younger sister is a freshman and plans to join the swim team. I think of this swim team as my family. Before COVID-19, the team would go to my 87-year-old mom's house every season for team meals."
Both Daylen and Nyrobi attribute part of their success in the pool to Coach Zedeker. "I don't know what kind of team we would be without Coach Dan Z," said Nyrobi. "He runs up and down the pool when we are swimming. Other teams look at him like he's crazy," said Whitfield laughing.
Daylen Allen trains every day. Before he got his driver's license, he would take two buses to early morning swim practice at 6 a.m. "I just love the discipline. That's why I swim two hours a day all year long," said Daylen, who hopes to swim in college. "My dream school is Massachusetts Institute for Technology (MIT) in Boston for computer science," said Allen. "The problem is MIT won't even consider me unless my GPA is higher than 4.0, and right now, I have a 3.9," said the junior.
Nyrobi Whitfield also hopes to continue her swimming career in college. Currently, she is being recruited by two private, liberal arts colleges in Massachusetts: Smith and Wellesley. Coach Zedeker is not surprised these two juniors are looking at colleges that offer a rigorous academic curriculum. "School always comes first, swimming second for these two athletes," said Zedeker. "For the last 22 years, I have been telling my swimmers, academics, not athletics, are going to carry you through life. Daylen and Nyrobi also have phenomenal parental support. That's why they are standouts in the pool and the classroom. It gives me hope for the future."