Return to Headlines
WATCH LIVE: 2022 Winter Graduation Held Friday, January 28 at 1:00 p.m.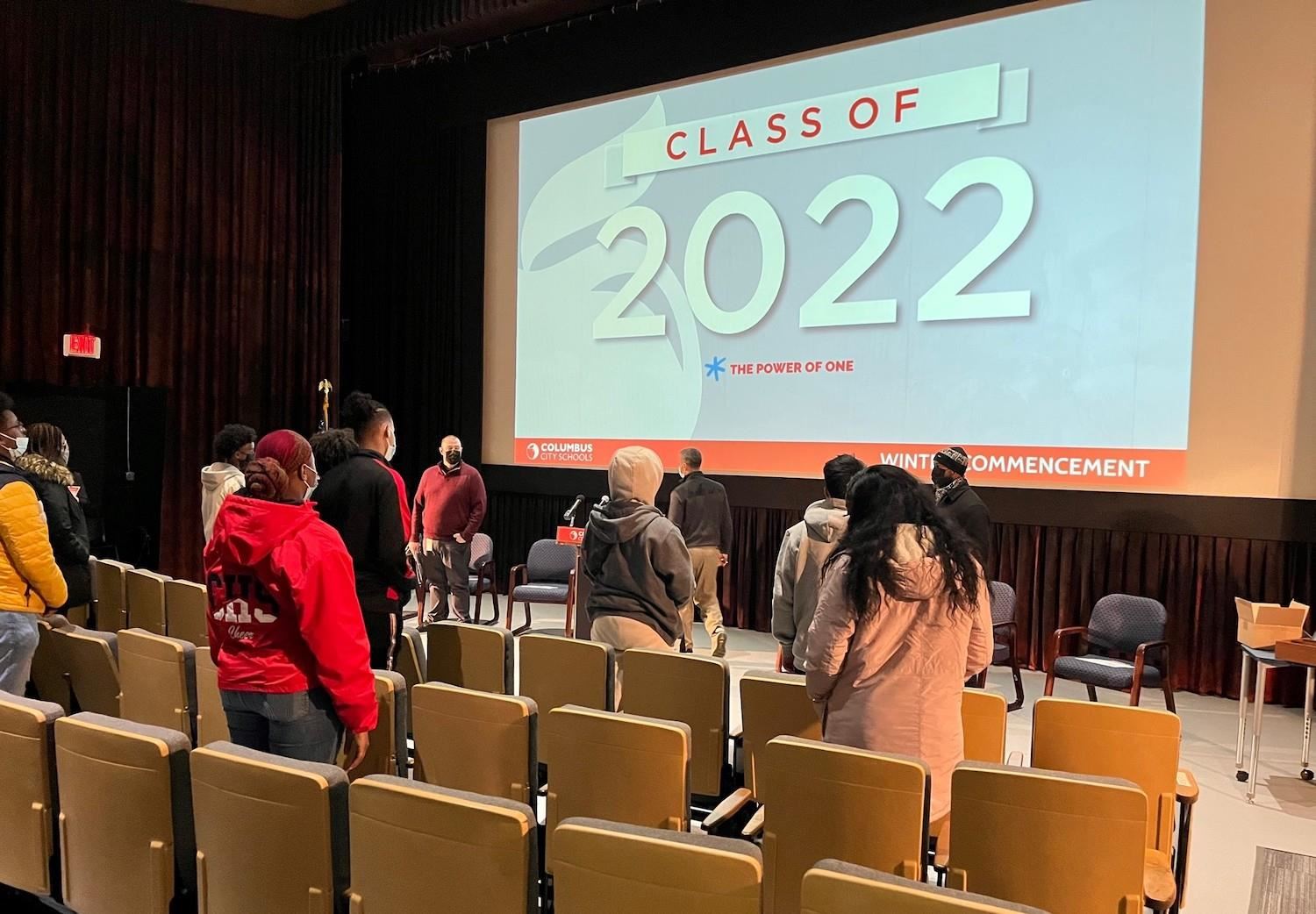 January 27, 2022 -- Twenty seniors at Columbus City Schools (CCS) will be the first graduates of the Class of 2022, as they are honored at a Winter Graduation Ceremony on Friday, January 28. The ceremony will take place at the the District's South High Street administrative building. While winter graduation ceremonies have occurred in the past at CCS, the Superintendent and Board of Education president believe that, given the current challenges, it is time to honor seniors who have overcome.
---
WATCH: 2022 Winter Graduation (Friday, January 28 at 1:00 p.m.)
---
"We continue to live in extraordinary times, now almost two years into a pandemic that has upended our world and significantly impacted how you attended school and interacted with your classmates and teachers," said Superintendent/CEO Dr. Talisa Dixon, who will be featured speaker at the 2022 Winter Graduation Ceremony. "You persisted, and you are ready to turn your tassel and begin a new journey armed with the grit and determination developed over time and through the experiences of a high school career defined by pivots and continual uncertainty."
Trinity Busby-Davis, a senior from Fort Hayes Arts and Academic High School, is one of two student speakers who will address her fellow seniors at the winter graduation.
"I might have graduated a little later than my fellow seniors who received their diplomas in June, but that doesn't mean anything now because I did it with the help of teachers and my family," said Busby-Davis. "With this diploma, I can achieve, and that's why I plan to attend Columbus State Community College."
Fellow winter graduate Maria Marcum Camarillo, a Columbus North International High School senior also plans to attend Columbus State Community College this spring. Marcum-Camarillo is graduating early because she wants to begin her nursing career sooner.
"It was hard to graduate early. There was a lot of work to complete," said Maria Marcum Camarillo. "I just wanted to get it done so I could start making some money."
Maria Camarillo hopes to take advantage of the Columbus Promise, an exciting new program that enables Columbus City Schools graduates to go to college for free at Columbus State Community College. It covers six semesters of tuition and fees, grants, an additional scholarship for expenses like books, offers special services and support, and connects them to jobs. The Columbus Promise is a collaborative initiative of the City of Columbus, Columbus City Schools, I Know I Can, and Columbus State Community College.
Twenty-four hours before the Winter Graduation ceremony, the graduating seniors gathered in the auditorium at 3700 South High to rehearse. Administrators and teachers were on hand passing out caps and gowns, guiding students on the processional, instructing them where to sit when to stand, and even practicing the turning of the tassel.
"Isn't this exciting?" cheered Dr. Machelle Kline, the District's Chief Student Services Officer.
Exciting and quite an honor as 20 seniors from Columbus City Schools are leading the way. These seniors are in a class of their own, being the first to graduate in 2022.