Return to Headlines
Superintendent's Weekly Message - January 21, 2022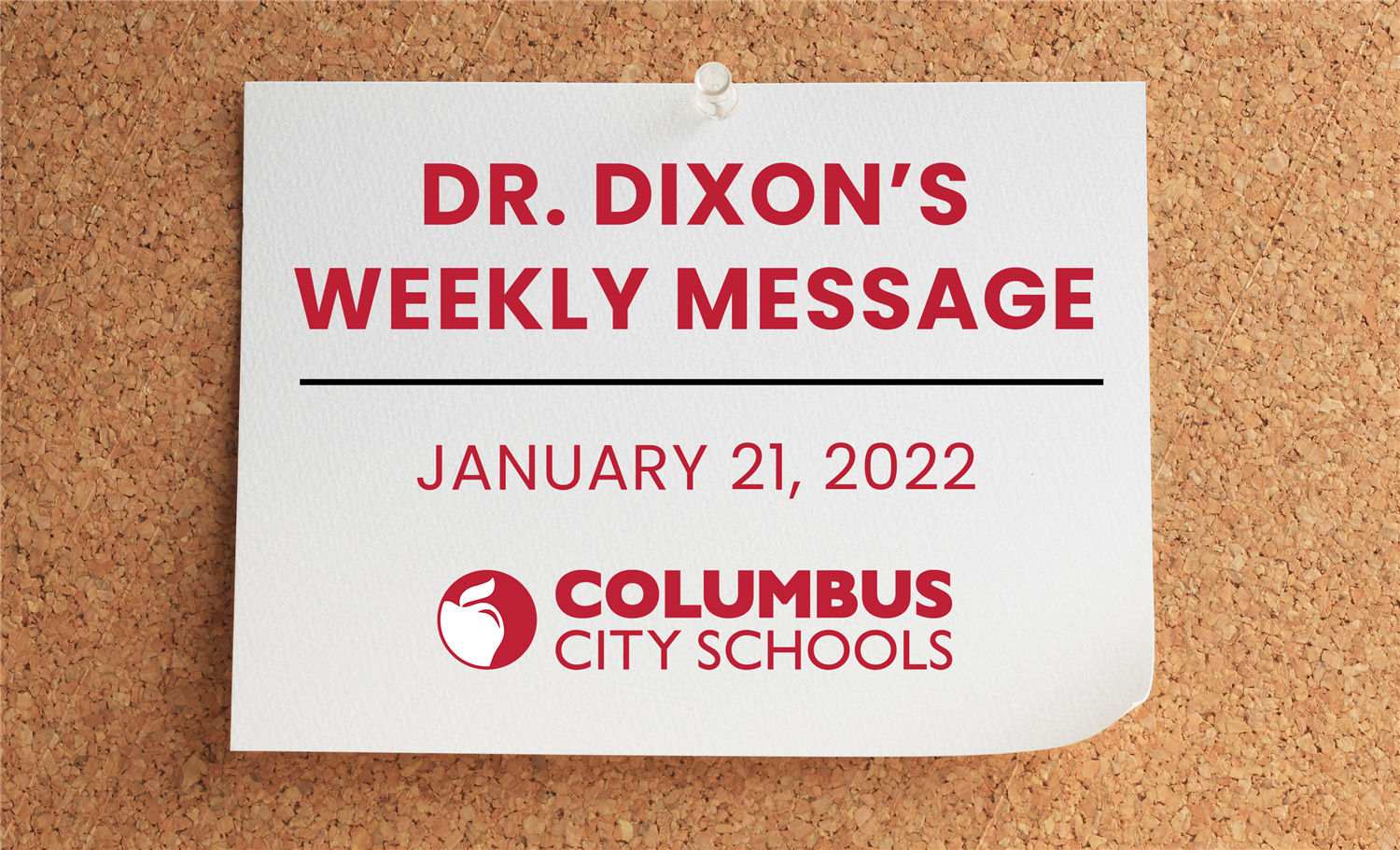 Dear CCS Community,
I continue to take pride in how Columbus City Schools has responded to the challenges we have faced this month to best serve our students and community. We are committed to in-person learning to the greatest extent possible because our students deserve to be in their classrooms and school buildings.
Our entire district – teachers, support staff, principals, nurses, bus drivers, maintenance crews – have stepped up at every opportunity to support our students and their fellow team members. This month has not been easy, but our district has demonstrated great resilience to be there for students and prioritize their academic, social, and emotional growth.
For those schools where we have had to temporarily transition to remote learning days, I appreciate the flexibility of families and staff. I know that getting the notification that your school will be remote is not a welcome message. Still, our daily process of assessing absences in each building has allowed us to have as many students in their classrooms as possible. Our goal is to get your school back in person as quickly as our staffing levels allow.
The challenges that are happening in Columbus right now are not unique to Columbus. Districts across the state and the U.S. are grappling with the challenge of maintaining in-person learning in light of increased staff absences. We will get through this critical time, but we must do it together – as one Columbus City Schools community.
Remote Learning Resources and Academic Initiatives
I want to once again include some resources and links that I originally shared with families last week. Our Academic Services team has created remote learning resources for families, as we want to ensure all CCS students have access to quality instruction in the event of a temporary school-level transition to remote learning.
I encourage you to also listen to a special episode of our "Inside CCS" podcast to hear from members of our academic leadership team about how we're accelerating and extending learning despite the challenges of the pandemic, especially in light of the recent shifts to temporary remote learning.
Learning doesn't stop when the school day ends, and initiatives like Pathway Express or tools such as Paper Tutoring and SchooLinks are part of our continuous commitment to support the whole child.
Order At-Home COVID Test Kits from the USPS
Need an at-home COVID-19 test kit? The United States Postal Service is taking orders. Residential households in the U.S. can order one set of 4 free at-home tests from the USPS website. Test kits ship in late January. Click here for more information, including the link to place your order at USPS.com.
Nominate a CCS Educator for Teacher of the Year
Time is running out to nominate your favorite CCS educator! Columbus Parent magazine and ThisWeek Community News are seeking nominations for the 2022 Teachers of the Year awards, and the deadline for nominations is next Monday, Jan. 24. Click here to nominate a CCS teacher today.
Class of 2022 Winter Graduation
Next Friday, Jan. 28, we will celebrate the first group of graduates in the CCS Class of 2022. We are hosting our first-ever Winter Graduation ceremony that afternoon at the District's south administration building at 3700 S. High Street to honor fifth-year students and students who have met the requirements to graduate early. The District will live-stream the ceremony on the CCS Facebook page and Youtube channel.
Traditional graduations are scheduled for June 1-4, 2022, while the summer ceremony will be held on August 12. For more on the CCS graduation schedule, including when and where the ceremonies will be held, click here. I look forward to celebrating with our newest class of Columbus City Schools alumni!
Sincerely,
Talisa Dixon
Superintendent/CEO, Columbus City Schools