Return to Headlines
Superintendent's Weekly Message - October 8, 2021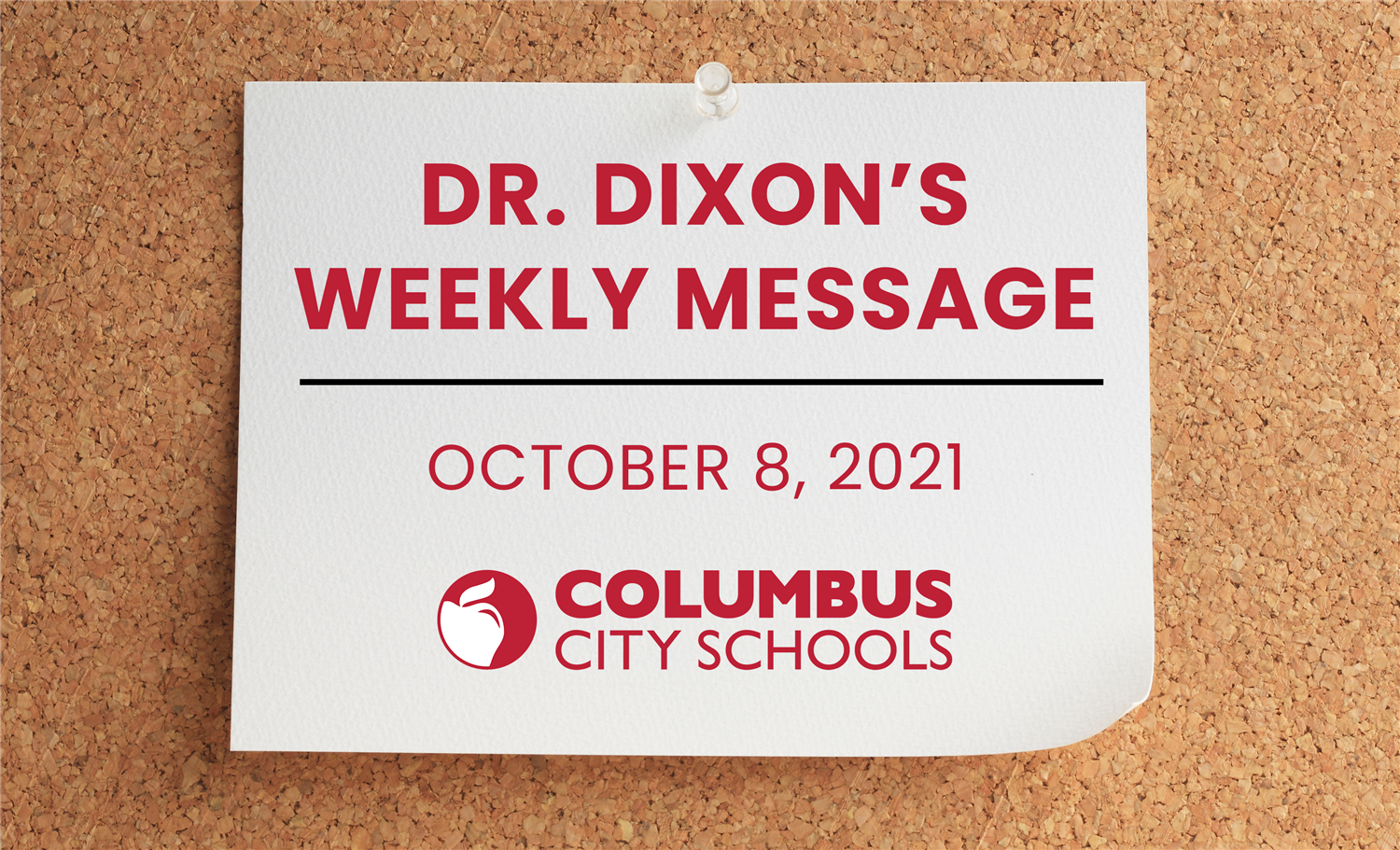 Dear CCS Community,
I want to end this week with a note of encouragement. If you're like me, you have found this school year to be increasingly challenging and, oftentimes, seemingly impossible. Education amidst a pandemic is not easy -- whether it's families trying to juggle work and their child's schooling, teachers and staff trying to handle a heavy workload, or students managing the stress of classes and the pandemic.
We are all feeling a heavy burden right now. And it's ok to acknowledge that -- because I know we'll get through it. We'll come out on the other side stronger, more resilient, and better prepared to take on whatever this world throws at us. We are one Columbus City Schools community, and we must support each other and work together to reach that other side. Despite our challenges, I come to work every day ready to tackle what's in front of us because I know our CCS community stands alongside me prepared to take on the impossible.
Here are some important updates for our staff and families to know.
COVID Data
The health and safety of our students and staff is of utmost priority. We are continuing to prioritize in-person learning for the social emotional health and academic success of our students while providing a safe learning environment by following and adhering to public health guidelines for in-person learning.
We continue to update our COVID-19 Data Dashboard each week with new information on positive cases among staff and students and isolation/quarantine numbers by school and by region.
As you know, we have partnered with The Ohio State University CATS team to track the number of students with COVID, the number that are under quarantine due to exposure, and additional metrics such as visits to the school nurse and daily attendance. This data is reviewed by an expert team each week to ensure that we are not seeing evidence of in-school COVID outbreaks or other concerning patterns.
In regards to reported positive cases among both students and staff, we are seeing less than 2 percent of our total population -- which is more than 47,000 students and 9,000 employees -- report positive cases. This is consistent with what is happening regarding COVID rates in our community and gives us confidence that students are able to come to school without significantly increasing their risk of COVID exposure. We are not seeing large numbers of in-class COVID transmission, which means our mitigation strategies are working.
Updated Quarantine Guidelines
Much like all other school districts around the region, we are balancing in-person learning for all students with the quarantine procedures that are established by the Ohio Department of Health (ODH). We want all students to be in the classroom with their teacher, but we must direct some students to quarantine at home when it has been determined they were exposed to someone with a positive case of COVID-19.
ODH and Columbus Public Health (CPH) have released new guidance for K-12 schools in an effort to reduce the transmission of COVID-19:
Students who develop symptoms of COVID-19 at school or home will be required to show a negative COVID test or isolate for a 10-day period before returning to school and extracurricular activities.

Symptomatic students must remain in isolation until test results are confirmed.

Other students in the household attending school within CCS will also

be required to quarantine

until the symptomatic student has been medically cleared (tested negative) or completed the required isolation, per new ODH and CPH guidance.
School-based and a limited number of at-home rapid tests may be available for students who develop symptoms while at school. Families can also opt for testing completed by a medical provider.
A negative COVID-19 test can allow students and their sibling(s) to return to school if they have improving symptoms and are fever free for 24 hours. Only the student in the home with symptoms needs to complete a test.
This updated guidance will help us protect the health of students and staff and slow the spread of COVID-19 in the community.
Click here for more information on this updated guidance and what it means for families.
Our Academic Services team recently created some helpful information for families to answer your questions about remote learning when your student is directed to isolate or quarantine.
New Health Initiatives
We are working with our health partners to implement additional initiatives such as:
We are partnering with Columbus Public Health to provide

dedicated vaccine and flu shot clinics for CCS staff and students

during the month of October. All CCS teachers, staff, and students can access these dedicated clinics regardless of where they work or attend school.

We are partnering with Columbus Public Health, Nationwide Children's Hospital, and Ohio Health to schedule student vaccination opportunities. This will be especially critical when the vaccine is approved for children under the age of 12.

We are finalizing a contract with an outside vendor to provide nursing staff to conduct our contact tracing. We know contact tracing can be time consuming, and we are committed to allocating resources that will alleviate the ongoing process for our own school staff members.
As you can tell, providing in-person learning opportunities amidst a pandemic is challenging. But our students deserve to be in their schools and in their classrooms as much as possible. We will continue to strengthen our current strategies and explore new ideas to keep our students and staff healthy and safe.
Staff Appreciation
We have a number of nationally designated days in October to recognize specific staff members and initiatives.
World Teachers' Day
This past Tuesday was World Teachers' Day, which is held annually on October 5 to celebrate teachers around the globe. This year's theme is "Teachers at the heart of education recovery."
We know that learning loss is significant due to the COVID-19 pandemic, and our teachers are working tirelessly to address learning recovery for all students. Our teachers have done extraordinary work over the past two years -- pivoting from in-person to remote learning and back to in-person learning amidst a global pandemic.
I cannot thank our teachers enough for their continued efforts in our classrooms and in our school buildings as we strive to help all students reach their full potential.
National Custodial Workers Recognition Day
Last Saturday, October 2, was National Custodial Workers Recognition Day. We appreciate and support our custodians who keep our schools and administrative buildings in top condition and running smoothly. Our custodians may be behind the scenes, but their work is front and center in every building.
Thank you to all of the hard-working custodians across the district. We value and appreciate the efforts you put forth each day!
National School Lunch Week
Next week, October 11-15, is National School Lunch Week. This program was created in 1962 to promote the importance of a healthy school lunch in a child's life and the impact it has inside and outside of the classroom.
We are excited to once again celebrate this week and recognize the hard work our Food Services team puts in behind the scenes. These staff members were on the front lines of our pandemic response, providing daily meals to students who were learning remotely. They continue to be a valuable resource in our school buildings, serving breakfast and lunch to thousands of students each day.
I hope that our staff, families, and students are able to take the weekend to rest, recharge, and enjoy time with their loved ones.
Sincerely,
Talisa Dixon
Superintendent/CEO, Columbus City Schools