Return to Headlines
Dominion's DEAFinitely Different Accepted into National Film Festivals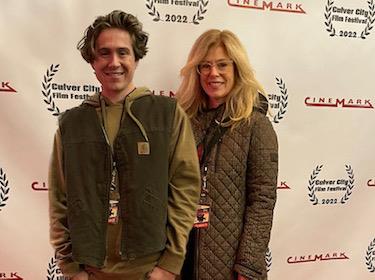 May 15, 2023 -- When Dominion Middle School teacher Heather Caldwell Sebetich submitted the film DEAFinitely Different to several national and international film festivals, she never imagined how far it would go.
Caldwell Sebetich, an English language arts and social studies teacher of Deaf and hard-of-hearing students, knew the film was meaningful and resonated with teachers and students at Dominion. However, she didn't anticipate it would get into national and international film festivals.
"I seriously didn't," she said. "I was amazed at how far it got. I figured it was worth a shot to enter festivals. I liked the way it was set up and knew the teachers here loved it and said they got teary-eyed and chills from watching it. All you can do is try and see if it's worth it. They felt it was."
DEAFinitely Different is a short documentary film highlighting the stories of Deaf students at Dominion. Most recently, the film was selected for the Nevada Women's Film Festival, which showcases women in key creative positions, taking place June 23 in Las Vegas.
Caldwell Sebetich said her students are excited and anxiously awaiting to hear whether the film is accepted into more film festivals.
"I think it's interesting and pretty cool that thousands of people will see us," said Armondo Lopez, featured in the film. "I hope it's awesome!"
As soon as students heard about the film's acceptance into the film festival, they asked whether they could watch it again.
"I think it will be cool because a lot of people will learn about us, and other people will learn about us in the future, too," said Christopher Marin-Jimenez.
Caldwell Sebetich, a teacher for 16 years, is also a professional actor and a member of the Screen Actors Guild. She has acted professionally in film and TV since her early 20s, including a role in Take Shelter, which was filmed in Ohio, and went on to win an award at the Sundance Film Festival and Cannes Film Festival. Many of her roles had a common thread of sign language or teaching. However, this is her first time on the other side of producing and directing.
"I'm a new director," Caldwell Sebetich said. "I have never done a documentary before and it was an interesting process. Never in a million years did I think it would pick up. I knew I loved the story, and it always comes back to that. I admire the kids, who were so honest in telling their story."
She received inspiration for the film during the school's daily town hall when Dominion Principal Dorothy Flanagan showed a video from the National Deaf Center highlighting stories of Deaf adults.
Last Fall, Caldwell Sebetich received word that the film had gotten into the first-time filmmaking category for the American Golden Pictures International Film Festival in Jacksonville, Florida. However, the film was ultimately not selected to move on to that festival. After that, the film received an honorable mention at the Sea of Art Film Festival in Norway.
"In true film fashion, we went 13 festivals in a row that ended up turning down our film," Caldwell Sebetich said. "That's part of it, though. You start to think that you'll never get into another one or wonder if it's reached its pinnacle."
The film was also selected for the Culver City Film Festival in Los Angeles. Caldwell Sebetich went with her son Jake Sebetich. Sebetich, a Whetstone graduate working as a professional editor in Los Angeles, helped put the footage together into the finished product.
"That one was really big," Caldwell Sebetich said. "You go in, and they give you a badge that shows you're a filmmaker. You go into a big theater, and they have this backdrop where you can get your photo taken. It was an honor, especially that one because they get so many submissions."
She is still waiting to hear back from more film festivals but said her ultimate hope is that the film continues to educate and inspire.
"One of the goals of the film is to show that our students are DEAFinitely Different," Caldwell Sebetich said. "It's about recognizing and celebrating differences and accomplishments. It recognizes their stories and gives them a voice."
You can watch the film by visiting DEAFinitely Different.
---