Return to Headlines
Celebrate School Custodian Appreciation Day with Adam Warren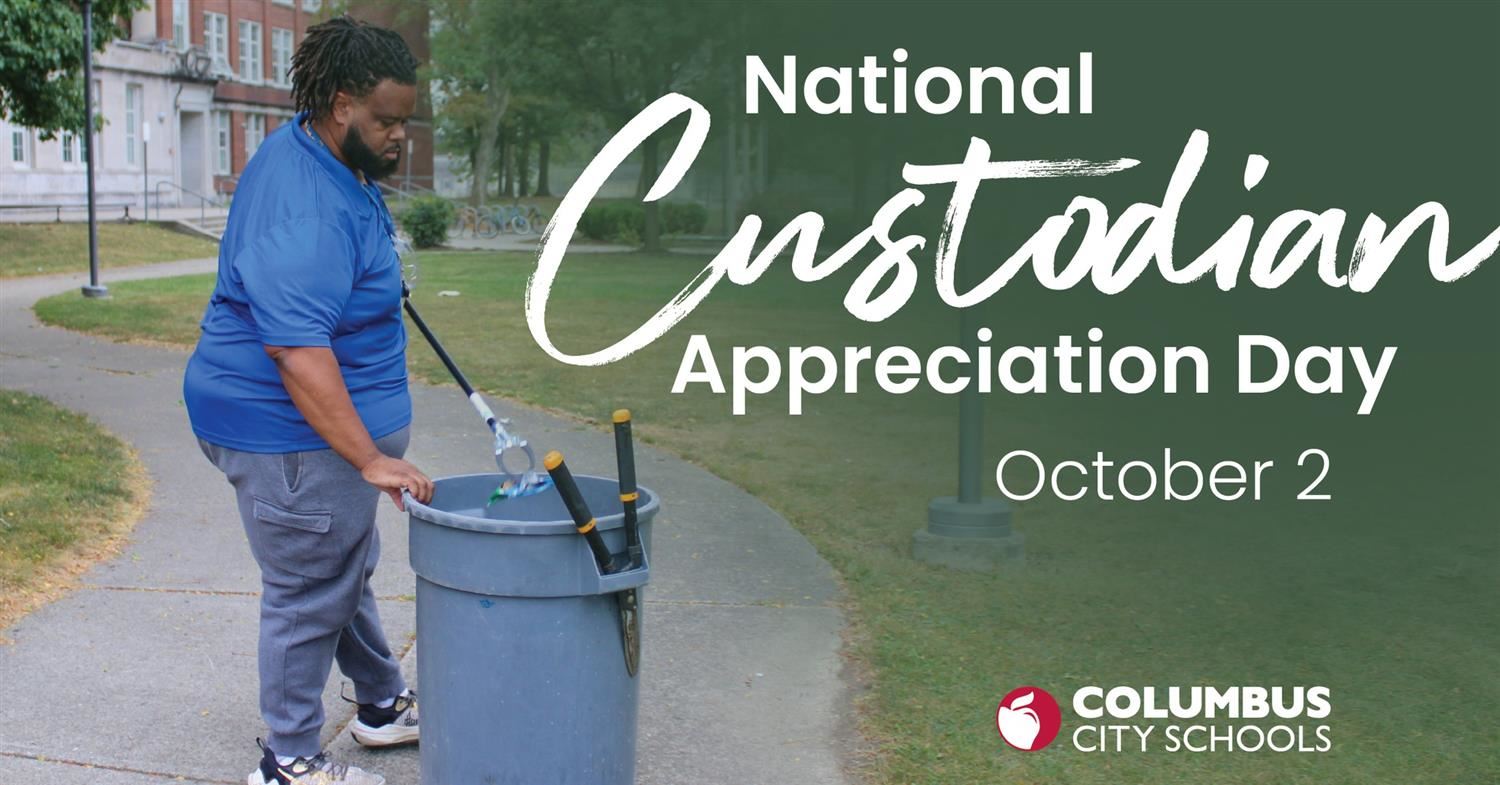 October 2, 2023 – School custodians brave the weather, no matter the season, to keep their school safe for staff and students. They address large and small tasks, from replacing paper towel dispenser batteries to maintaining the school grounds.
Most impressively, they accomplish all this without missing a beat.
Daily, custodians work hard to try and provide a clean building for all to enter. Thanks to their behind-the-scenes efforts, bathrooms, classrooms, and hallways remain mopped and swept.
Warren started working as a custodian for Columbus City Schools when he was just 21. Now, he is a seasoned worker, with a wealth of knowledge he acquired in the past 16 years he's been with the District.
"Custodians are a huge part of mentorship in our schools and in our buildings," said South High School Head Custodian Adam Warren.
Beyond the physical building structure, Warren and his fellow custodians create a lasting impact on the many lives inside the building and the surrounding community.
"When a young person is going through a rough day, they may see me in the hallway and ask to talk," Warren said. "Myself and other custodians are an extra ear and a calm voice for these students. We're part of a community, and we matter to so many people."
Through the years, Warren noticed many changes in his head custodian role as work constantly evolved. He stuck through it all, even when he was learning how to be on the front lines of cleaning during the COVID-19 pandemic. Although not as intense, this year's changes included training on developing personnel, being professional, and communicating effectively.
"Our new training ensures we are up-to-date on things happening within the building and how to properly communicate those things," Warren said. "It shouldn't matter if someone goes to the head principal, a teacher, secretary, or custodian. That person should get the same information."
In addition to a new and improved new hire orientation, custodians now have access to direct connect communications devices. The phone works like a walkie-talkie and can be used during emergencies, when the phones are down, when the power goes out, or even for summer deliveries.
"I think that was one of the best things we've done since I've been a head custodian," Warren said.
Once Warren felt comfortable and confident in his custodial job, he decided to get more involved in the school community.
Coaching three different sports at South High School has kept him busy. Warren is the head middle school basketball and baseball coach and an assistant high school football coach.
He coaches about 90 boys yearly, and each one goes to South. Warren is a welcoming, well-known figure in the community and one of the first faces South guests see and students remember.
"Each year, seniors are allowed to select a staff member to hand them their diploma," Warren said. "So I have had the pleasure, the last couple of years, of having at least 25 kids ask me to give them their diplomas."
Having graduated from Independence High School in 2004 and looking forward to his 20th-year high school reunion, Warren knows how school staff can impact others. Especially since one of his former high school teachers, LaTanya Hatton is now the Assistant Principal at the same building where he works.
"I always remind myself that it's one big full circle," Warren said. "A job is only as good as how you make it and what you do with it. Appreciate what you have, and do the best you can. And at the end of the day, be a good person."
Want to Learn More About Adam Warren? Check Out His Sit-Down CCS Q&A Session
Q: What is your current job title, and what type of work does that entail?
A: I am the Head Custodian at South High School.
Q: How long have you been with CCS?
A: 16 years, and I started as a custodian when I was 21. I was a student at CCS and went to Independence High School.
Q: What are you currently binge-watching?
A: I have a very old soul, so I'm a rerun guy. I watch shows that aren't currently on and were around when I was really young. And I like them now, so don't laugh. Haha. So I really enjoy watching Frasier, Seinfeld, Fresh Prince, Green Acres, and The Andy Griffith Show. They're simple and about everyday things - no matter how high they are in society, how much they have, or how poor they are, it's still the same.
Q: What are you most proud of in your career so far?
A: I'm really proud of the fact that when I came into this job, as a custodian, I was 21 years old and didn't have a lot of work experience. I had a lot of mentors in the job who took me under their wings and guided me and helped me professionally. Going into my 16th school year, I'm able to provide that same information to new hires and new people.
Q: What is the last song you listened to?
A: "Betcha By Golly Wow" by The Stylistics, a Philly rhythm and blues group from the early 70s.
Q: What would you like people to know about your job?
A: During calamity days or icy and snowy mornings, when most other staff are warm in their beds, we're out there cracking that ice, shoveling that snow, and it's freezing. A small, "hey I appreciate you" the next day or that morning goes a long way. It is nice to be recognized.
We appreciate Adam Warren and all CCS custodians! Thank you for all of your hard work and dedication!
---