Return to Headlines
Former Duxberry Staff Members Restore Hallway Art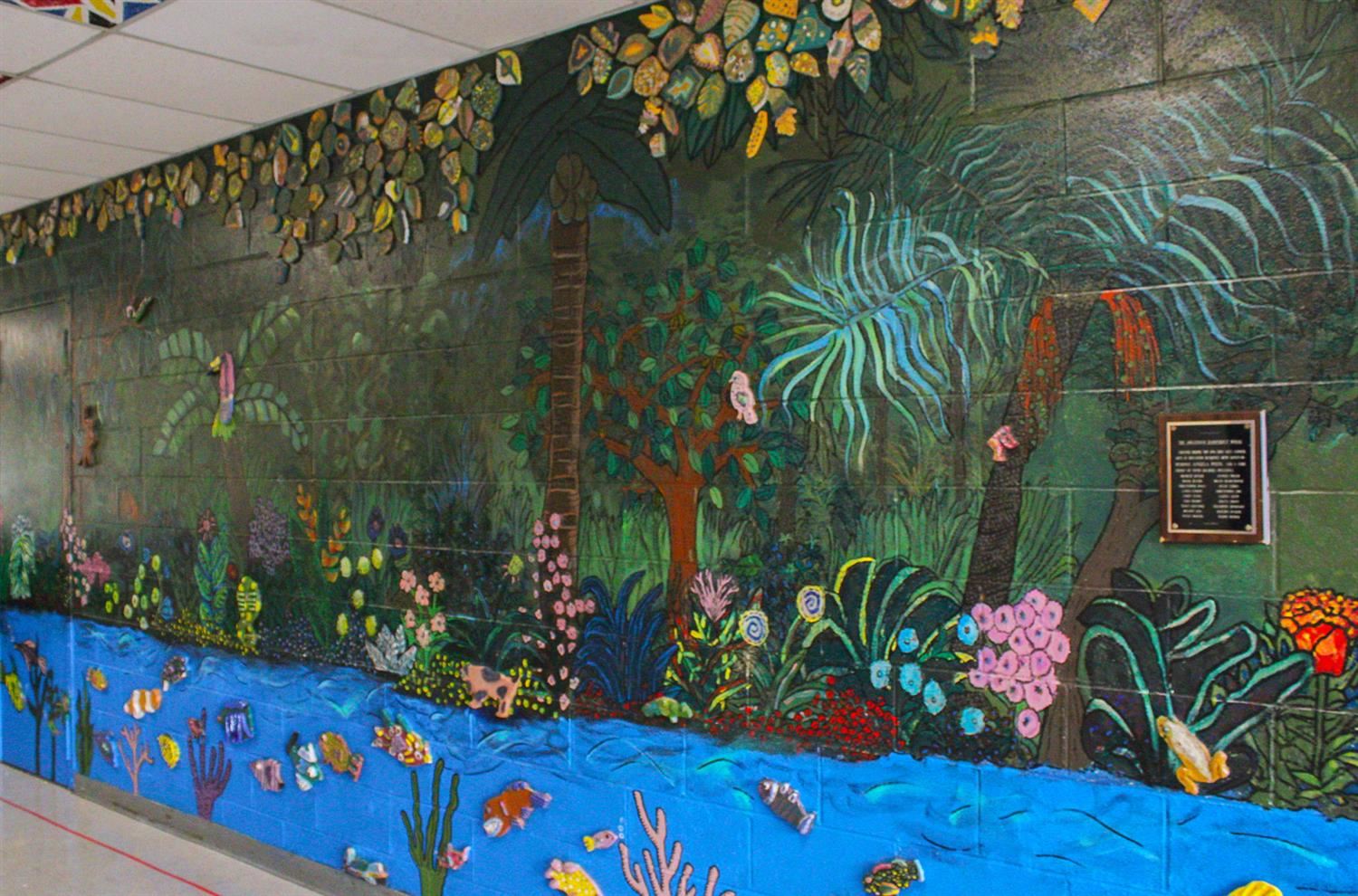 July 27, 2022 -- The year is 1991. Books on tape are actually on tape, geometric neon patterns adorn everyone's leggings, and on one of the walls of Duxberry Arts IMPACT Elementary School, green paint is drying.
Over 30 years ago, Duxberry students worked alongside art educators to create a sprawling mural depicting the rainforest, a concept they had been learning about in their classes. Unfortunately, years passed, and the mural fell into disrepair. The paint was faded and chipping. There were proposals to paint over the mural entirely, but staff members who had been students at the time of the mural's creation didn't want to see it go.
"They really wanted to see that the mural was preserved," said Kenya Davis, lead visual arts instructor at Duxberry. "I've talked about this mural so much in the past years. I knew something needed to be done."
That something turned out to be an entire mural restoration project. Davis led the artistic effort and was assisted by a group that included several former Duxberry staff members. Loren Bucek, a retired Duxberry dance educator and school co-founder, was one of the former teachers that lent a hand.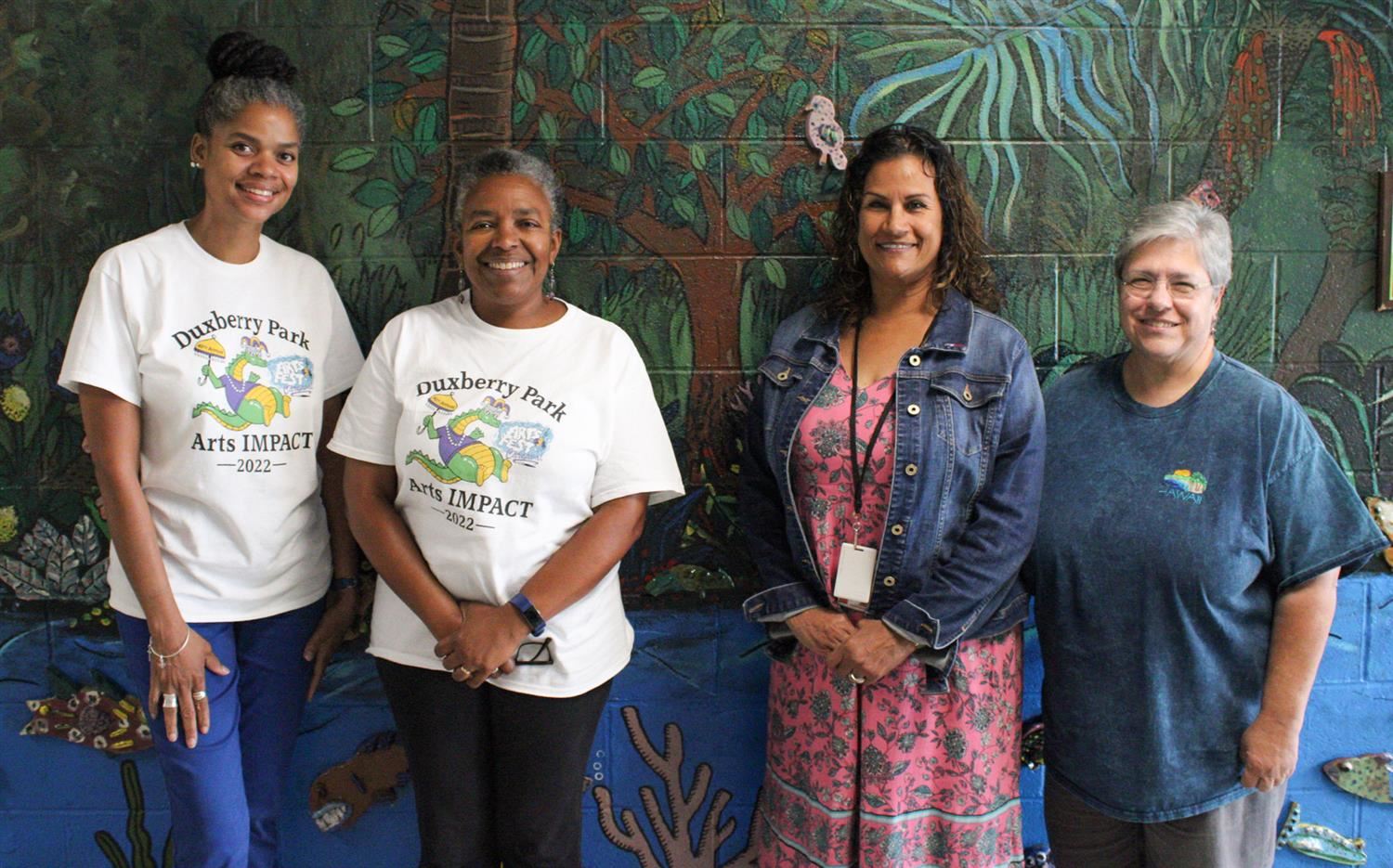 "This gave us purpose," Bucek said. "We're not inside the school system anymore, but this was a way for us to still give back as founders, former teachers, advocates for the arts, and art educators."
When planning the revitalization efforts, Davis said they emphasized the importance of restoring, not redoing, the mural. They wanted it to look as it had when first painted in 1991.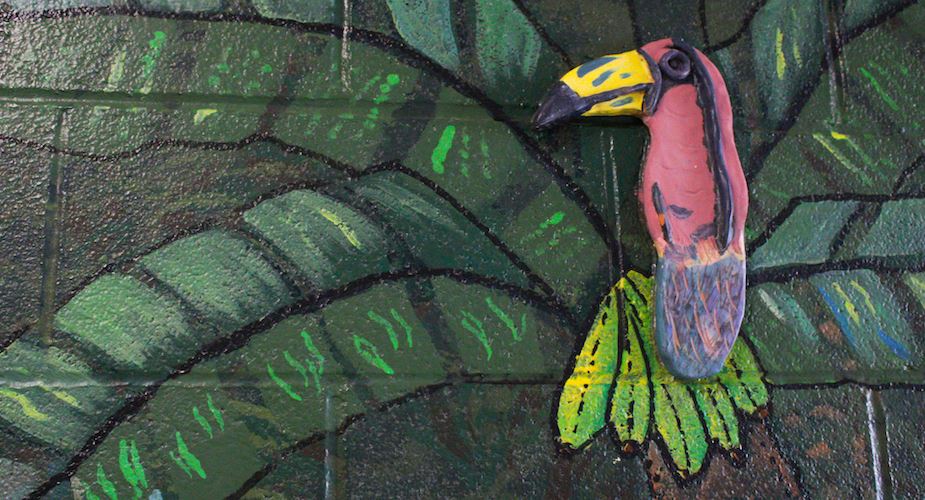 "It was important that we tried to preserve the vision of the previous artists instead of doing something totally new," she explained.
To restore the mural, Davis and the group scraped away parts that were chipping away and repainted the empty spots to match the background around them. Davis compared paint samples at the hardware store to ensure the new paint they used matched the old. They wanted the new additions to blend with the original artwork seamlessly.
"It's nice to marry the present and the past. It shows the story of Duxberry," said Karen King-Cavin, the Duxberry dance teacher. "I think our current students need to see that."
The mural is finished and back to its original glory, but Davis has no intention of letting that be the end of it.
"Before, students didn't really have a connection to it. It was just something on the wall that once had a good presence," she said. "Now that the mural is restored, I plan to incorporate it into my lesson plans."
She is already planning to bring her classes to see the mural during the rainforest unit.
"We still study the rainforest every year. I'm going to use the mural as a resource for teaching visual art. The students can sit there with their sketchbooks and be inspired by looking at that mural," she said.