Return to Headlines
Former Columbus City Schools Student Turned Educator Has Strong Ties to Duxberry Park Arts Impact Elementary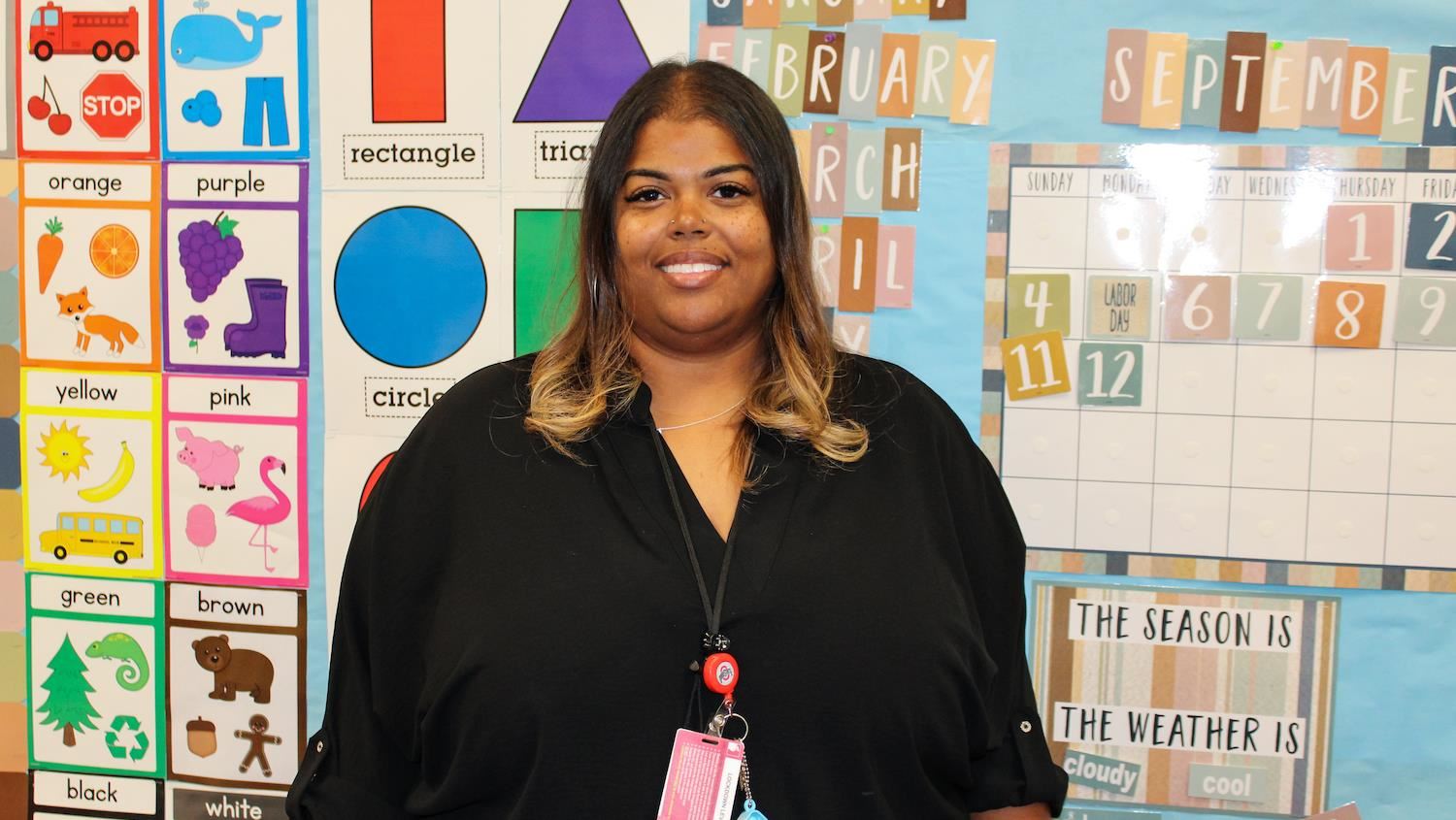 September 16, 2022 -- Standing in front of a Duxberry Park Arts Impact Elementary hallway mural, a beaming Alethea Davis gestured to a clay leaf above her. The leaf was an art project she remembered painting as an elementary student.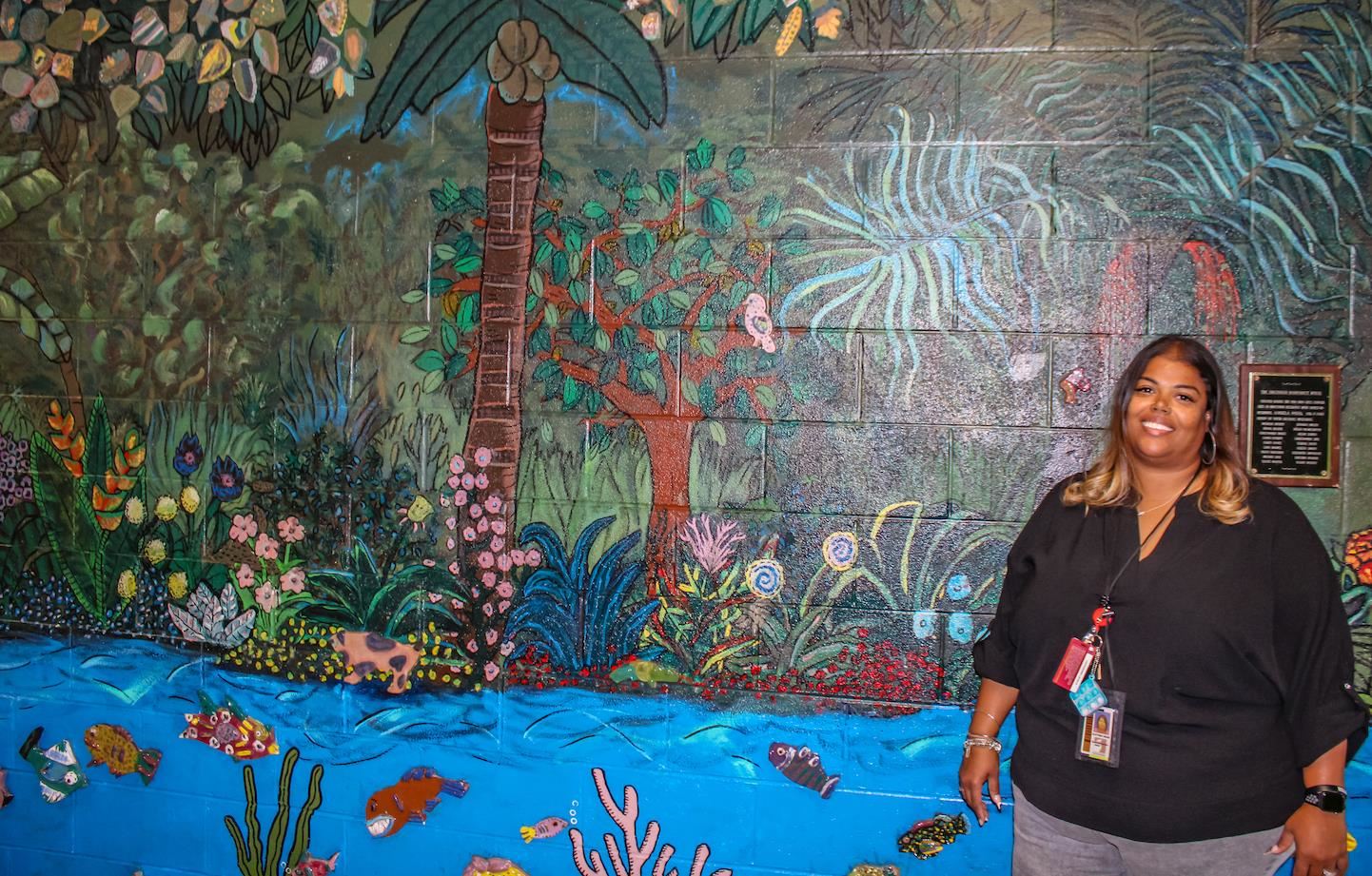 Davis is currently in her sixth year as a Preschool Instructional Assistant at the same elementary school where she spent her youth. She is working towards her early childhood education degree to have a classroom of her own.
Davis describes herself as a product of Columbus City Schools and a graduate of Beechcroft High School. She comes from a legacy of Duxberry students. Her cousins, siblings, and even her children have attended Duxberry. It was also at Duxberry where she was inspired to pursue an education career.
"Ms. Pivetta was that teacher," Davis said of her third-grade teacher. "She was super caring, and I just loved her. She was my safe space. I trusted her, felt secure in her classroom, and she made learning fun."
Davis was a shy student, but being at an integrated arts school helped her to blossom. She was eager to participate and express herself through drama, music, art, and dance.
"I can remember being a part of the big productions here at Duxberry when I was younger," Davis said. "I was shy but still wanted to open up at that moment. On the stage, it was just something different."
That once shy student grew into a confident, creative, and adaptable adult educator. Davis' journey hasn't been easy, with additional twists and setbacks, as she initially wanted to become an integrated social studies teacher for grades 7-12.
"When my younger sister became a kindergartener at Duxberry, I volunteered a lot in the classroom," Davis said. "My mom worked a lot and couldn't be there herself, so on days when my sister or other kindergarteners needed a parent or someone there, I was that person."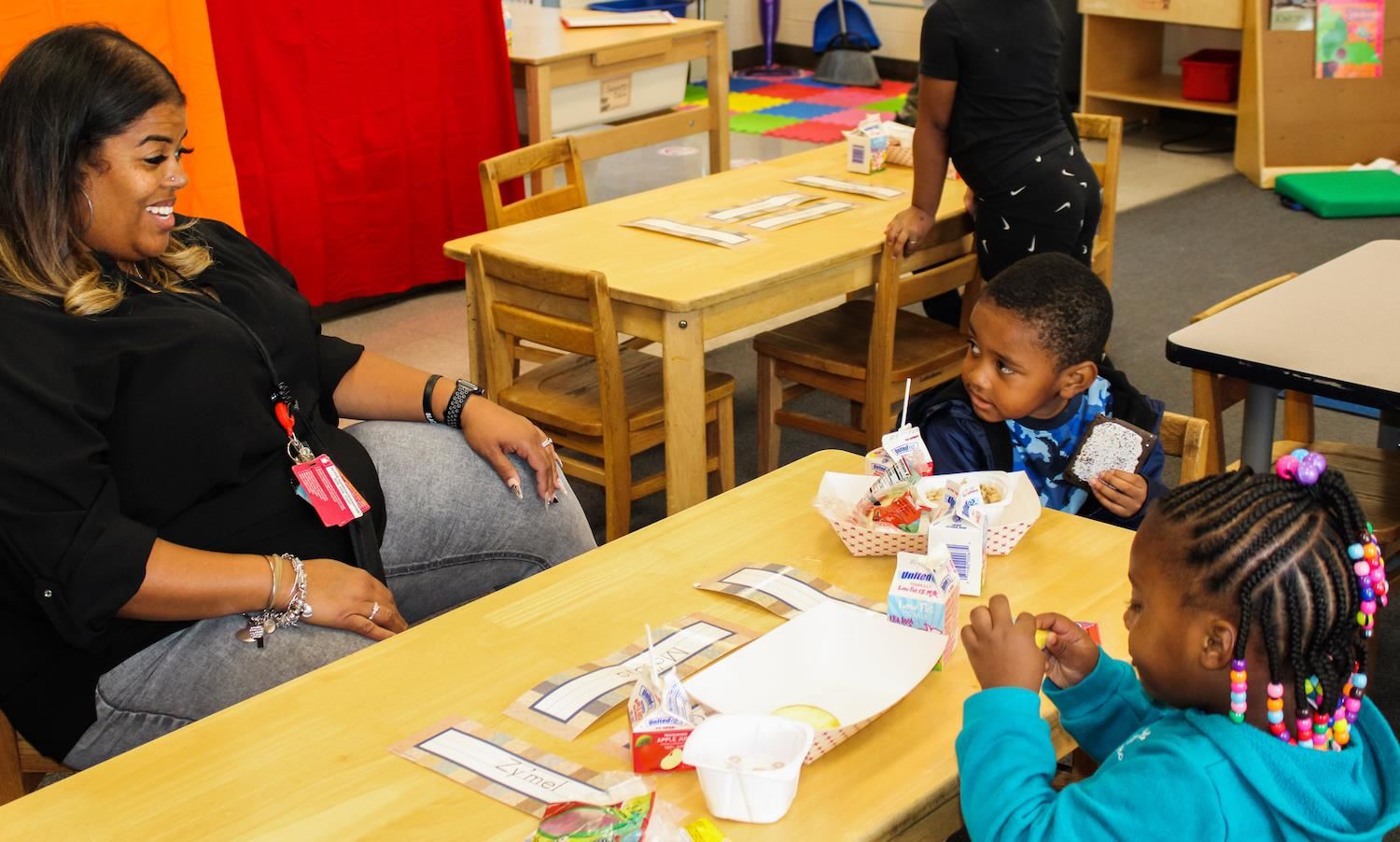 Davis enjoyed working with the younger kids so much that she transitioned to early childhood education.
"I completed my undergrad at Ohio State and then returned to college at Ashland University to pursue my second degree in early childhood education," Davis said. "Due to family and financial circumstances, I had to take a break [from Ashland University]. It was hard to pay for school at that time."
During her hardship, she became a Columbus City Schools district substitute teacher in 2010 and became an instructional assistant in 2016.
"Being an employee here [at Columbus City Schools] has allowed me to go back to school and finish my early childhood licensure because of the benefits that are provided. I'm so grateful for that and how I'm able to show my children that through hard work, you can finish school."
Davis had many long days of teaching and college classes, followed by late nights of finishing homework. Now, she only has two classes left that she is currently taking through Central State University. After that, she will student teach in the spring of this school year, and her anticipated graduation date is May of 2023. Then, she will finally have her degree in Early Childhood Education and be certified to teach Pre-K through third grade, not as an assistant but as the lead instructor.
"Duxberry is where it all began for me," Davis said. "And I hope to positively affect a child's learning experience like Ms. Pivetta did for me."
---