Return to Headlines
CCS Welcomes 125 Family Ambassadors for the New School Year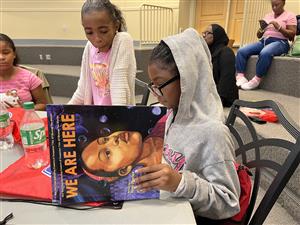 September 1, 2023 — In 2008, Susie Troyer and her family charted off for their adventure of life overseas.
After 15 years, they have relocated to Columbus where Troyer now prepares for her new role as a bilingual Family Ambassador at World Language Middle School.
"I know what it feels like to not understand what's happening or trying to navigate in a different language in a different culture," said Troyer.
This school year, Columbus City Schools (CCS) welcomes 125 Family Ambassadors to its buildings. Troyer, who speaks Arabic and French, is one of 12 Bilingual Family Ambassadors on staff.
"[I'm] already seeing kids who don't speak English," said Troyer. "I feel passionate about easing that burden for them."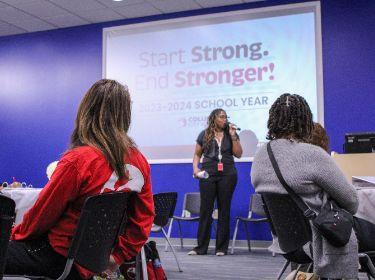 Family Ambassadors work to bridge the gap between schools, families, and the community.
"It's all about creating a sense of belonging for the students and their families," said Seneca Bing, Interim Director of Family & Community Engagement. "Our hope is for families to feel valued and connected to their schools."
Within the schools, Family Ambassadors collaborate with school staff to welcome and partner with families to support and advocate for the success of every student.
"I think it's important that families are connected to their school," said Junia Chambers, a Family Ambassador at Alpine Elementary. "When the families are involved in the school, it's easier on the teachers and I think the kids do so much better."
Bing and her team seek to create a "One Band, One Sound" mantra among the ambassadors across the District.
"When family engagement is developed in true partnership, it has the ability to impact students' academic, social, and emotional growth, and will ultimately have a positive impact on student achievement," Bing said.
The Office of Family & Community Engagement will implement several new initiatives to accomplish these goals. The first includes Family Ambassadors taking action through the CCS Partnership Network. This evidence-based model supports school teams in developing a sustainable family and community engagement action plan.
Next, The Family Series is a forum that encourages education, dialogue, and resources to provide an opportunity for families, schools, and community members to join together in the academic achievement of CCS students.
Lastly, families and community members can gain vital information through the Family and Community Engagement Series (FACES), which is held biweekly on Tuesday evenings from 6:00 p.m. to 7:00 p.m. The online series was created to inform and connect families, schools, and the community. The next session will be September 12.
---