Return to Headlines
Superintendent's Weekly Message - March 5, 2021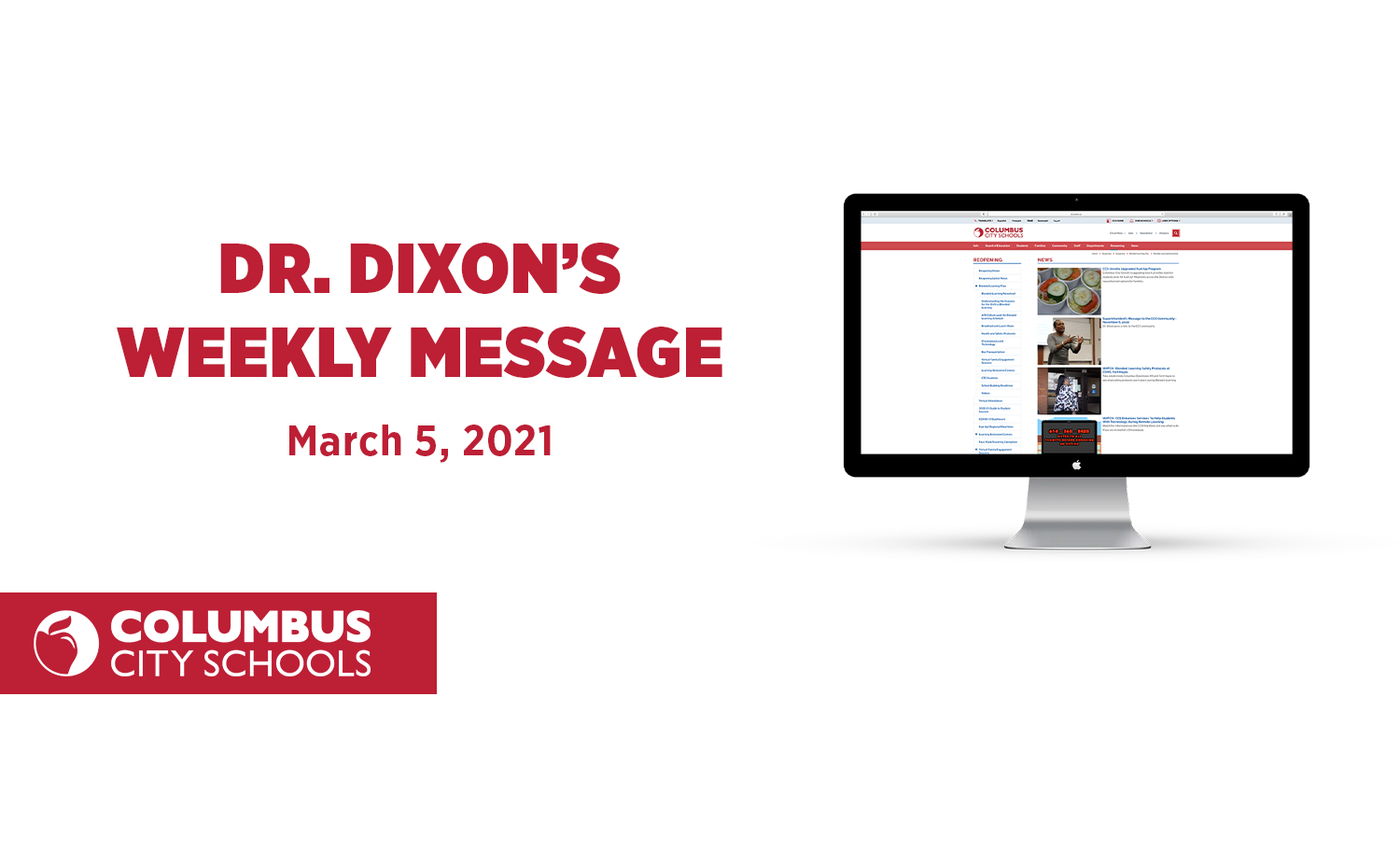 Dear CCS Families,
Yesterday, March 4, was a special anniversary for me. It marked the completion of my second year serving the students, staff, and families as Superintendent of Columbus City Schools.
As I begin the start of my third year, I reflect on the importance of finding my voice and using my voice to lead the largest school district in Ohio. Whether it's enriching our curriculum, meeting the needs of our students during a pandemic, or planning a new World Language Middle School amidst COVID-19, effective, compassionate leaders never succeed alone.
This week I was invited to share my leadership lessons at the Ohio Association of Elementary School Administrators (OAESA) virtual conference, and I was pleased to learn I wasn't alone. Five female educational leaders from CCS also shared their experiences with conference registrants. Ebone Johnson, Principal at West Mound Elementary School, and Woodcrest Elementary School Principal Brianne Pannell led a discussion about integrating digital tools to support students and staff both in and out of the classroom. East Linden Elementary School Principal Cheryl Jones and her team shared tips on building a culture of champions at school.
The theme of the OAESA conference was "Elevate: Women on the Rise." March is Women's History Month, and this year's theme for the month is "Valiant Women of the Vote: Refusing to Be Silenced." Finding and using our voice to lead comes from our life experiences, both professionally and personally.
CCS Summer Experience
We opened registration on Monday, March 1, for the 2021 CCS Summer Experience. Already, we have had more than 600 students sign up for the programming, which is available for all students in grades PreK through 12. I encourage our families to visit our website for more details or log on to their Parent Portal to sign up.
Blended In-Person Learning For Grades 6 - 12
Last week, we announced the dates for the phased-in return of our students in grades 6-12 back to their classrooms:

Students in grades 6, 11, and 12 will transition to blended learning starting the week of March 15; and

Students in grades 7, 8, 9, and 10 will transition to blended learning starting the week of March 22.
These dates mark another significant milestone in the long road through this pandemic. It's been nearly a year since our current reality started with a statewide closure of schools. As we approach that anniversary, I am excited that we are able to offer ALL of our students an opportunity for in-person learning. Click here to learn more.
Please visit our Blended Learning Hub on the website. There is a plethora of information and videos to help you navigate the transition back to blended learning.
Yellow School Bus Transportation
Families of students eligible for yellow school bus transportation can locate bus stop information in the Parent Portal. Beginning Monday, March 8, the Transportation Department will also send out bus stop information via the U.S. mail service to the mailing address you provided to the District.
During our Board of Education meeting on Tuesday, March 2, we shared that after two needs assessment surveys, a total of 1,288 families have opted out of yellow school bus transportation and instead decided to provide transportation to get their students to and from school. A heartfelt thanks goes out to all those families who have stepped up and taken on this additional responsibility. I recognize the enormous responsibilities that have been placed on our students and families during this pandemic. I speak for the entire CCS leadership team when I say thank you for rising up again to meet the challenges of this historic year.
CCS-COTA Partnership
Also, at the Board of Education meeting earlier this week, Board Members approved $216,000 of federal CARES Act funds for a new partnership with the Central Authority Transit Authority (COTA). The partnership will provide 8,000 COTA passes to CCS students in grades 8 through 12. The free passes do not replace yellow school bus transportation but are a supplemental transportation resource for our students to travel to extracurricular activities, internships, and other enrichment experiences such as our CCS summer programs. Click here to read more about this exciting new CCS-COTA partnership.
Vaccine Update
By the middle of March, we expect that more than 5,000 CCS teachers and staff, which is more than half of our total employees, will be fully vaccinated with two doses of the Pfizer vaccine. Once again, my appreciation and gratitude goes out to the Columbus Public Health Department, who has worked tirelessly with CCS leadership to ensure our teachers and staff were vaccinated.
Senior Fest 2021
On March 17, we will celebrate virtually the CCS Class of 2021. We are so proud of your resilience to reach this educational milestone. We support you and applaud you. Check out this video of how we plan to celebrate our CCS seniors.
Finally, I want to end with an important reminder for students and families. We have come so far in the last year, but to keep going please remember to wear your mask, stay home if you are sick and be alert if you are walking or riding to school. Follow designated safe routes to and from school, and please slow down in the early morning afternoons near school zones. Our children are counting on us.
Sincerely,
Talisa Dixon
Superintendent/CEO, Columbus City Schools