Return to Headlines
What does your CCS student need to graduate?
January 10, 2020 -- There are now more ways to demonstrate your student is ready to graduate high school and start a successful and productive life in college, at a job, or in the military.
Now students have multiple pathways to qualify for a high school diploma, in addition to meeting the credit requirements set by the Ohio Department of Education and Columbus Board of Education.
"There are four different sets of graduation pathways right now for our students currently in high school. Our seniors have one set, our sophomores and juniors have another set, and our freshman have yet another set of graduation requirements," said High School Resource Counselor, Kate Webster.
The fourth graduation pathway applies to our students that are still working towards those requirements from the class of 2019.
RISING SENIORS (2020)
Rising Seniors must complete the District's 22 classroom credit course requirements.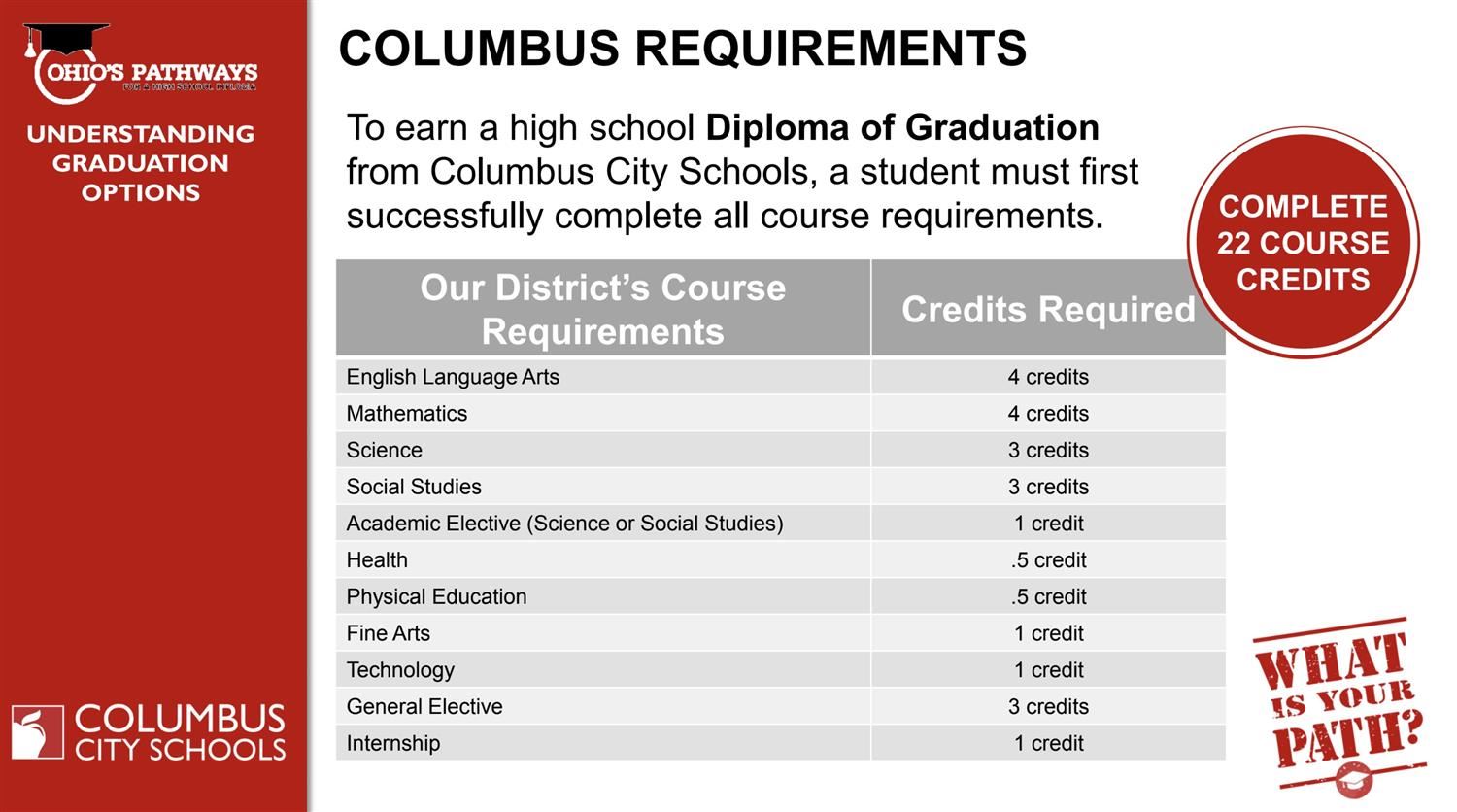 As well as complete one of the three previously existing pathways to graduation, which involves earning a combined score of 18 on Ohio's State Test, earning a remediation-free score on the ACT or SAT, or earning an industry certification along with a proficient WorkKeys score.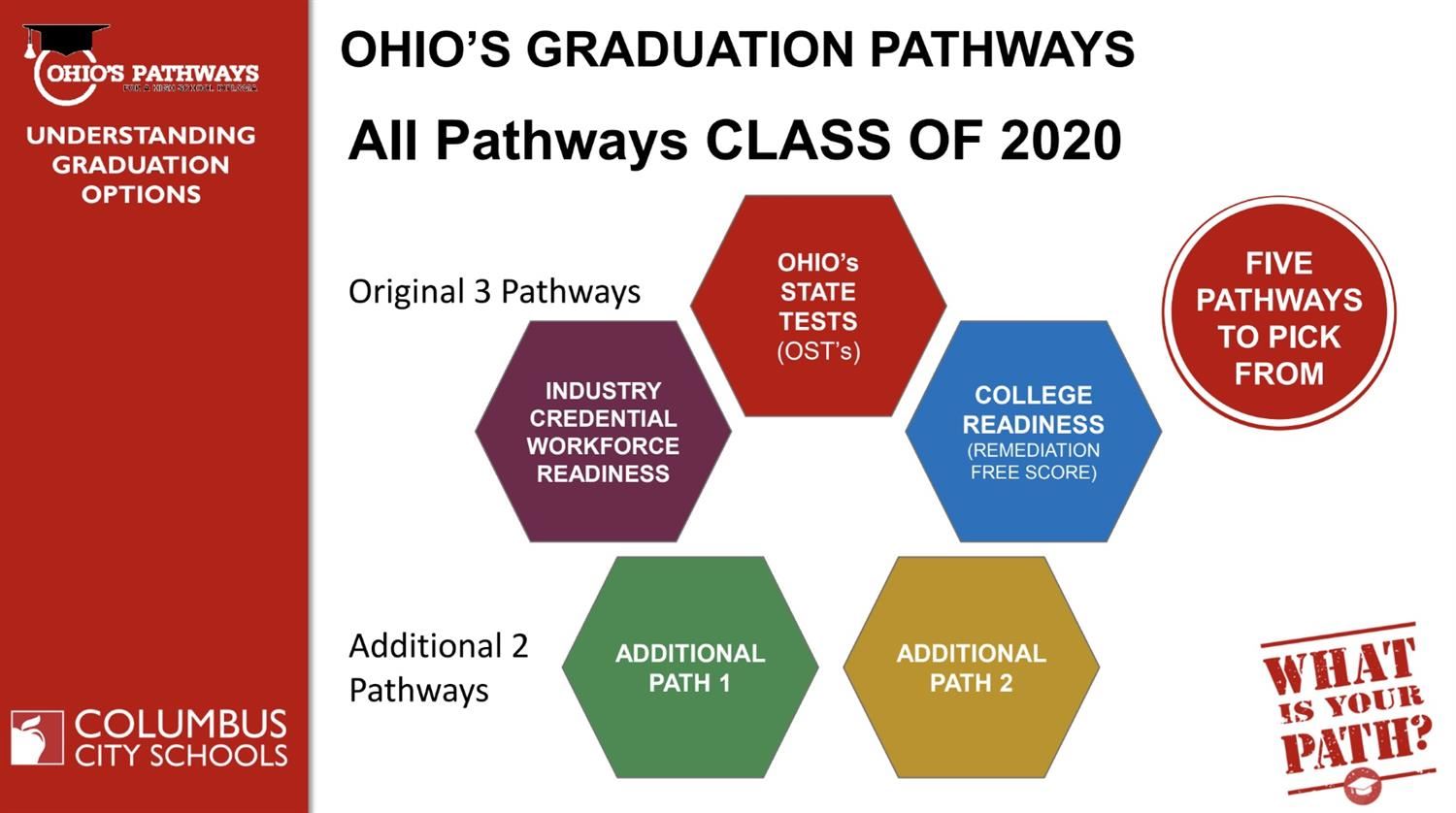 These students now have two additional temporary options that were put in place and will drop off after the 2020 school year.
One of those additional options is to meet at least two of the 8 criteria's.
The second additional option involves earning industry workforce credentials.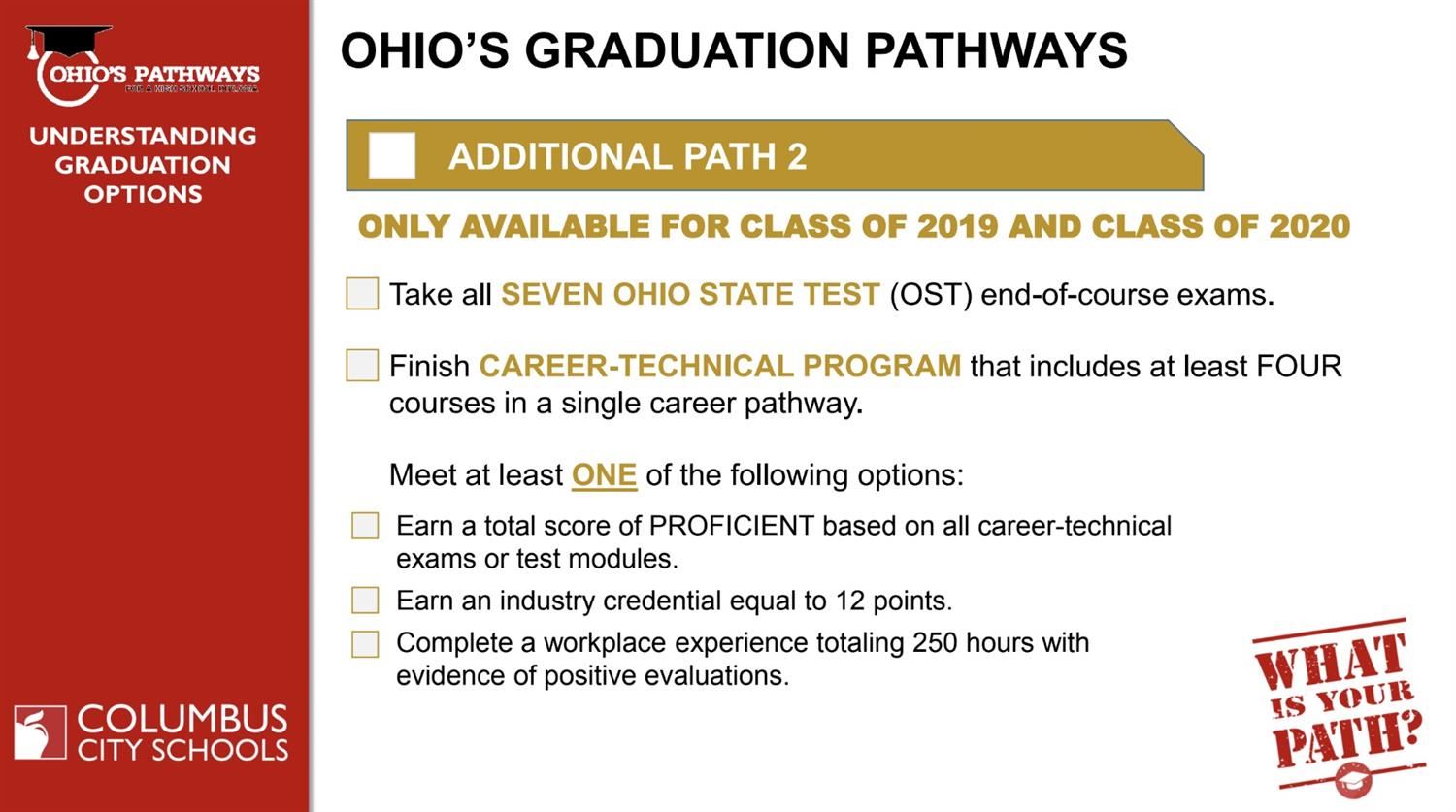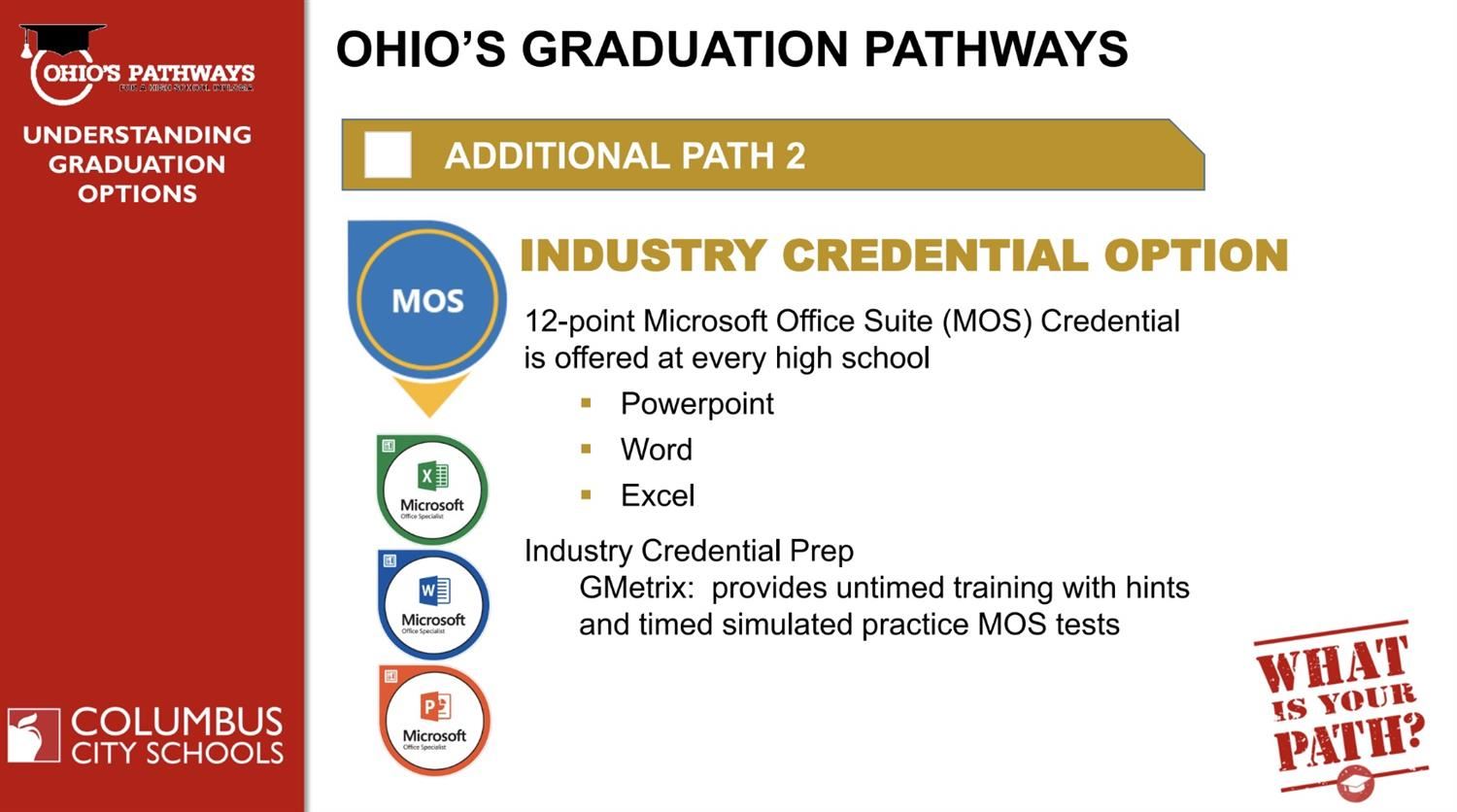 "For instance, there is a construction credential for seniors," said Webster. "Those are in demand jobs whether those seniors want to go into construction or not that is something they can always leverage and help them pay for school."

CLASS 2021 AND 2022
For students in the class of 2021 through 2022, graduation comes down to course completion and college-career graduation pathway demonstration.
To earn a high school diploma, students must successfully complete all 22 course credits.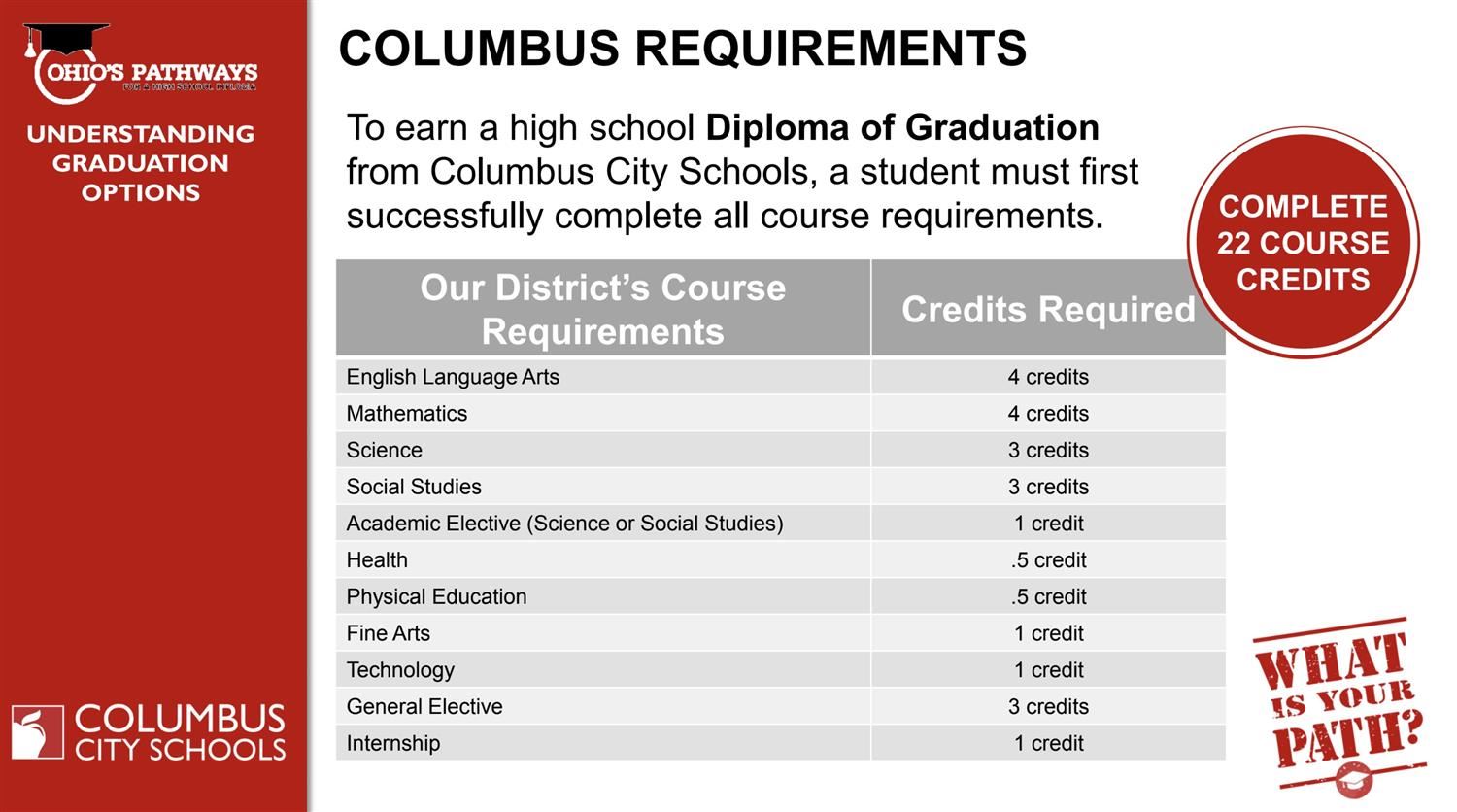 Next, Sophomores and Juniors must demonstrate their college/career graduation pathway. Students in these grades have the option of meeting one of the three previous pathways to graduate listed for the Class of 2020 -- state test scores, earn a remediation-free score on the ACT or SAT, or workforce credential/WorkKey exams. But it is important to note that the eight alternative criteria options for 2020 go away.
For these students, their alternative route to a diploma is the new 2023 system, which includes college/career preparation.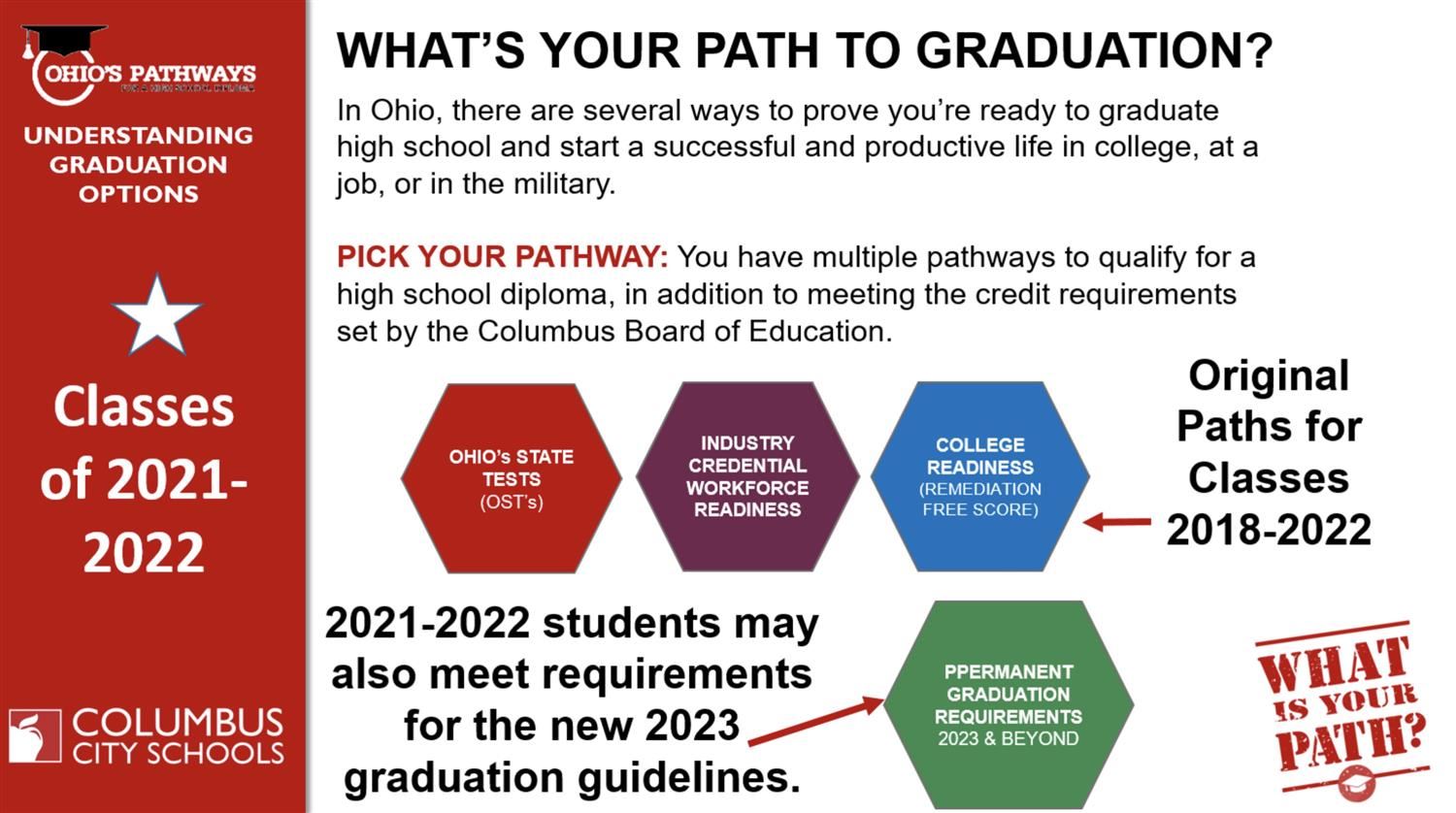 CLASS 2023
New graduation requirements for the class of 2023 and beyond where set by the state legislature in 2019, highlighting three areas of requirements.
Students must meet all their normal course requirements, including 22 course credits required by columbus city schools.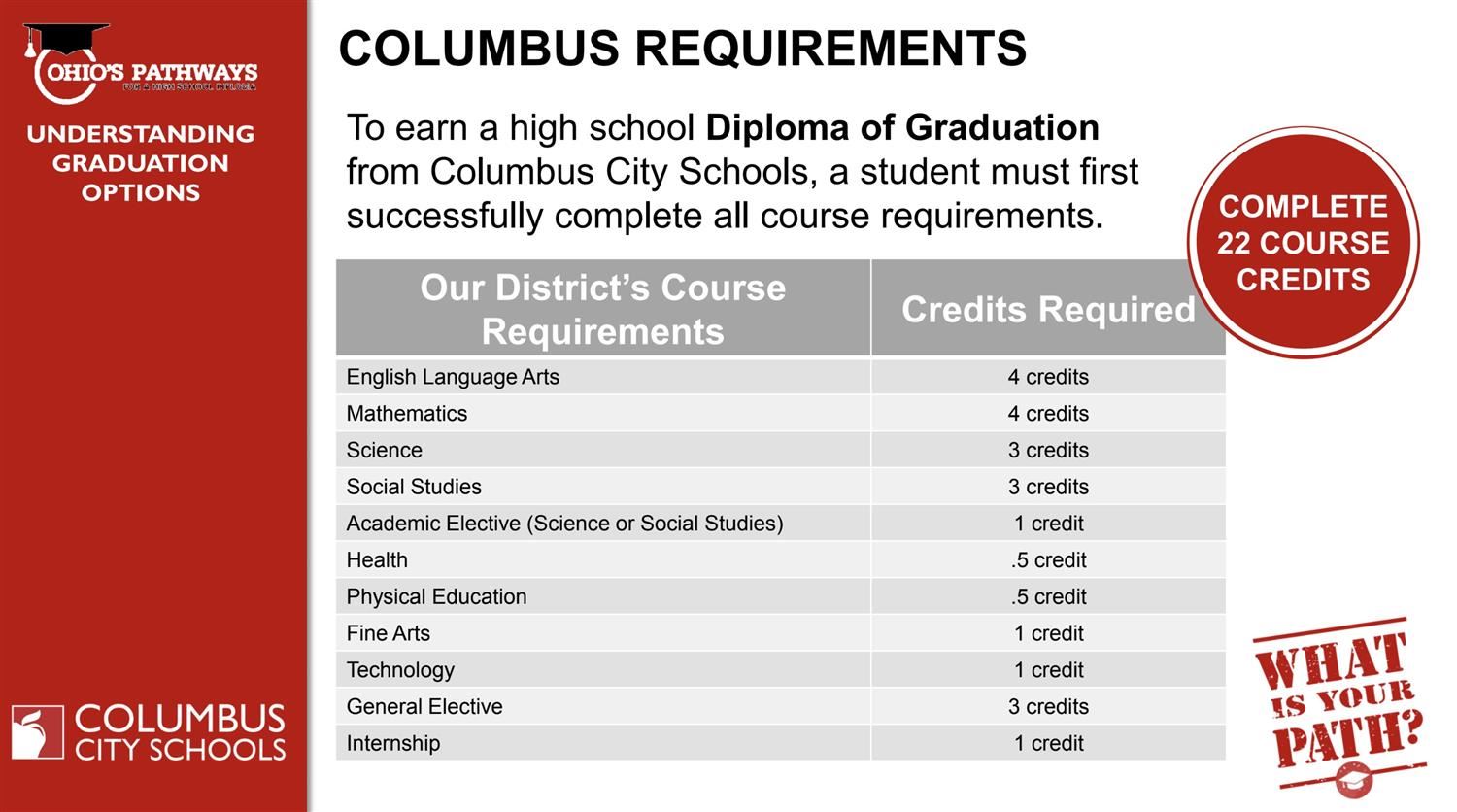 Students will have to demonstrate competency. There are a number of ways to demonstrate competency, but the main way will be for students to pass the state tests in English II and Algebra I.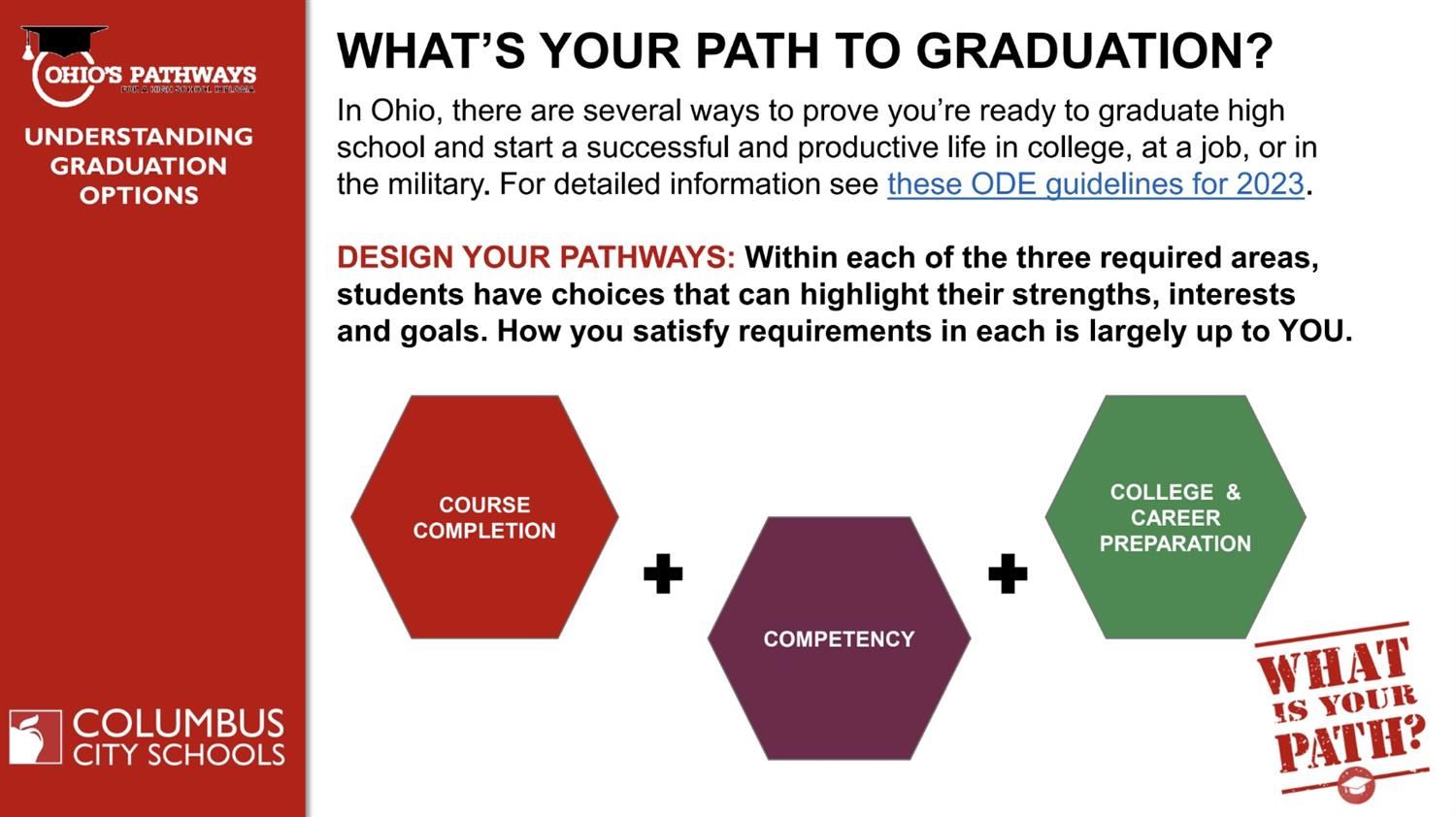 "Those graduation pathways include a lot of ways that students not only show that they are competent and if they cant get those test scores, that is one way of showing that they are competent. They can demonstrate they are ready for college, careers, military in various ways. They can demonstrate that through various competencies the state set up. Students would also have to show that they are graduation ready through Graduation Seals," said Webster.
Finally, students will need to show college and career readiness. To demonstrate Preparation for college or a career, students must earn two diploma seals, one of which must be state defined.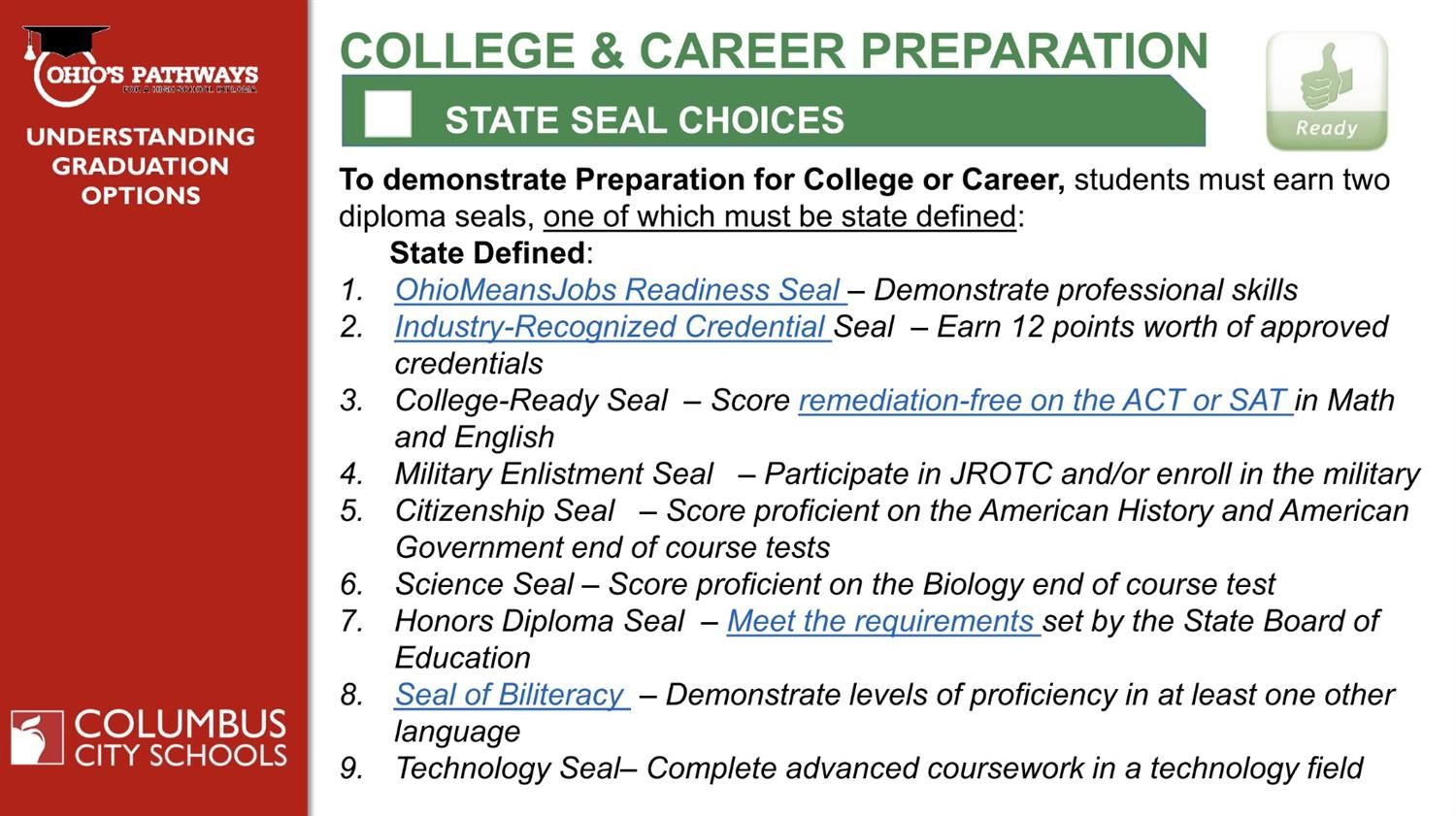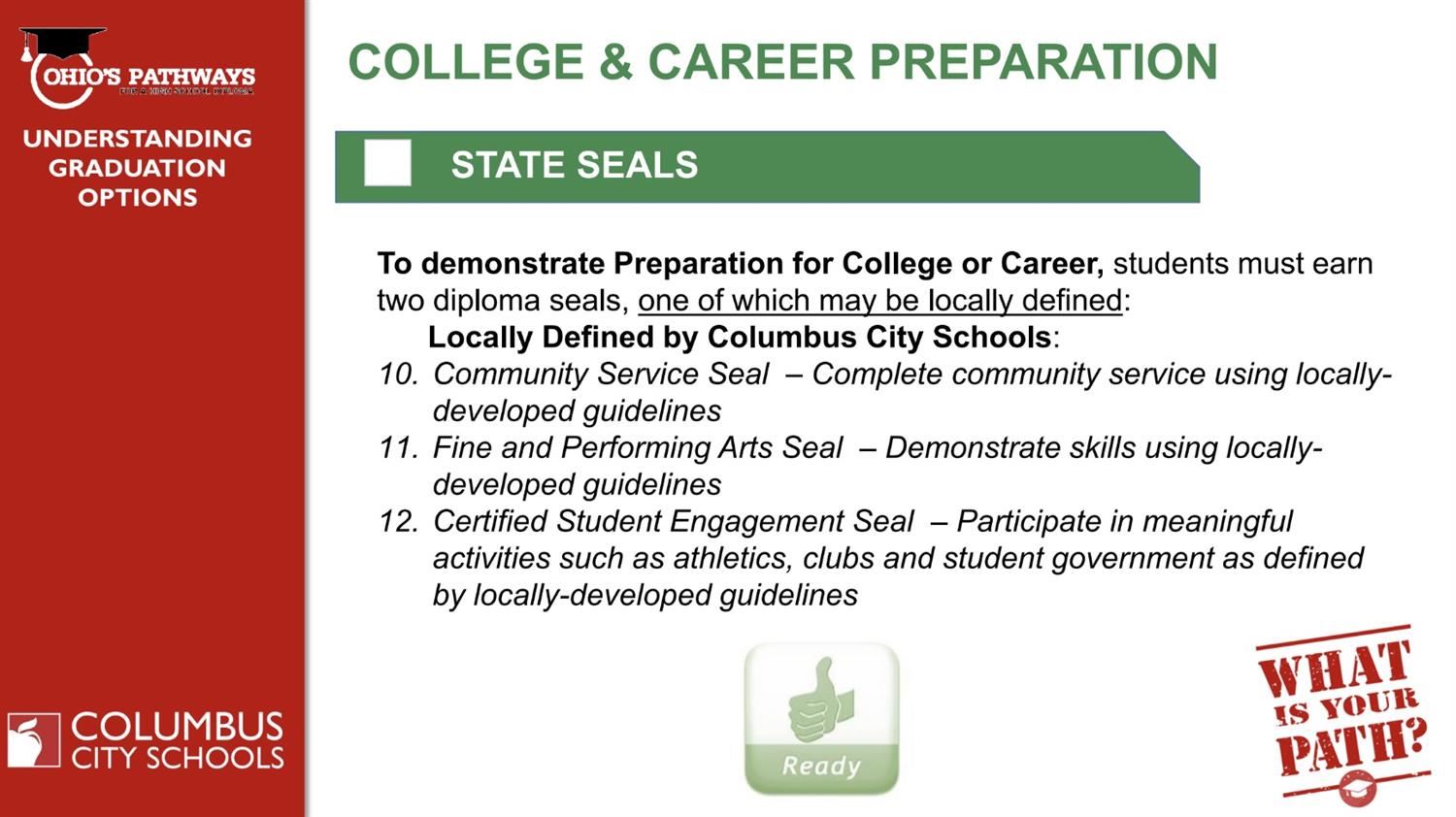 Columbus City Schools wants each and everyone of our students to find their path.

What does your child need to graduate? Join us at one of our Family Graduation Meetings in February. The first meeting of the year will be on February 19th at Briggs High School from 6 to 8pm.

Can't make a meeting or need more information about your child's graduation requirements, you can find that information under District News on our website ccsoh.us.

"We are hoping that they all have a one-on-one with counselors where they look at not only their classes they are taking now, but what is their pathway. Not what is the most likely pathway for them, but what is their chosen pathway," said Webster