Return to Headlines
REACH CEO and Author Encourages AIMS Students to Write Their Own Story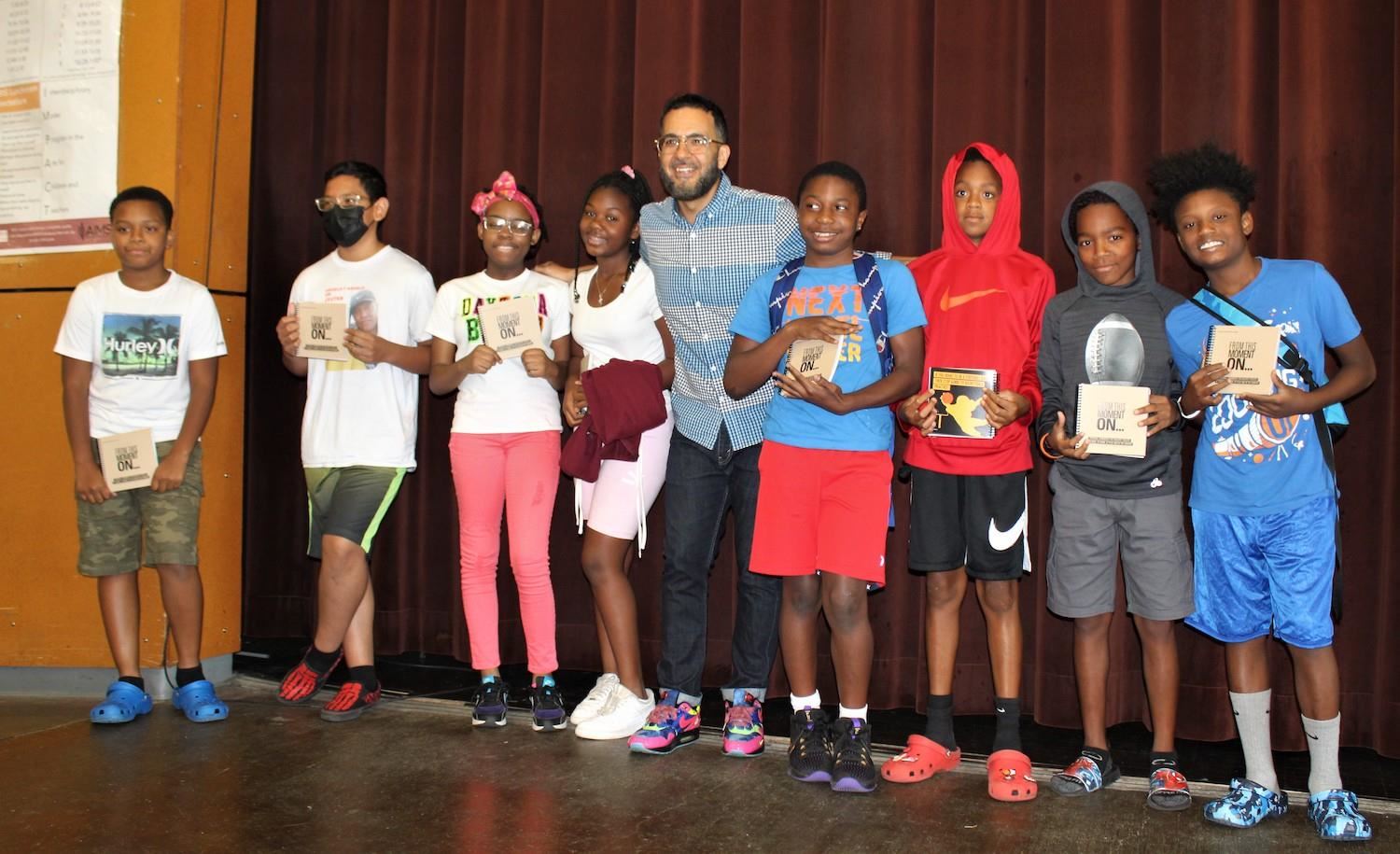 June 24, 2022 -- Javier Sanchez encouraged students at the Arts Impact Middle School to consider a few key questions as they move through school and life.
An author himself, he encouraged students to be the author of their own story, hoping to motivate them from inspiration to action.
"Who am I? What is my story? Who is writing my story? Am I writing my story or am I letting other people write my story? And I'm speaking from personal experience because for most of my adolescent life, I let other people write my story," Sanchez said. "Other people would say because of the color of my skin, because of my ethnicity, the neighborhood I grew up in, my family, I don't have a chance. I believed them."
It wasn't until Sanchez got involved with Youth to Youth, a leadership program for middle and high schoolers that this view changed.
"I got connected with them and they opened up my eyes and world to all my possibilities, not just these limited options I thought I had because of the nature of my environment and my experiences," he said.
Now, Sanchez is the CEO of R.E.A.C.H. Communications, a marketing firm focused on health and wellness messaging. He also has spent more than 20 years working with the Youth to Youth International Program.
Sanchez has written two books: Look In My Mirror, and From This Moment On: Personal Reminders for Massive Success at Home, at School, at Work, and in the Shower! His first book, Look In My Mirror, is a resource to plant seeds of positive identity and healthy self-esteem for daughters at a young age. His second book, which he signed for students and staff at the speaking event, aims to move readers from inspiration to action.
"The work we do with R.E.A.C.H., our goal is to move audiences from inspiration to action to outcomes," Sanchez said. "We use art and the oral tradition to convey messages of hope and empowerment to young people."
Sanchez spoke to the group of middle schoolers as part of the Summer Experience program. A Columbus City Schools alum, Sanchez said he felt honored to speak to students.
"I was born and raised in Columbus and all my life went to Columbus City Schools," he said. "It's an honor to come back and be a part of the district that raised me and made me who I am."
Sanchez told stories from his life, did breathing exercises, and also played games with students. He encouraged them to be thoughtful, considerate, thankful, and full of care for themselves and others.
"At the end of every day, you should ask yourself, do I like what I'm known for based on my choices, the things I've said, the things I did, the things I posted online. Am I satisfied with what I'm known for today? We should ask ourselves this question," Sanchez said.
Sibyl Barber, building coordinator for AIMS Summer Experience, said she hoped the lessons taught today will carry students through not only the summer and the start of school but for the rest of their lives.
"We're always hoping to plant seeds that someday will hopefully produce a great harvest," Barber said. "There could be something said by Mr. Sanchez that students might be able to remember or reflect on this summer and when school begins."
The message resonated with two students, Chase Charles, and David White Jr. Charles, an incoming seventh-grader at Columbus Gifted Academy, said Sanchez was funny and enjoyable.
"I took away the lesson that I let other people define who I am and instead I should just not listen to them," he said. "He was very inspirational. He actually helped me learn some life lessons that I never really figured out."
White, an incoming seventh-grader going to Columbus Africentric Early College, said he also felt inspired.
"I can see what he means," White said. "Don't let other people put you down. Don't let others take your strength and confidence. …They can put your spirit down. They can put everything down but they cannot tell your own story or anything."
As students go through summer and into the start of school, Sanchez said his biggest piece of advice for current Columbus City Schools students is to connect with caring adults who are committed to their success.
"Connect with caring adults and understand that those caring adults may not be in your home," he said. "Connect with caring adults who want to create opportunities for you to be successful in your life."