Return to Headlines
CCS Students Prepare for a Holiday Tradition - The Nutcracker Opening
December 12, 2022 -- The Nutcracker story is as unique as each ballet company and dancer that performs it. It can be found at theaters everywhere this time of year. CCS students have been working hard under the stage lights to perform in this year's magical BalletMet performance of The Nutcracker. These students have been balancing and creating the perfect symphony between their school work and long nights of physically demanding rehearsals that require artistry and grace.
Layla Nutt, an eighth grade student at Arts IMPACT Middle School, loves the spotlight and performing. It can be a rush of excitement when dancers take their places backstage - inhaling their last deep breath before appearing in front of thousands of sparkling eyes full of wonderment.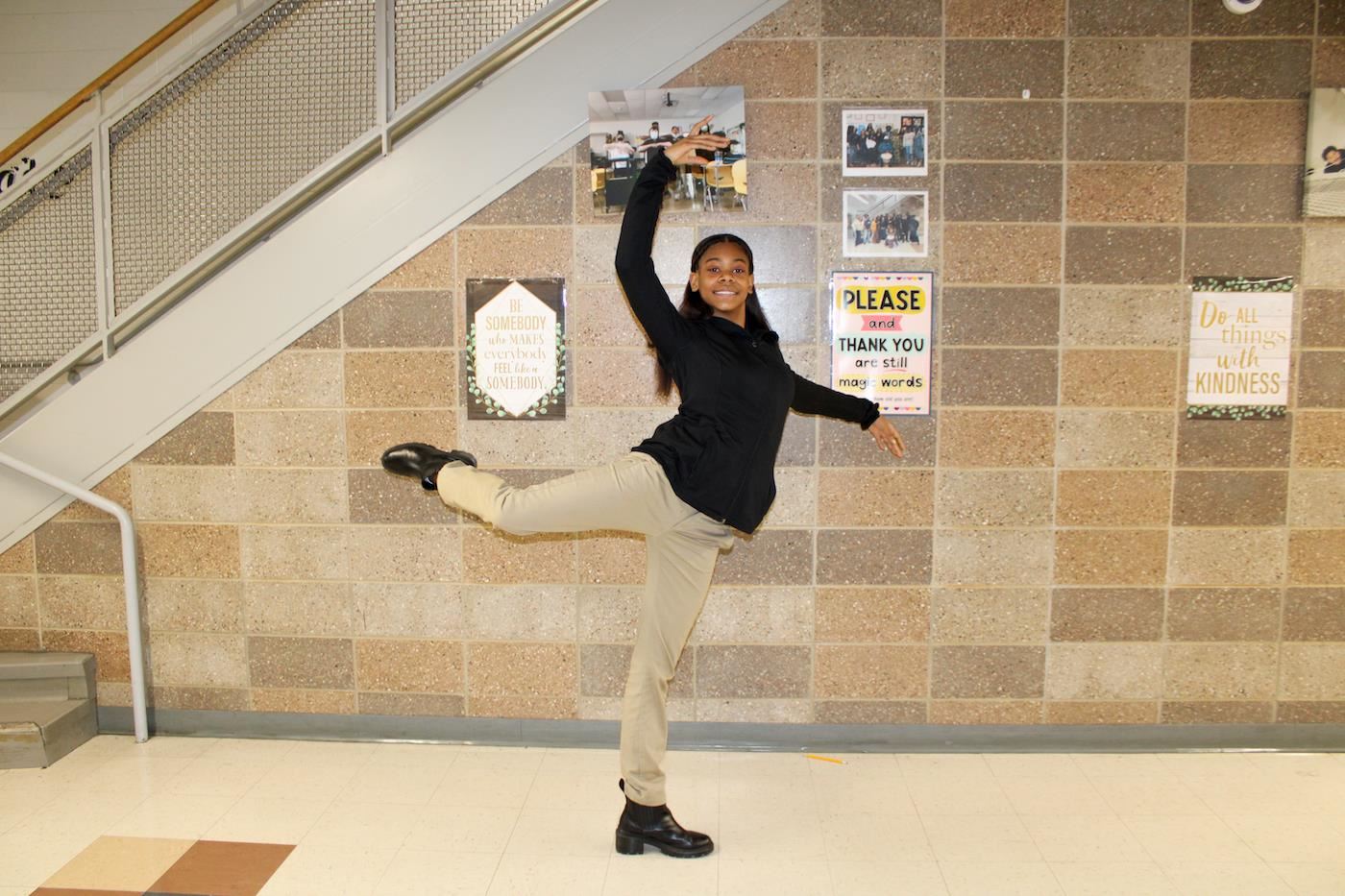 "I love the audience, looking out at them from the stage, there's so many," Nutt said. "One of my favorite parts of performing is seeing the look on the audience's face when we come on stage."
Nutt is an angel and a soldier this year. She has also been cast in other performances of The Nutcracker as a lead angel, page, and one of Mother Ginger's children. Her dream is to one day be the Sugar Plum Fairy or an Arabian dancer. But for now, she's trying to perfect her dance timing , which she says is one of the most challenging parts.
"We started rehearsing months ago," Nutt said. "We started off just doing rehearsals on Fridays, but now we're starting to go into the weekdays. Rehearsals normally last four hours, and it increases as it gets closer to showtime."
Grueling rehearsals are not for the faint of heart and can be physically and mentally exhausting.
"Dance takes a lot of work," said Nutt's dance friend, Julia Darnieder, an eighth grader at Columbus Gifted Academy. Darnieder dances with Nutt as a soldier, but she is also a Mother Ginger child. "You have to put in the work, and if you don't, then you aren't going to achieve what you want."
Nutt started dancing in elementary school when a few people from BalletMet came to her elementary school to audition with her for their ballet academy.
"I think only two or three of us got to the second audition," Nutt said. "The first year I danced [in the Academy], I did not perform in The Nutcracker. But every year since I've been dancing in The Nutcracker."
Darnieder started much earlier when she was just barely past the toddler stage.
"My mom practiced ballet and put my sister and I in ballet when I was three, and now I'm 13," Darnieder said. "So I've spent the majority of my life dancing, and I love it!"
Ballet is also a family tradition for Kalina Boft, an eighth grader at Indianola Informal K8, and her younger sister Agnessa.
"My grandfather, Georg Boft, was a professional dancer, and so was his sister," Kalina said. "They originally came from Russia and started ballet there. Then, when my grandfather immigrated to America, he started dancing professionally with BalletMet."
Kalina started ballet when she was four years old and has stuck with it. She said she didn't see her grandfather's performances because he was a teacher when she was growing up. However, she remembers being inspired by him when she would catch glimpses of him teaching.
"I remember when I was very small, I would walk out of my pre-ballet classes and I would walk past the studio he was teaching in," Kalina said. "To me, these girls were very good, very skilled, and very professional, and he was teaching them. I just remember watching them and thinking to myself that this will eventually be me. I will be one of those girls en pointe, dancing."
En pointe means to be "in" pointe shoes. Pointe shoes have a hardened box that encases the feet, allowing dancers to rise all the way up to the tips of their toes and balance.
"I feel like the entire year, and mostly for your entire dancing career, you are basically practicing over and over again to get things right," she said. "Then, eventually you get to the performance and it all pays off. It's a lot of fun too."
This year is Kalina's fourth year dancing in the Nutcracker, and she plays an angel and Mother Ginger's child. Her sister plays the role of a party girl.
"This is my sister's first year being in The Nutcracker so that's really exciting for her and for all of us, Kalina said. "We're carrying on the family tradition."
You can catch Nutt, Darnieder, the Bofts, and more CCS students, such as John Arnold, who plays Clara's brother Fritz, at the Ohio Theater from December 8-24.
"Everyone should see BalletMet's The Nutcracker because it has dozens of professional dancers that have trained their whole life, professional lighting, and a giant beautiful set," Darnieder said. "It's in the Ohio Theater and feels fancy, and the choreography is amazing – it's the best I've ever seen."
---