Return to Headlines
Whetstone High School Recognized for Ohio School Counselor Accountability Report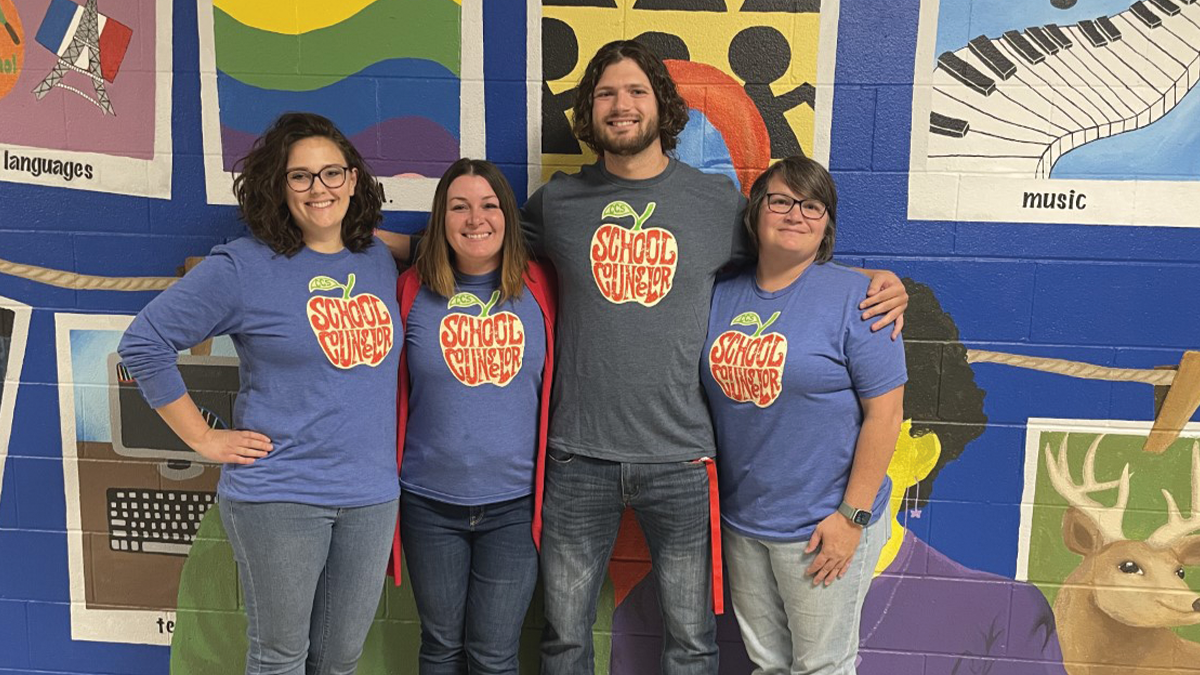 November 4, 2022 -- For school counselors Anna Schwab, Megan Brautigam, Marie Fiascunari, and Matthew Agee their biggest hope is that students feel empowered to be themselves.
The team aspires to make an impact so that students will feel valued and supported during their time at Whetstone.
Recently, the Ohio School Counseling Association recognized the counseling team's efforts for their Ohio School Counselor Accountability Report (OSCAR). The OSCAR is a results-based representation that visually demonstrates how the work of school counselors facilitates student domain outcomes.
"It was gratifying," Fiascunari said. "This was years and years of work to get to this point."
"And it solidified that what we're doing is making an impact on the school," Schwab added.
The OSCAR is a continuous improvement document showing a school counselor's effectiveness. It's both an award and a concise presentation of the highlights of the school counseling program.
"The last several years, we've been working to move the counseling program more and more in line with the American School Counselors Association's (ASCA) national model for school counseling," Brautigam said. "We want to make sure we are providing a comprehensive counseling program here at Whetstone. The OSCAR involves showing data and proving that we are in line with that model."
Whetstone was recognized among other Columbus City Schools, including Linden-McKinley STEM Academy 7-12, East High School, and Briggs High School. In addition, Erica Grimes, a school counselor at East High School, earned the distinction of School Counselor of the Year for the high school level. Schools were recognized in a recent ceremony at the Hyatt Regency Downtown.
School counselors are Master's Degree educators, who work with the entire student population on their academic, career, and personal/social development in collaboration with parents, administration, and teachers.
"We're here to empower students to meet their goals," Brautigam said. "We serve three primary domains. We serve the academic realm to help students meet their academic goals, social-emotional goals for emotional wellness, and career readiness, which involves everything from career exploration to helping them with college applications and their college search process."
To earn the OSCAR designation, the team looked at data to guide their goals for improving those three areas.
"The OSCAR is a snapshot of the program at a point in time," Brautigam explained. "It shows that we are implementing all these pieces on top of student impact data. It's a snapshot of the whole program at that time. It's been a process over many years to get to this point. The OSCAR was a gratifying benchmark, but there are still more components we are working to implement and improve each year."
From here, the team hopes to work toward applying for the national version of the award, the Recognized ASCA Model Program. This designation recognizes schools committed to delivering comprehensive, data-informed school counseling programs aligned with the ASCA National Model framework.
"We are still trying to improve, seek feedback, align more and more with the national model, and be the best version of ourselves as possible," Brautigam said.
Fiascunari said her favorite part of the job is building relationships and hopes that students feel valued and supported during their high school years.
"It's honestly such a joy to get to know the students and their families and see their growth throughout the years," she said. "It's exciting to see that, be part of that, and celebrate them. We love what we do. It's a true joy."
Schwab said the team is grateful for support from the administration, staff, families, and the school community.
"Even though this award says it's for counselors, it's a team award," she said. "We couldn't do it without the administration, teachers, or social workers. Everyone plays a part in this award."
---