Return to Headlines
Fort Hayes Partners with Maria Tiberi Foundation to Help Prevent Distracted Driving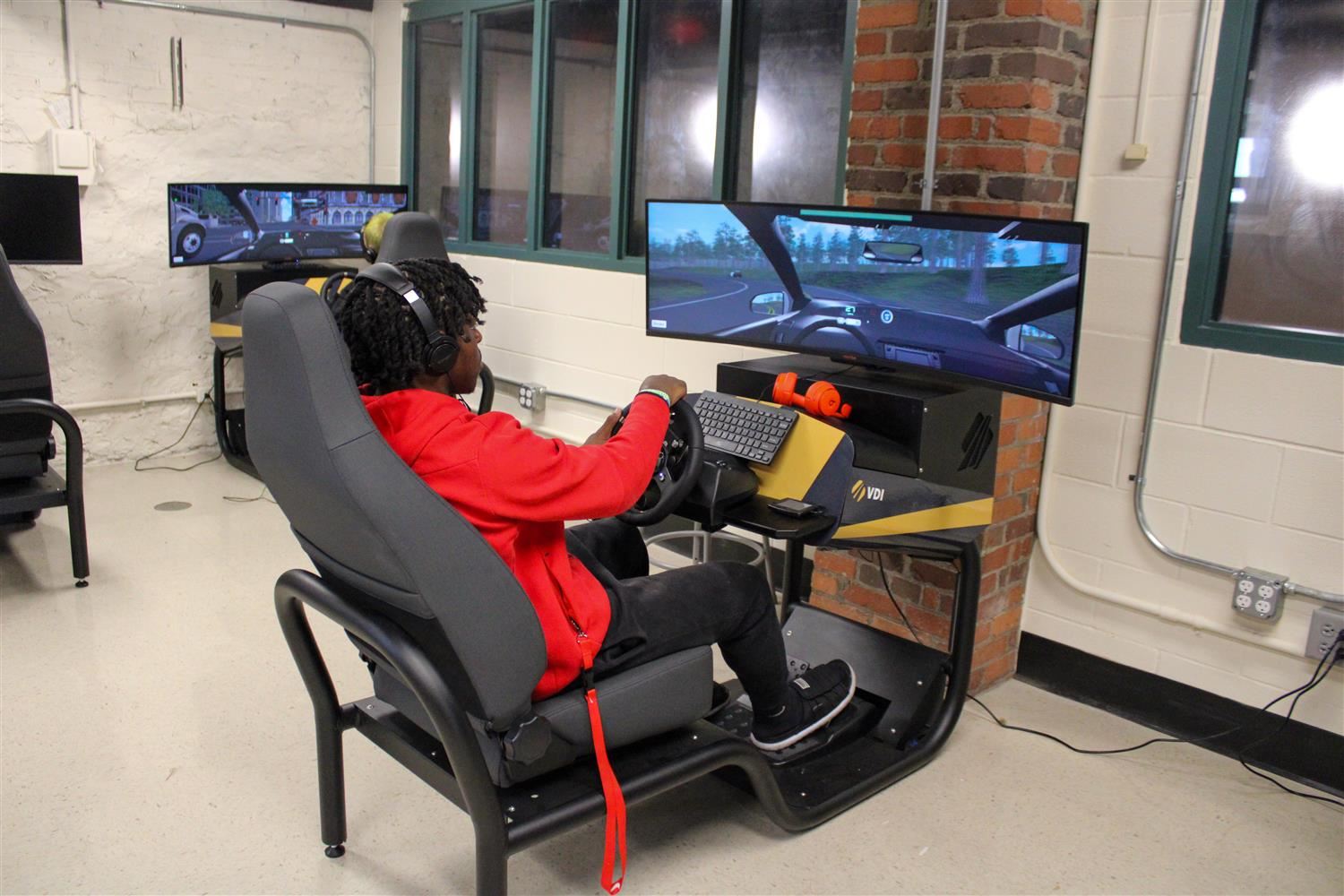 September 22, 2023 – For many drivers, it can be tempting to glance down at their phones when they receive a notification.
However, Fort Hayes students are learning that even a moment with their eyes off the road is too long.
In partnership with the Maria Tiberi Foundation, Fort Hayes Metropolitan Education Center is the third school to open a driving simulator lab in Ohio, and the first of its kind in Columbus City Schools. The lab is home to 25 driving simulators that students can use to focus on better driving skills.
"The goal of the driving simulation lab is to prevent distracted driving and save lives," said Caryn Martinez, Instructional Assistant and Lab Instructor at Fort Hayes. "It's to create an awareness of it, for adults and young people. Our hope and vision is that every student who comes to our school will have gone through this three-hour program to make our roads safer."
Dom Tiberi, 10TV Sports Anchor, started the foundation after his daughter, Maria, was killed in a car accident that police believe was likely caused by distracted driving.
Earlier this week, September 17, marked the 10th anniversary of her passing.
"We want to expand the lab to a community or District resource so other schools can take advantage of the simulators," said Fort Hayes Principal Dr. Milton Ruffin. "We hope that this resource can help our society and prevent distracted driving, which is a situation that is especially prevalent in our community."
Operators can choose a simulation, or the computer will choose one for them. Weather conditions, traffic flow, and locations are only some of the different obstacles and scenarios operators will encounter when using the driving simulator.
There are many misconceptions about distracted driving. Distractions can be any visual, manual, or cognitive activity that diverts attention away from driving, ranging from eating to talking.
"Distracted driving is not just texting," Martinez said. "It's a car stopping right in front of you. It's pedestrians, texting, and walking. These are things to look out for because you never think about them."
The simulator even has a scenario that forces operators to text while driving and also allows students to experience through the simulations what driving while tired or under the influence may be like.
"It had a simulation where I had a virtual phone and I was supposed to text back the person while also trying to drive," said Fort Hayes senior Elisabeth Morris. "I tried my best to only text at stop signs or stop lights when I had the time to respond, but it was pretty hard."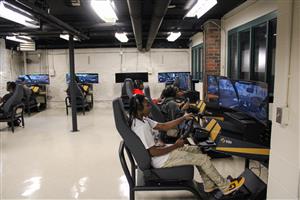 If the operator is lucky enough to make it to their destination while using the driving under the influence simulation or using the cell phone texting simulation, the computer will provide statistics on how many times someone doesn't make it.
If the operator isn't as lucky, the simulator shows video demonstrations of what happens if caught with a DUI or texting and driving. It takes students before a Magistrate on the machine to show them a booking, what they may be charged with, and the process.
"It was helpful to know what not to do when I can drive," Morris said. "A lot can happen in a few seconds."
Installing the machines and decorating the space was a school-wide effort for Fort Hayes. Construction students built and painted the sponsor wall, and graphic design students created window decals ranging from traffic patterns to stop signs.
"We're very grateful for Dom and all our sponsors who were generous in providing this opportunity for our students and we're excited that Fort Hayes can offer this opportunity to our students," Ruffin said. "I think it's crucial for students to get this education. And I would prefer that they have a simulation experience instead of a real-life experience."