Return to Headlines
All In for Back to School!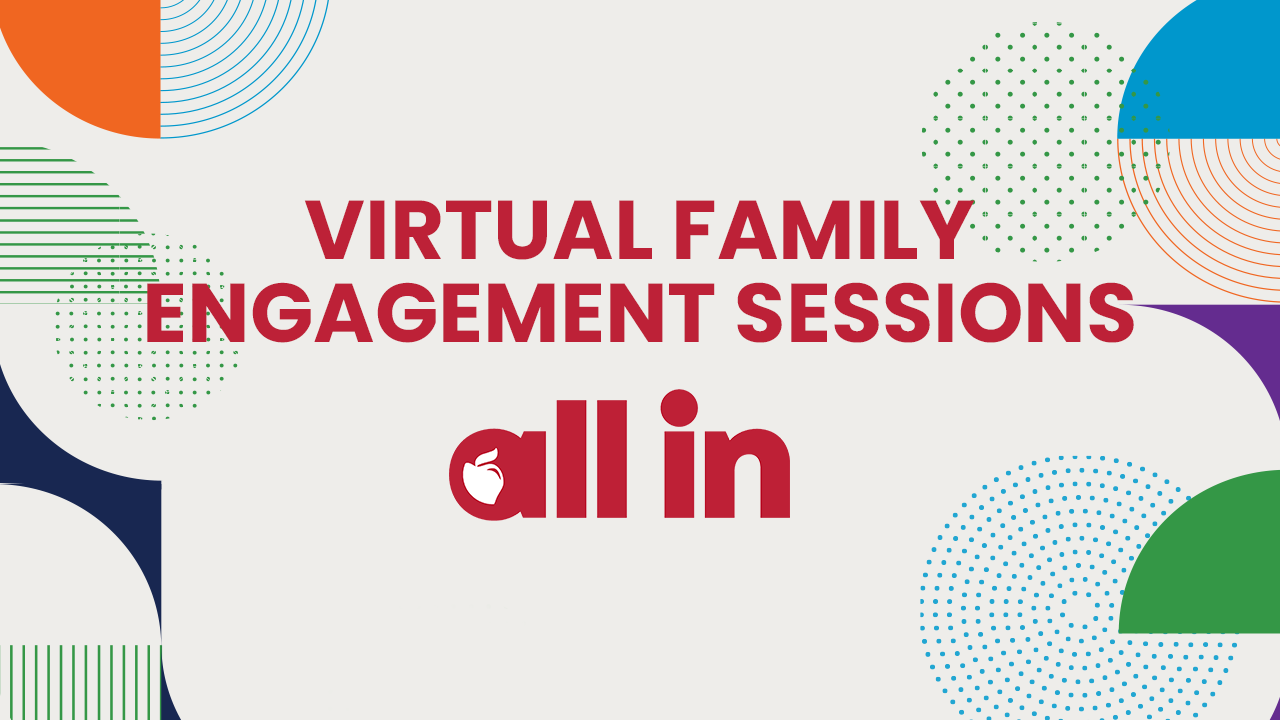 August 19, 2021 -- What time does school start? When is the first day of kindergarten? What time will the school bus pick up my child? How will my child be safe eating lunch without a mask?
Answers to those questions and more were shared at the first Virtual Family Engagement Super Session of the 2021-2022 school year with Superintendent and CEO Dr. Talisa Dixon on Wednesday, August 18, at 6 p.m.
"I am so excited for the new school year, and we'll be all in," said Superintendent/CEO Dr. Talisa Dixon. "Students, teachers, and staff will be returning to in-person learning five days a week for the first time in a year and a half. I am grateful that our health and safety protocols are all in place this school year."
Below are some of the answers to the most common questions from parents during our virtual session. Click on the video links to hear more from our District experts.
Start Times
The first day of school is Thursday, August 26, 2021. The school day for elementary students is 9:00 a.m. - 3:30 p.m. Middle and high school is from 7:30 a.m. to 2:30 p.m. Parents should check with their children's schools on drop-off and pick-up times and procedures. Most schools open their doors 15-30 minutes before the start of classes to welcome students.
Our Youngest Learners
Pre-K and Kindergarten students do not begin school on Thursday, August 26, 2021. These students have a staggered start schedule. Pre-K students will return to school on September 7 and 8. If you are not sure what day your Pre-K student needs to be in school, contact your child's school.
Kindergarten students return to school for appointment-based kindergarten orientation on August 26, 27, and 30th. Contact your child's school for an appointment.
Click here to watch the virtual presentation by Kelly Rivers, our Director of Early Childhood Education.
Health and Safety Protocols
Masks are required for all students and staff in all District school buildings and buses with or without vaccination.
Dr. Sara Bode with Nationwide Children's Hospital shared with families that multiple "layers of protection," not just one make it safe to return to in-person learning.
"Universal masking at Columbus City Schools in all school buildings and school buses is so important along with frequent hand washing and social distancing," said Dr. Bode, Medical Director of Nationwide Children's Hospital's Care Connection School-Based Health and Mobile Clinics. "Together, multi-layers of protection significantly reduce the spread of the virus."
In addition to the masks, the other health and safety protocols include:
Three feet of social distancing between students where practical

Water fountains will not be used

Frequent reminders about hand-washing and sanitizer use

School visitors will be restricted to parents/guardians and the District's student support partners. All visitors will be required to wear a mask.
Transportation
The Office of Transportation sent out mailers to let families know bus stop times and locations this week. By Friday, August 20, parents can find bus stop information by logging into their Parent Portal.
Transportation Director Rob Weinheimer shared with families that for the first week, have your child arrive at the bus stop at least 10 minutes beforehand. It's also a good idea to have a family member walk with your child to the bus stop, so they are safe and know the safest route to the bus stop location.
Transportation is provided to eligible students in grades Kindergarten through 12th. Only Pre-K students where transportation is indicated on their Individualized Education Plan (IEP) are eligible for yellow school bus transportation.
Chromebooks
All students are expected to bring their fully-charged Chromebook to school with them each day. If your child does not have a Chromebook or it is broken, contact your child's school.
Family Nights at School
Many of our schools host in-person and virtual family orientation nights to help parents prepare for the new school year ahead and connect them with their children's principal and teachers.
During our virtual session, several principals shared their plans for inviting families into the school. They encouraged parents to look for emails and phone calls this week and next to hear about engagement events.
Listen to the plans of principals from East Linden Elementary, Salem Elementary, Hubbard Elementary, Northgate Intermediate, and Sherwood Middle School by clicking here.
To view the entire Virtual Family Engagement Session on All In Back to School, click here.
Here is the schedule for the upcoming Virtual Family Engagement Sessions:
Tuesday, August 24 (6:00-7:00 pm) - Technology Tools for Students & Parents
We will showcase all the technology tools we provide to help students and families… starting with Parent Portal but also Bus Bulletin, Clever, iReady, Paper, etc.
Thursday, August 26 (6:00-7:00 pm) - All In First Day Check-In
Let's hear how the first day of the new school year went for everyone. During our All In First Day Check-In, we will talk with several of our principals, teachers, and staff to discuss the return to the classroom, what we did to keep everyone healthy and safe, and what families can expect in the coming school year.
Sign up to join these Virtual Family Engagement Sessions at www.ccsoh.us/rsvp.