Return to Headlines
Board Meeting Preview: October 20, 2020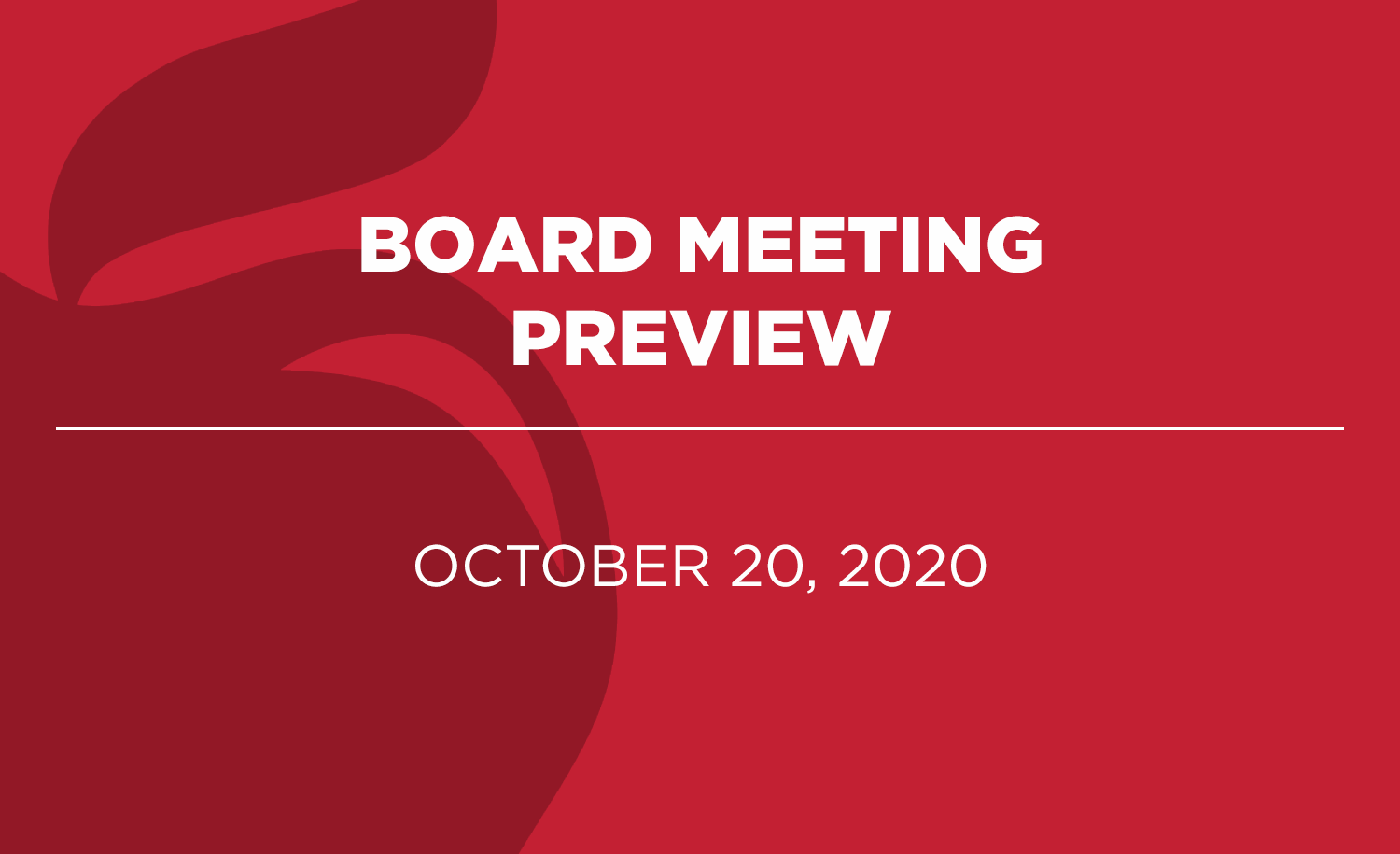 Columbus City Schools
Board of Education Meeting
Tuesday, October 20, 2020, at 5:30 pm
VIEWING THE BOARD MEETING
The Columbus Board of Education (BOE) will hold its regular business meeting virtually on Tuesday, October 20, at 5:30 p.m. The meeting will be streamed on Facebook Live and on the Columbus City Schools' YouTube Channel, which allows the public to attend virtually. For more information on meeting dates and times, Click here to view the meeting agenda. To view past Board meetings, click the Columbus City Schools Board of Education YouTube Channel.
APPLE iPad Pros
The Office of Special Education and Student Support Services will ask the Board to approve the purchase of Apple iPad Pros to support instruction and delivery of special education students' services. Students who receive special education services, participate in Career and Technical Education, International Baccalaureate, and Advanced Placement courses would use these computers. Funding for this purchase valued at a little more than $481,000 would come from the Coronavirus Aid, Relief, and Economic Security (CARES) Act Fund.
OPERATION: FIX-IT ROOF REPAIRS
Board Members are expected to discuss and vote on additional funding ($8,000) for roof upgrades at three school buildings and one district office. Roof repairs are also being made at Medina Middle School, 1425 Huy Road, Winterset Elementary School, 4776 Winterset Drive, and the administrative building at 3700 S. High Street. The second phase of roof work that includes HVAC upgrades is nearly completely at Centennial High School, 1441 Bethel Road.
FIRE ALARM UPGRADES
The project to upgrade fire alarm systems at four CCS schools requests the Board fund additional design services($4,012). The fire alarm systems are being upgraded at Beechcroft High School, 6100 Beechcroft Road, Columbus Alternative High School, 2632 McGuffy Road, Columbus Global Academy, 4077 Karl Road, and North Linden Elementary School, 1718 E. Cooke Road. Funded by the passage of Issue 57 in 2016, the District's "Operation: Fix It" initiative will target various deferred maintenance needs across the District.
TREE DONATION
The Board will be asked to approve a donation of trees by the non-profit group called Friends of the Olentangy Watershed or FLOW for short. The group wants to install 50 canopy trees and four stone benches at Windsor Stem Academy, 1219 East 12th Avenue. The trees will be planted across the campus, creating a more inviting environment for outdoor education. The benches will provide seating around the playground for readers, teachers, parents, and grandparents. The donation is valued at $10,000.
PEDESTRIAN BRIDGE
Board Members will hear about building a new pedestrian bridge at Cranbrook Elementary School, 908 Bricker Boulevard. The bridge that connected the neighborhood north of the main school property was removed years ago due to its deteriorating condition. The bridge crosses over a creek called Slyh Run and will allow students living north of the stream to travel safely to school. Friends of the Lower Olentangy Watershed (FLOW) will ask the BOE to accept the $78,000 donation for all costs associated with building this new bridge.
UPCOMING EVENTS

October 27 Board of Education Special Meeting 6:30 p.m.
October 28 - Records Day (No distance learning)
October 29 - Columbus BOE Audit and Accountability Committee Meeting 3:30 p.m.
Neighborhood School Development Partnership (NSDP) Committee Meeting 8:00 a.m.
October 30 - Records Day for Woodcrest Elementary School (No distance learning)