Return to Headlines
Board Meeting Preview: March 16, 2021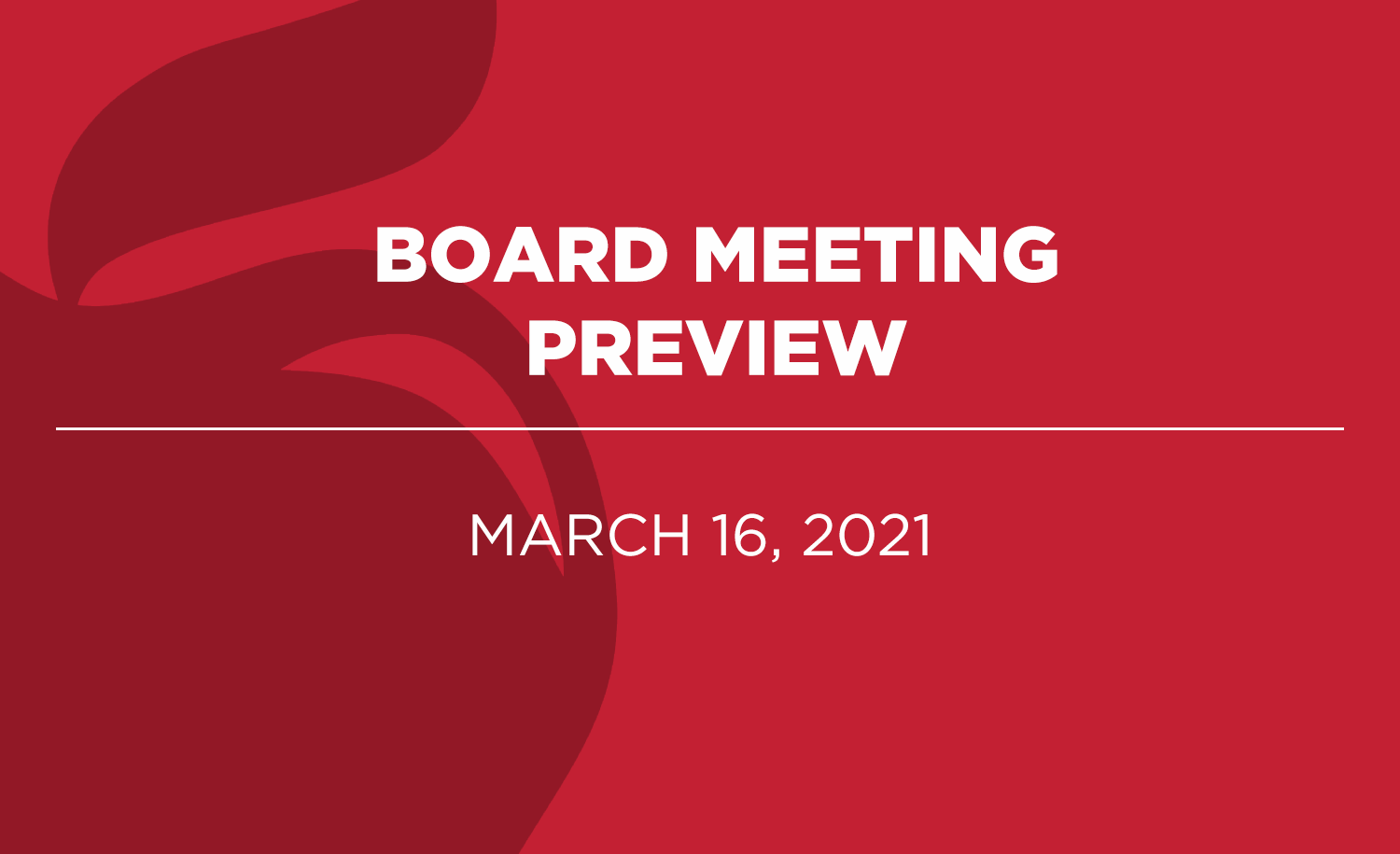 Columbus City Schools
Board of Education Meeting (Hybrid Virtual Meeting)
Tuesday, March 16, 2021, at 5:30 pm
The Columbus Board of Education will convene its regular business meeting in a hybrid manner on Tuesday, March 16, at 5:30 p.m. Four members of the Board will meet in-person, with three members joining remotely. The meeting will be streamed via Facebook Live and on the Columbus City Schools' YouTube Channel, which allows the public to attend virtually.
The Board of Education will also incorporate public participation in a hybrid manner from the District's administrative site located at 3700 S. High St. Individuals who wish to provide public comment will have the option of doing so in-person or remotely during the meeting. To sign up, public participants must leave a voicemail with Customer Relations at (614) 365-8888 or email customerrelations@columbus.k12.oh.us by 12:00 p.m. on Tuesday, March 16. Speakers will need to provide their name, topic, phone number, and which format they choose to provide their public comment. Click here to view the meeting agenda.
Superintendent's Student Ambassadors
The Superintendent's Student Ambassadors from Centennial, Eastmoor Academy, and Fort Hayes will present an update to the Board of Education about their respective schools. Student ambassadors from each high school will present at Board meetings throughout the spring.
iPads for Special Education Students
The office of Special Education & Student Support Services requests authorization to enter an agreement with Apple, Inc. for the purchase of 356 iPads. This $200,000 investment using City of Columbus grant funds would not have been possible without the support of City Councilmember Emmanuel Remy. These iPads will support students with disabilities in the following ways:
communication needs by uploading choice boards, speech-generating programs (for students with complex communication abilities);

screen readers for students with visual impairments;

the use of onboard applications and display accommodations,

as well as magnifier and font adjustments;

The use of visual schedules and timers to assist individuals, small groups, or the whole class with transitions and calendars;

Social skills can also be targeted by creating class videos.
Student Pedometers
The Department of Teaching and Learning, Office of Unified Arts, requests authorization to purchase individual student pedometers for students in grades 3-5 to use during elementary recess. Pedometers provide students with opportunities for individual physical activity, health, and wellness along and social distancing. Using CARES Act Funding, it is recommended that the Board of Education authorize the administration to purchase individual student pedometers for $317,106.30 for the
2020 – 2021 school year.
Recess Kits
Using CARES Act Funding, the Board of Education will be asked to enter into a partnership with School Speciality for $423,000 for recess kits for students in grades K-5. The pre-assembled recess kits are packaged in a drawstring bag and contain a playground ball, jump rope, bean bag, and a sidewalk chalk set. The recess kits enable students to social distance and to participate in physical activities without sharing playground equipment.
COSI Partnership for Summer Experience
It is recommended that the Board of Education authorize the administration to enter into a service agreement with Franklin County Historical Society (COSI) for $239,324.00 contingent upon the release of the 2021 Title I Funds. The Franklin County Historical Society (COSI) will act as the design and implementation partner of our K-12 single-environment classrooms. In collaboration with Columbus City Schools Special Education & Student Support Services Department, the COSI Education Team will design, develop, and support the implementation (providing teacher and student materials) of the COSI created standards-based, integrated, hands-on lessons, activities, and projects inspired by the full camps available at COSI. To support the facilitation of the project-based and design-inspired projects, lessons, and activities, COSI will provide professional development to summer school classroom intervention specialists before the start of summer school.
Franklin Park Conservatory Partnership for Summer Experience
It is recommended that the Board of Education authorize the administration to enter into a service agreement with Franklin Park Conservatory for $19,614.00 be contingent upon approval of the FY2021 Title I Fund. Franklin Park Conservatory will participate in curriculum development for the summer experience program for students with disabilities, conduct two professional workshops for intervention specialists, and deliver educational programs for 28 CCS sites. Each elementary site will receive an in-person program, one virtual program, and each middle school and high school site will receive two virtual programs.
UPCOMING EVENTS
March 24: Records Day (Students Not in Attendance)
March 25: Neighborhood School Development Partnership Committee Meeting 8:00 A.M., Audit and Accountability Committee Meeting 3:30 p.m.
April 1: 30-Minute Early Release
April 2-9: All Schools Closed Spring Break