Return to Headlines
Board Meeting Preview: April 7, 2021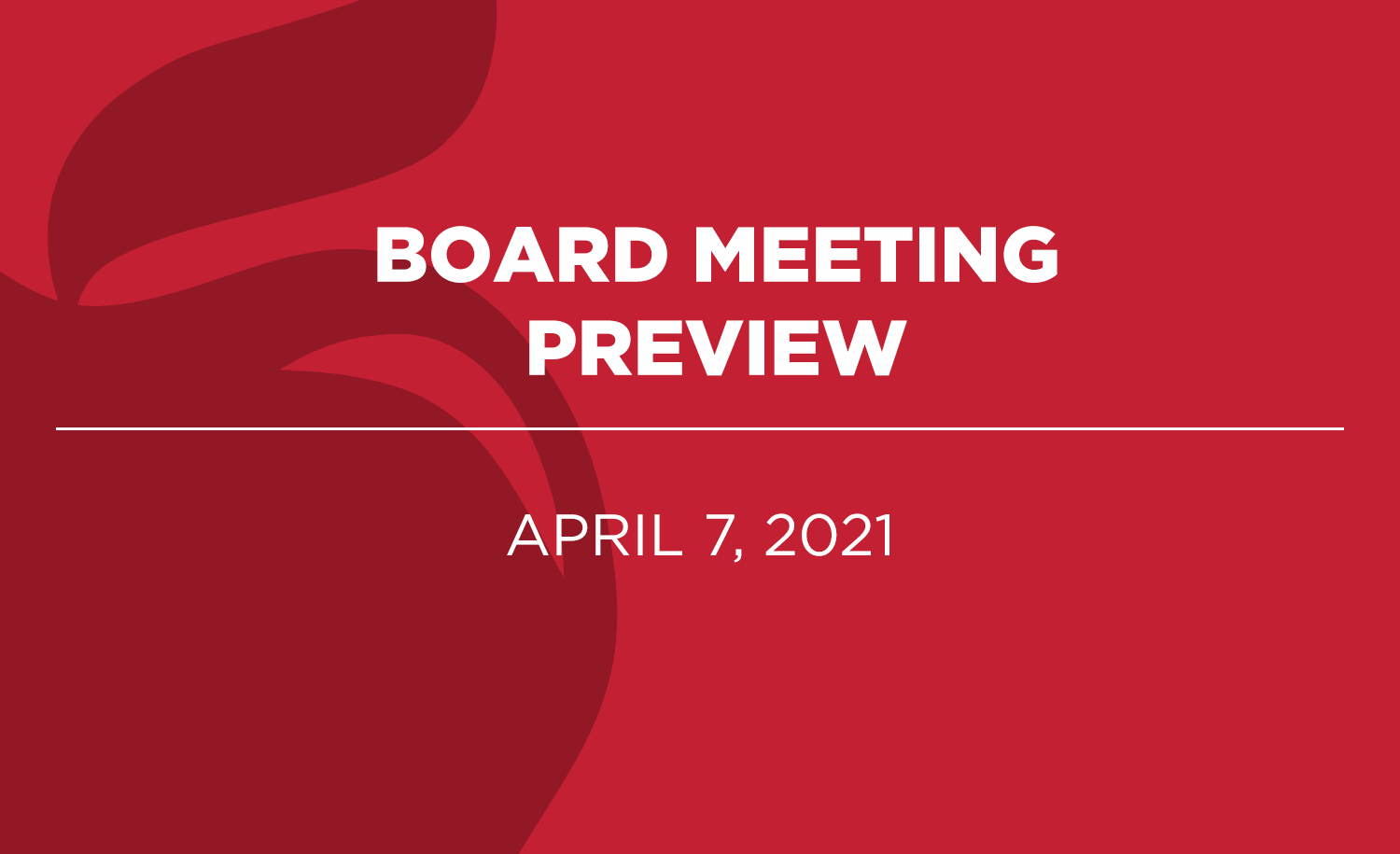 Columbus City Schools
Board of Education Meeting (Hybrid Virtual Meeting)
Wednesday, April 7, 2021, at 5:30 pm
The Columbus Board of Education will convene its regular business meeting in a hybrid manner on Wednesday, April 7, at 5:30 p.m. Four members of the Board will meet in person, with three members joining remotely. The meeting will be streamed via Facebook Live and on the Columbus City Schools' YouTube Channel, which allows the public to attend virtually.
The Board of Education will also incorporate public participation in a hybrid manner from the District's south Administrative site located at 3700 S. High St. Individuals who wish to provide public comment will have the option of doing so in-person or remotely during the meeting. To sign up, public participants must leave a voicemail with Customer Relations at (614) 365-8888 or email customerrelations@columbus.k12.oh.us by 12:00 p.m. on Wednesday, April 7, to let the staffer know which format they are choosing. Speakers will need to provide their name, topic, and phone number. Click here to view the meeting agenda.
New Track Facilities
Board Members will be asked to approve construction costs for new track facilities at Eastmoor Academy and Whetstone High School. The existing asphalt surfaces will be renovated, and new running surfaces applied. Osborn Engineering Company has performed the design work required to complete the two running track renovations for $24,900.00. The project's construction phase will require an additional $24,300.00 in authorization, therefore requiring Board approval.
Employee Assistance Program
It is recommended that the Board of Education authorize the District to enter into a three-year contract with HealthAdvocate, to provide services for the District's Employee Assistance and Work/Life Support Program for $95,500 per year for Fiscal Years 2022 - 2024, for an approximate total of $286,500.
The Employee Assistance and Work/Life Support Program (EAP+Work/Life) offers short-term counseling and support for a range of personal, family, financial, and work/life issues. These programs' services provide early intervention, reduce the need for more costly mental health services, decrease absenteeism, and improve productivity.
School Safety and Security Improvements
The District's "Operation: Fix It" initiative, funded by the 2016 passage of Issue 57, targets various projects, including safety and security enhancements. Based upon current building configurations, the following buildings are recommended for a secure vestibule enhancement to improve entrance security and visitor management:
Cranbrook Elementary School

Moler Elementary School

Columbus City Preparatory School for Boys

Westmoor Middle School

Yorktown Middle School
The cost for these improvements is valued at $295,000.
Asphalt and Pavement Repairs
Funded by the passage of Issue 57 in 2016, the District's "Operation: Fix It" initiative will target various asphalt repairs at multiple schools based upon condition. Board Members will be asked to approve the paving contract not to exceed $1.3 million. The schools are:
Columbus City Preparatory School for Boys

Cranbrook Elementary School

Devonshire Elementary School

Gables Elementary School

Columbus Gifted Academy

Highland Elementary School

Hilltonia Middle School

Hubbard Elementary School

Medina Middle School

Northtowne Elementary School

Parkmoor Elementary School

West Broad Elementary School

Westgate Elementary School

Hudson Adult Education

Salem Elementary School

Woodcrest Elementary School
Computer Repair Parts
Since the beginning of the pandemic, the number of computing devices serviced by the technology group has increased exponentially. Based on the growth of the device pool, the need for repair parts has increased as well. The district has been using NEWEGG Business as a low-cost option for purchasing computer parts and screens over the last several years. This legislation will provide the needed parts to continue repairs for the remainder of the school year. It is recommended that Board Members authorize the administration to continue to purchase parts from NEWEGG Business for the rest of the year, not to exceed $150,000.00 using CARES Act Funds, Elementary and Secondary School Emergency Relief (ESSER) funds, and General Fund monies.
Donations
It is recommended that the Board of Education accept the following donations:
$1,965 Donation for

Champion Middle School

for the purchase of Gizmo Software for instructional use for students.

$2,500 Donation for

Columbus Downtown High School

from the Rotary Club of Columbus for student fees.

$10,000 Donation for

Centennial High School

from the Ohio High School Boys Volleyball Association for a new Boys Volleyball Program.

$5,000 Donation for

Ecole Kenwood French Immersion Elementary School

from the Cleveland Browns Foundation to complete a climbing wall. The donation is part of the Fuel Up to Play 60 Browns Fitness Challenge, where students came first in a statewide fitness challenge.
UPCOMING EVENTS
April 8: Policy Review Committee Meeting (8:30 a.m.)
April 12: Special Board Meeting to continue the discussion of the Five Year Strategic Plan Goal Setting Process (5:30 p.m.)
April 14: Finance and Appropriations Committee Meeting (4:00 p.m.)
April 19 Board of Education Facilities Master Plan Committee (Virtual) Community Conversation Region 5 5:30 – 7:00 p.m. Region 2 7:30 – 9:00 p.m.