Return to Headlines
Board Meeting Preview: May 5, 2021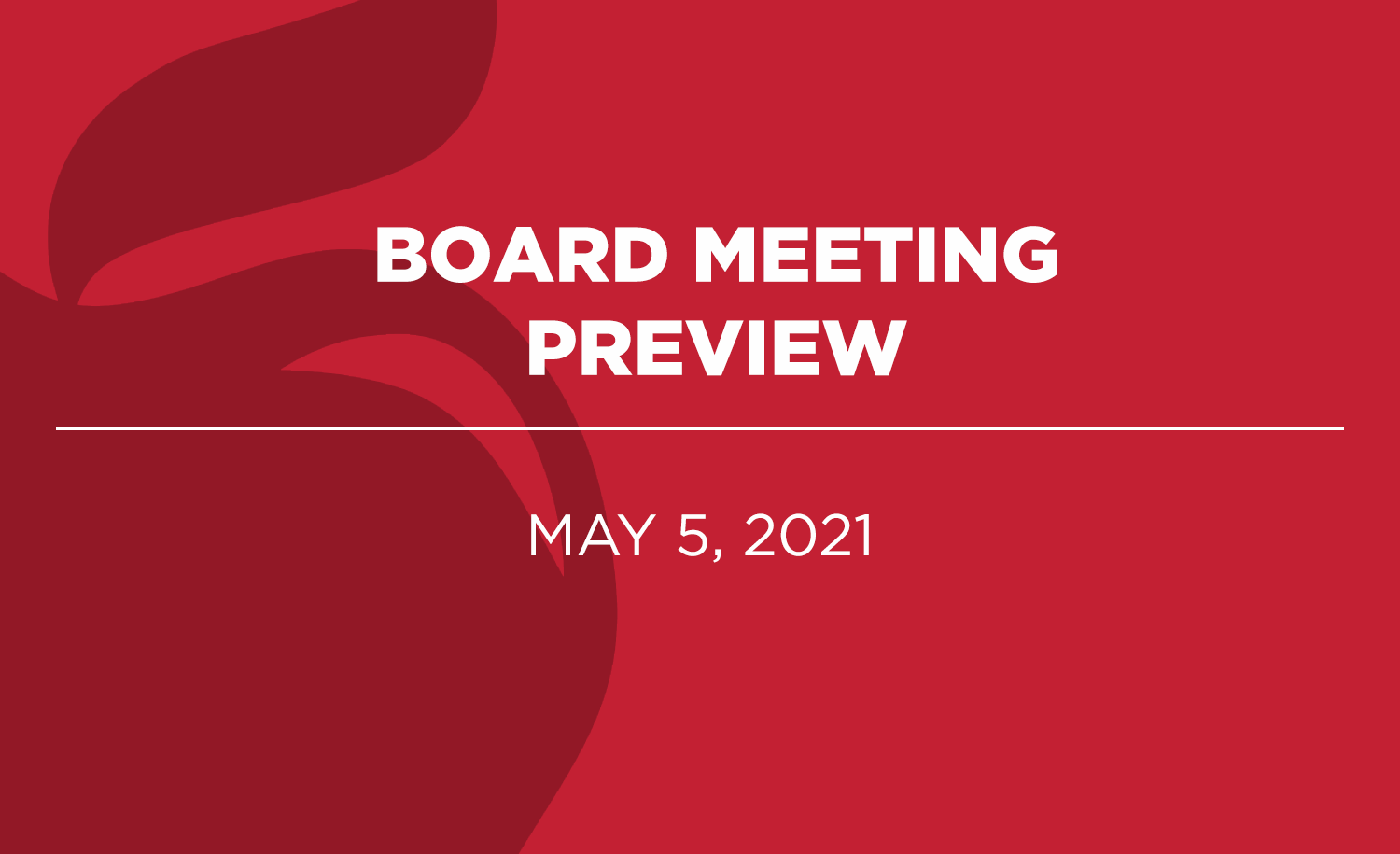 Columbus City Schools
Board of Education Meeting (Hybrid Virtual Meeting)
Wednesday, May 5, 2021 at 5:30 pm
The Columbus Board of Education will convene its regular business meeting in a hybrid manner on Wednesday, May 5, at 5:30 p.m. Four members of the Board will meet in-person, with three members joining remotely. The meeting will be streamed via Facebook Live and on the Columbus City Schools' YouTube Channel, which allows the public to attend virtually.
The Board of Education will also incorporate public participation in a hybrid manner from the District's south Administrative site located at 3700 S. High St. Individuals who wish to provide public comment will have the option of doing so in-person or remotely during the meeting. To sign up, public participants must leave a voicemail with Customer Relations at (614) 365-8888 or email customerrelations@columbus.k12.oh.us by 12:00 p.m. on Wednesday, May 5, let the staffer know which format they are choosing. Speakers will need to provide their name, topic, and phone number. Click here to view the meeting agenda.
Reading Supports for District Elementary Schools
The Office of Teaching and Learning requests authorization to purchase the Wilson Fundations Multi-Level Kits and the required student materials to implement Tier 2, the Reading Intervention Program. These purchased materials will be utilized by our Primary Literacy Specialists and our primary elementary students who participate in reading intervention at each of our 76 elementary schools. As a part of this legislation we are also requesting authorization to purchase 254 Wilson Fundations Level 2 teacher kits to support the planned expansion of the Fundations multi-sensory, systematic and explicit phonics instruction for all second graders for the 2021-2022 school year. Based on the Wilson Reading System principles, Wilson Fundations provides research-based materials and strategies essential to a comprehensive reading, spelling and handwriting program. It is recommended that the Board of Education authorize the administration to enter into a purchase agreement with Wilson Language Training Corp. in the amount of $405,139.70 be charged to the FY 2021 Elementary and Secondary School Emergency Relief (ESSER) Grant Fund.
2021 Summer Experience Technical Tools for Students
Board Members will be asked to approve legislation for the purchase of 150 Surface Go and 150 Surface Go 2 student devices, 17 Surface Pro 7+ teacher devices, 300 iPads for students and 17 iPad Pro teacher devices. All devices come with a complete care warranty, carrying cases along with staff and student training for a total investment of $391,000 using CARES/Elementary and Secondary School Emergency (ESSER) funds.
When the district moved to remote learning last year and throughout this school year due to the pandemic, Chromebooks were procured for virtual student learning. As part of the five-year strategic technology planning and to ensure the best experience for the students moving forward, the District will be entering into pilot programs for two additional computing device types during the 2021 Summer Experience.
Interactive Panels at Fort Hayes
Fort Hayes Metropolitan High School requests authority to purchase 20 Clear Touch Interactive Panels for high school classrooms for $49,000. Clear Touch displays are powerful educational tools that support whole class instruction, student-led discussions, small group collaboration, and individual learning easily transitioning between multiple roles in the classroom. All equipment comes with the following software: Snowflake, Canvas, Collage, and Command. The purpose of the interactive panels aligns with the use of technology (including but not limited to computers (both pc and mac) Chromebooks, cell phones, tablets, laptops, etc.) for both in person and remote learning. They will also assist in creating more cross-curricular opportunities to work with both Academics and the Arts to align with the school's mission.
Security and Safety Improvements at Woodward Park Middle School
The District's "Operation: Fix It" initiative, funded by the 2016 passage of Issue 57, targets a variety of projects including safety and security enhancements. Based upon current building configurations, Woodward Park Middle School at Walden is recommended for a secure vestibule enhancement to improve entrance security and visitor management for a total cost of $58,300.
UPCOMING EVENTS
May 12: Finance & Appropriations Committee (4:00 p.m.)
May 13: Policy Review Committee (8:30 a.m.)
May 17: Facilities Master Plan (FMP) Community Conversation
Region 6 (5:30 p.m. – 7:00 p.m.)
Region 3 (7:30 p.m. – 9:00 p.m.)
May 19: Facilities Master Plan (FMP) Community Conversation
Region 2 (5:30 p.m. – 7:00 p.m.)
Region 1 (7:30 p.m. – 9:00 p.m.)
May 20: Facilities Master Plan (FMP) Community Conversation
Region 4 (5:30 p.m. – 7:00 p.m.)
Region 5 (7:30 p.m. – 9:00 p.m.)
May 26: Facilities Master Plan Committee Meeting (6:00 p.m. - 7:30 p.m.)