Return to Headlines
Nurses at Columbus City Schools Making a Difference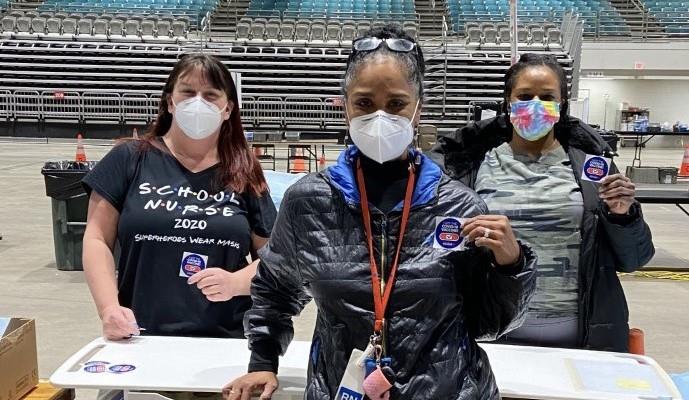 May 12, 2021 -- Columbus City Schools nurses Donica Key, Dr. Tonya Schuetz, and Brandi Jennings love their jobs so much they go above and beyond to care for the community. Since March 2020, when the COVID-19 pandemic mandated stay-at-home orders and closed all schools, these nurses stepped up to the front lines.
"I felt so helpless at home, so when the Franklin County Medical Response Disaster Team put out a request for volunteers, I immediately signed up," said Donica Key, MEd, BSN, RN, Licensed School Nurse at Indianola Informal K - 8. "Several other CCS nurses and I worked four-hour shifts at the Franklin County Emergency Management & Homeland Security Office. We collected and organized donated personal protection equipment (PPE)."
In May, the Columbus Public Health Department needed nurses to help with contact tracing, so Donica Key, Dr. Tonya Schuetz, and Brandi Jennings signed up to help.
"It is surreal to be part of the team that is fighting a global pandemic," said Tonya Schuetz, DNP, MEd, BSN, RN, LSN. "It is humbling," added the Huy Elementary School Nurse.
"Last summer, I was working on contact tracing as a volunteer with the Columbus Health Department," said Brandi Jennings, RN, LSN. "When that assignment ended, I volunteered to work every Saturday administering mass vaccinations. Since there is a shortage of nurses, I wanted to do my part to help. I wanted to be part of history," added the Georgian Heights Alternative Elementary School Nurse.
When the vaccines became available, in addition to their Columbus City Schools duties, these three nurses decided to continue volunteering every Saturday at mass vaccination clinics set up by the Columbus Department of Health.
"By helping vaccinate families through Columbus Department of Health, we are directly impacting the health and wellness of our students," said Dr. Tonya Schuetz.
"I have been a CCS School Nurse since 1998, and in 2009, I volunteered with other CCS School Nurses at the mass H1N1 vaccine clinic," said Donica Key. "I remembered how important that effort was in reaching the community. The effort with COVID-19 is just as important. If someone sees a nurse that looks like them in terms of skin color, they may be more trusting of the healthcare system. Black Americans decide minute by minute whether to put their faith in government and the healthcare community during this coronavirus pandemic. Historic failures in government responses to disasters and emergencies, medical abuse, neglect, and exploitation have jaded generations of black people into distrusting public institutions. COVID-19 is disproportionately affecting people of color, and I want to do my part to help."
As we celebrate National School Nurse Day, all three of these women have a special message.
"School nurses do much more than meets the eye," said Dr. Tonya Schutz. "We care for students daily from the skinned knee to administering tube feedings for students with disabilities. The school nurse is sometimes the sole health care provider for students, acts as an advocate, and links families to healthcare. Providing services to students, who would otherwise not receive such services, is very rewarding."
"I am so thankful for the CCS community and the opportunity to make a difference in the lives of our children daily," added Brandi Jennings. "My message to the CCS community: stay safe, continue to follow health and safety guidelines, and know this too shall pass."
Passing on knowledge to the next generation is what all three of these nurses believe. On this day where school nurses are celebrated across the nation, the importance of lifelong learning is a value these nurses hope becomes their legacy.
"I personally am a member of the professional development team, working with other nurses and nurse administrators to provide relevant professional development for our CCS nurses, as well as ensuring that each nurse receives valuable Continuing Education Units from the Ohio Department of Nursing," said Dr. Tonya Schuetz. "I personally lead the English as a Second Language team (ESL) team that provides nurses with information and resources to serve our ESL community. We know providing culturally sensitive care to this group of students is essential for them to feel a part of the CCS family and succeed in their education."
All CCS School Nurses must have a Bachelor Of Science In Nursing (BSN) and hold a Registered Nurse license (RN) through the Ohio Board of Nursing, and be licensed by the Department of Education, which requires an additional year of college in the School of Education. Numerous CCS School Nurses also have their Masters in Education in Nursing.
"National School Nurse Day is a great day to promote School Nursing as a career path," said Key. "This past year has been difficult with the pandemic and racial tensions here in Columbus and around the country. I am on a team with eleven other African American School Nurses, who have been asked to develop diversity training for every CCS school nurse. After three training sessions so far, we are making progress in removing implicit biases to serve all CCS students better. I am a proud graduate of Walnut Ridge High School, and my message is simple: treat and care for others as you would like to be treated."
Click here to listen to a message from Dr. Mysheika Roberts, MD, MPH, Health Commissioner City of Columbus, whose mom was a school nurse. Nurse Donica Key shared this video message that Dr. Roberts provided for a diversity training session with CCS School Nurses at the beginning of the school year.