Return to Headlines
Board Meeting Preview: June 1, 2021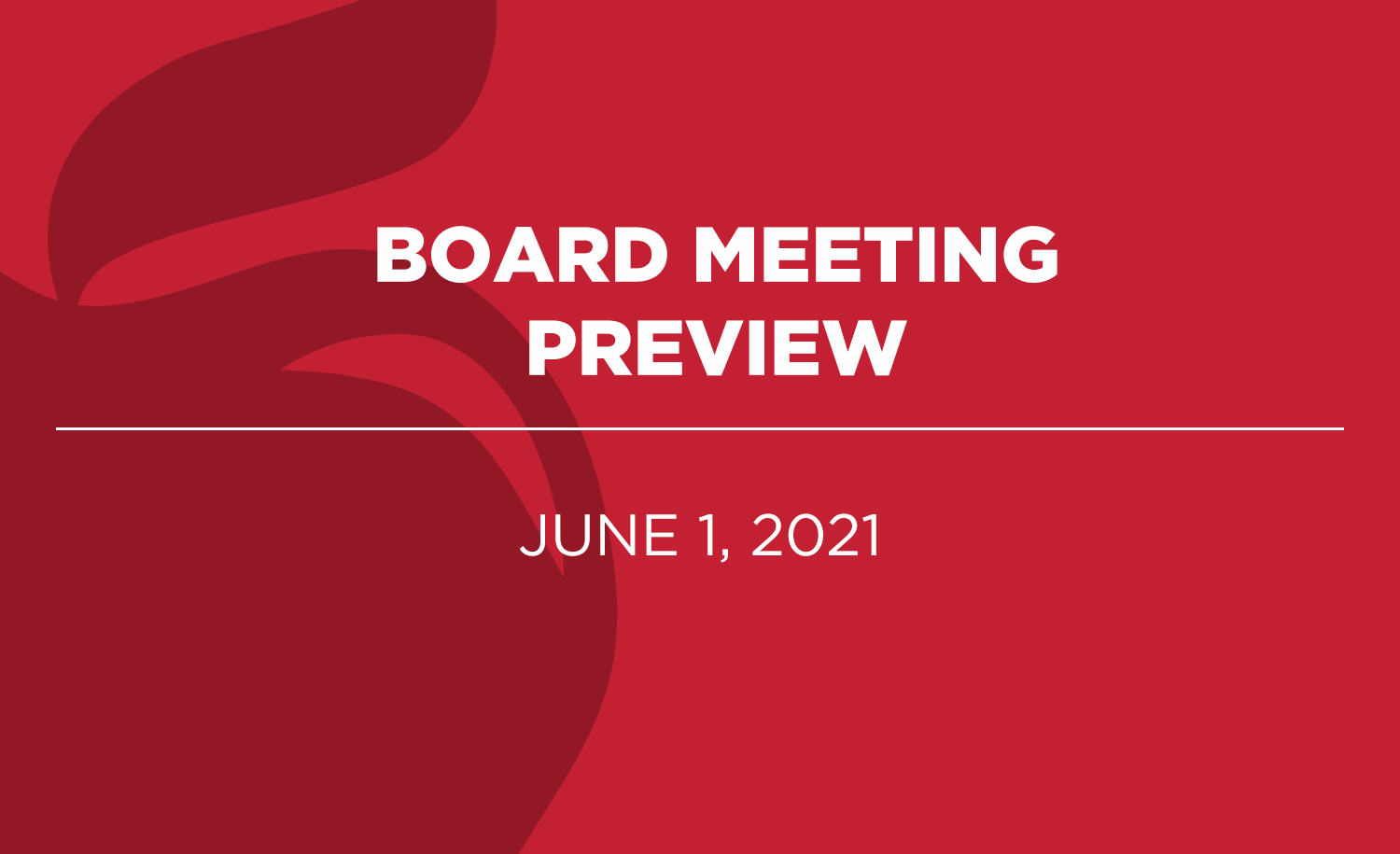 Columbus City Schools
Board of Education Meeting (Hybrid Virtual Meeting)
Tuesday, June 1, 2021, at 5:30 pm
The Columbus Board of Education will convene its regular business meeting in a hybrid manner on Tuesday, June 1 at 5:30 p.m. Four members of the Board will meet in person, with three members joining remotely. The meeting will be streamed via Facebook Live and on the Columbus City Schools' YouTube Channel, which allows the public to attend virtually.
The Board of Education will also incorporate public participation in a hybrid manner from the District's south Administrative site located at 3700 S. High St. Individuals who wish to provide public comment will have the option of doing so in-person or remotely during the meeting. To sign up, public participants must leave a voicemail with Customer Relations at (614) 365-8888 or email customerrelations@columbus.k12.oh.us by 12:00 p.m. on Tuesday, June 1, let the staffer know which format they are choosing. Speakers will need to provide their name, topic, and phone number. Click here to view the meeting agenda.
Wi-Fi Hotspots
It is recommended that the Board of Education authorize the use of the data plans for hotspot devices from T-Mobile to provide home access to the internet for FY22 in an amount not to exceed $1.1 million using the General Fund and the Coronavirus Response and Relief Supplemental Appropriations Act. In September 2020, the District began purchasing WiFi hotspots to provide access to an online curriculum to students who do not have internet in their homes. For the past several months, the need has grown, and there are approximately 5,000 T-Mobile hotspots in use by our families. The individual cost of the device and unlimited data plan is $20.00 a month for 12 months.
College Credit Plus Textbooks
Board Members are requested to invest $150,000 from the General Fund to purchase textbooks for students participating in the College Credit Plus Program on a university campus or at their high school. The Ohio General Assembly established the College Credit Plus (CCP) program through House Bill 487 during the 2015-16 academic year. CCP allows students to earn college credit while in high school at no cost to the student family. During the 2019-2020 school year, 669 students participated in CCP. This program benefits students by providing an opportunity to earn high school credit and college credit simultaneously.
CCS Students are taking courses with the following colleges and universities:
Columbus State Community College

The Ohio State University

Franklin University

Ohio Dominican University

Capital University

Otterbein University

Kenyon College

Ashland University

Central Ohio Technical College
Social-Emotional Learning Supports
It is recommended that the Board of Education authorize the administration to enter into an agreement with Really Good Stuff to purchase social-emotional items to support the expansion of District-wide prevention and promotion of positive learning environments. The Office of Social Emotional and Student Support Services has been approved for a reimbursement K-12 prevention education grant through The Alcohol, Drug, and Mental Health Services Board of Franklin County (ADAMH). The purpose of the $200,000 grant using ESSER Funds is to provide prevention supports related to our student's social and emotional well-being. The grant also allows for the purchase of relevant materials for students and staff to advance the skill development and resilience skills needed to provide a consistent, predictable learning environment.
Track Renovations at Two Schools
Board Members will be asked to approve the running track facilities at Eastmoor Academy and Whetstone High School for $809,000. The track facilities at these two high schools require extensive repairs. The existing surfaces will be milled, asphalt surfaces repaired and overlaid, and new running surfaces applied.
Securing Substitute Teachers
It is recommended that the Board of Education authorize the District to enter into a five-year contract with Red Rover Technologies to provide services for the District's Substitute Management Program for $70,000 per year for a total of approximately $370,000 for five years. The District's Substitute Management Program supports the District's absences to ensure continuity of education for students and overall district services. Red Rover is a modern, electronic absence management platform that relies on technology and less paperwork to increase the District's substitute teacher fill rate.
UPCOMING EVENTS
June 9: Finance & Appropriations Committee (4:00 p.m.)
June 10: Policy Review Committee (8:30 a.m.)