Return to Headlines
African Dance Grant Teaches Moler Students More Than Moves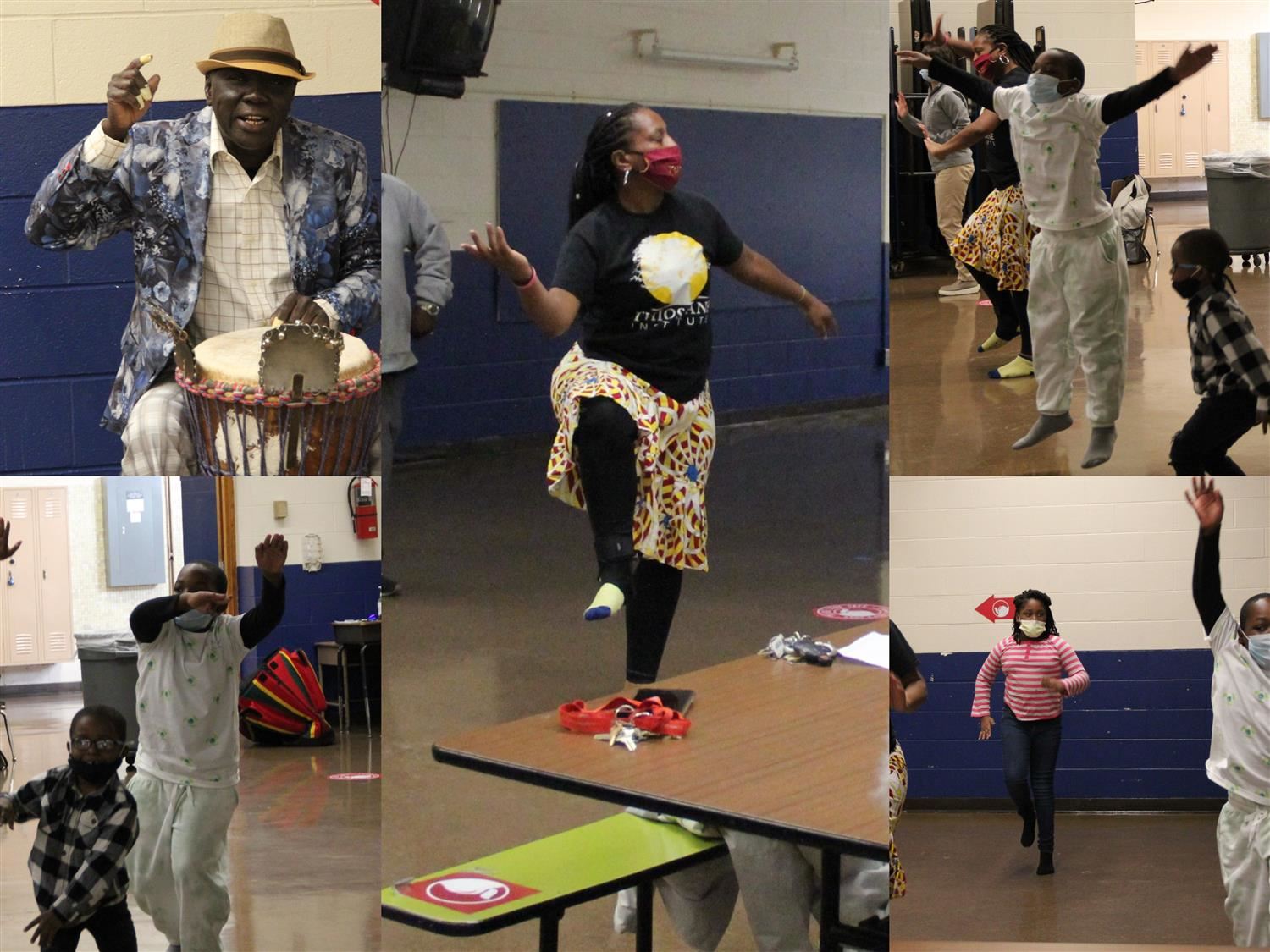 June 1, 2021 -- A "Teach Art Ohio" grant from the Ohio Arts Council allowed Moler elementary school students to learn traditional African dance from professionals this spring despite the pandemic. While most of the lessons occurred virtually, the students and dancers from the Thiossane West African Institute came together for their final performance in the Moler cafeteria.
"Originally, the plan was to hold an in-school dance program late fall and early winter for students in grades kindergarten through six, but that was before the pandemic forced us to make other plans," said Lavonne King, Moler Elementary School Counselor. "We made a commitment to our students and the dancers, so we switched to Zoom. It was hard to teach dance through the computer, but the instructors were creative."
The ten-week program through the Thiossane Institute is designed to enhance cultural awareness through traditional West African dance and music. Students learn about the drums and how they are made. Math lessons are taught through drum beats and dance steps that follow distinct patterns and sequencing.
"My mom thought it would be a good idea for me to try it out because it was something different, and I was home all the time," said fourth-grader Tiasson Saunders, who is the only student who had perfect attendance during the ten-week program. "I liked learning about the drums and how we would dance to the beat of the drum, and the beat would match the dance."
Autumn Steverding, a fifth-grader at Moler, liked the dancing the best. "I learned with this type of dance, you don't have to wear shoes so that you can really feel the beat of the drums," said Steverding.
"I like doing this dance because the instructors gave me hope," said fourth-grader Kamari Tisdale. "If I didn't do the steps right, they encouraged me to keep trying. The dance made me feel close to the earth, so I felt connected."
By the end of the ten-week artist residency program, Columbus City Schools returned to blended learning. That's when Counselor Lavonne King and other educational leaders at the school felt it was safe to bring everyone together in the cafeteria at Moler, which is large enough to keep everyone six feet apart.
Wearing masks, the dancers and musicians greeted each face to face for the first time. Wearing native costumes, the dancers and students performed as the musician played his djembe, a goblet-shaped drum played with bare hands.
"You can't use sticks on the djembe because it would break apart since many djembes use goatskin on the top," said Tiasson Saunders. "I liked it when I got a chance to play the djembe. It was so much fun."
Moler hopes to do this program again next year. "Maybe during the next school, we can do the entire 10-week art residency in person," said King. "I know even more Moler students will be able to participate and love it."