Return to Headlines
Graduation Preps at Columbus Alternative High School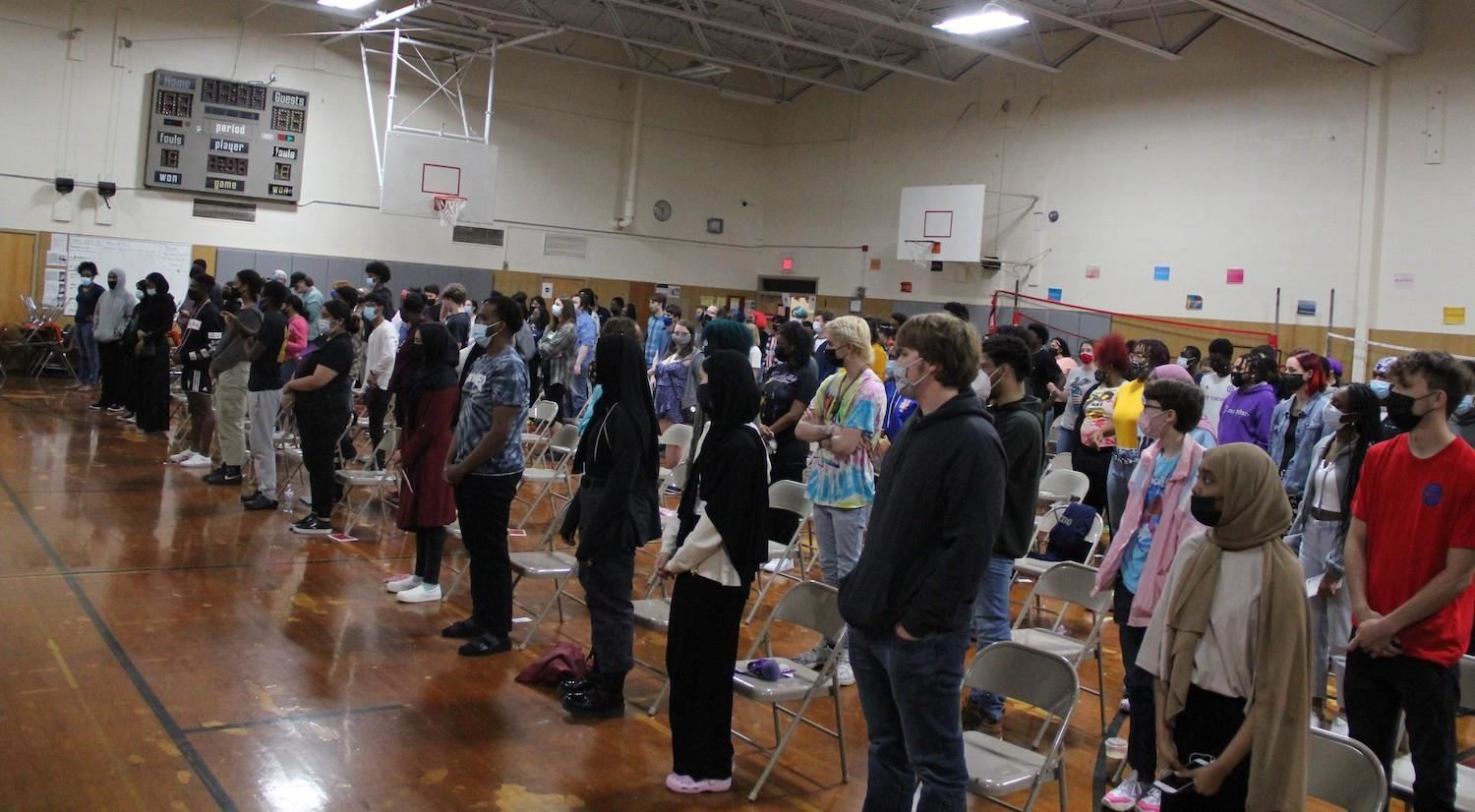 June 2, 2021 -– Each chair on the gymnasium floor at Columbus Alternative High School (CAHS) has a name tag. Find your seat, said one of the teachers, while another CAHS teacher explained, your seat at the Convention Center will also have a name tag on it. Next, school counselors stepped up to the microphone to announce the 178 seniors who will graduate tomorrow.
Welcome to graduation practice in the gym at Columbus Alternative High School. Students, teachers, and staff are practicing everything from walking across the stage at the Columbus Convention Center to entering and leaving the venue.
"The hardest part is I can't hug or touch these seniors," said Daryl Sanders, CAHS Principal. "I've known many of these students since they were in kindergarten. This is emotional."
CAHS principal Daryl Sanders feels like a proud papa because of what his students and staff have accomplished this year despite the COVID-19 pandemic. It was only two months ago that the District announced graduation ceremonies would be in-person.
"My students have exemplified what resilience looks like this year," said Sanders, who boasts a 100% graduation rate this year at CAHS, and that's not all.
Four seniors in the CAHS Class of 2021 received a 35 on the American College Test, also known as their ACTs, which is just one point shy of a perfect score. That's due mainly to the number of Advanced Placement and International Baccalaureate classes offered at CAHS. The Class of 2021 at CAHS has thirty-two valedictorians, which means 32 seniors have a 4.0 GPA or higher.
One of those students is Rowan McCloskey. The 18-year-old senior applied to 20 colleges and universities.
"I wasn't sure where I would get accepted, so I cast a wide net and applied for numerous scholarships and grants," said McCloskey.
McCloskey plans to go to Northwestern University in Illinois in the fall. He's on the waitlist at Columbia University but shared that he did not get accepted to his number one choice, Stanford. McCloskey did earn $1.2 million in grants and scholarships, including $400,000 from Northwestern.
"I'm so grateful that I will not have student loans to pay off when I graduate college," said McCloskey. "It means I will be able to go into my field of study, which is still undecided, and start making changes for the better sooner than worrying about paying off student debt. It definitely takes the pressure off."
At the end of the graduation practice, McCloskey and his classmates all received a large manila envelope that included their cap, gown, tassel, and in some cases, graduation honor cords, along with directions to the ballroom at the Convention Center that will be the site of their high school graduation. All the items are keepsakes, but the thing that garnered the most smiles and laughs was a five-by-eight card inside each envelope. It was a progression of photos beginning in many cases with that senior's kindergarten school photo all the way to their high school senior picture. Those photos, along with the diploma, show the real growth and potential of the CCS Class of 2021.